Last updated on January 23rd, 2023 at 12:17 pm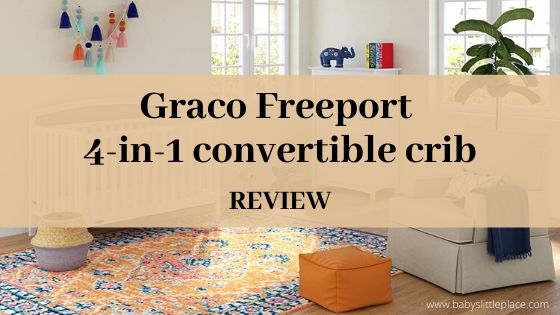 Graco Freeport 4-in-1 convertible crib Review
A simple convertible crib, which perfectly serves its purpose! Graco Freeport 4 1 convertible crib has a practical design and affordable price.
With Freeport Graco didn't try to win an award for the best looking crib on the World, they just wanted to make a simple, but highly functional crib!
And please, don't get me wrong! I didn't mean the crib is not carefully crafted. Plain lines, without unnecessarily attachments and bulky design are perfect for a modern aesthetic nursery.
And that is what Graco wanted for the Freeport crib! First of all, they made a versatile and safe crib, with a timeless design. And second, it is not expensive at all!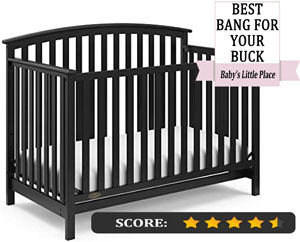 PROS:
simple, but highly functional crib
it is a cheap, affordable crib
a perfect solution for grandparents house
good choice for a small nursery
it is a safe crib
grows with your child
decent color choices
CONS:
it can scratch easily
it doesn't have an optional safety guardrail for a toddler bed
---
Freeport's description and specifications
The back of the crib is in the shape of an arch, and higher from the front. However, the arch is not large and coincides with Freeport's classic, minimalist design.
Graco used this design with the last conversion into a full-size bed in their minds. If you convert the crib into a full-size bed, the back of the crib transforms into a nice, arched shape headboard. We were impressed by the fact, that the manufacturer thought about those small details even for such a low price crib. A big plus for Freeport!
Measurements and weight:
overall dimensions: 55,2″L x 29,8″W x 42,1″H
weight of the crib: 44 pounds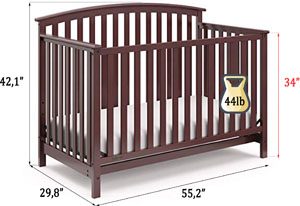 The front side is about 34″ high, which makes the Freeport convertible crib suitable for short moms. Due to the height of the front rail and minimalist frame, petite moms won't have problems with laying sleeping baby into the crib.
The crib is made from sustainable New Zealand pine wood and available in five different colors: white, black, cherry, espresso and pebble gray.
---
Graco Freeport's convertibility Review
Freeport is a 4-in-1 convertible crib, which means it can convert into three bigger beds:
toddler bed
daybed
full-size bed
Graco Freeport toddler bed:
Freeport's toddler bed doesn't have a safety guardrail. For some parents, this could be a problem and factor which will dissuade them from purchasing the crib. If the possibility of rolling out of bed concerns you, we suggest you pick a crib with toddler guardrail. There are other Graco's models with the guardrail on the market too.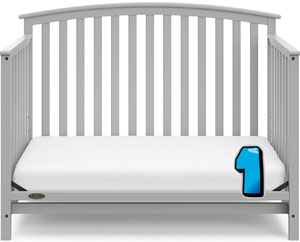 However, not just Graco, lots of cribs from different brands don't have a safety guardrail. Parents buy them all the time and don't report any problems. Also, if in the crib description says it has a toddler bed with a guardrail, that does not necessarily mean it is in the package!
Read carefully what you get in the package! Lots of parents complain that they couldn't find a guardrail on the market when they wanted to transform the crib into a toddler bed. If you decide on that kind of crib, and you already know you will convert it into a toddler bed, I suggest you buy the guardrail at the same time as the crib!
Back to the Graco Freeport 4-in-1 convertible crib! As you already know, it doesn't have a toddler guardrail. So how you convert the crib into a toddler bed? Simply by removing the front rail and ensuring that the mattress is at the lowest level. That's it. Simple as everything with this crib!
Although there are some reports of using the universal Graco toddler guardrail, Graco didn't specify that it is compatible with the Freeport crib!
---
Graco Freeport daybed:
Later you can convert the toddler bed into a daybed by raising the mattress to the middle height.
---
Graco Freeport full bed:
This crib can last well into adolescence as it can convert into a full-size bed with a headboard. But you have to buy a mattress and full-size metal bed frame for the last conversion separately.
---
Additional information about Graco Freeport 4-in-1 convertible crib
Mattress Information:
How long can my baby use the Freeport 4-in-1 convertible crib?
Your baby can use the crib until he reaches 35″ height, then it is time to convert the crib into a toddler bed. The weight limit for a toddler/daybed is 50 pounds
Under-crib storage:
There is a little room under the crib. You can put there smaller storage boxes, but there is no room for a trundle drawer.
Warranty:
1-year limited manufacturer's warranty
---
Parent's Reviews
The crib looks very nice and sturdy. I am glad I chose this one. I couldn't ask for more in the same price range!
Anna
Good for the price I paid. The standard mattress fits snugly. Instructions were packed attached to the spring frame, and I didn't find them at first. The frame is lighter than I thought it would be so I'm not sure how sturdy it will be in the long run, but it should be fine.
Margo
Love it. It matches our jungle themed nursery so well. It took my hubby all of 15 minutes to put it together. It's sturdy, and I like that it's convertible.
Brittany
Easy to put together. Looks like it is worth more than what I paid for it. I splurged on a nicer mattress since I saved money on the crib itself. There is a support bar under the crib near the front that would prevent you from using under crib storage boxes.
Alisa
---
Final verdict
If you want a large and spectacular crib, this one is not the right choice for you. But, if you want a simple, yet practical and safe crib it a good and the most important – really affordable option for you!
Freeport also doesn't take a lot of space due to the minimalist design. That's why it is a perfect solution for a grandparent's house and smaller nurseries. Many parents who thought they need a mini crib, surprisingly find out that Graco Freeport actually fits into their smaller nurseries!
And don't forget that this is a convertible crib, so your child can use it for many years to come!