Best Cribs with Storage Drawers

Best Cribs with Storage – Convertible Cribs with Drawers & Combo Cribs
No matter if you have a small or a big nursery, eventually you are short of space. Any additional storage space is very convenient, so drawers under the crib or those on the combo cribs give those cribs an extra value! When we were looking for the best cribs with storage drawers, we had centralized into two different categories.
Convertible cribs with underneath drawers and combo cribs with drawers in the attached changing table, as these are two completely different models.
---
Best Cribs with Storage belongs to two types
Convertible cribs with drawers underneath the crib:
convertible cribs grow with your child
they have one big or two smaller drawers under the crib
Combo or multifunctional cribs with storage drawers:
combo crib is a crib with a changing table attached on the one side of the crib
changing table can contain up to three drawers under the changing pad area
drawers could be under the whole are or they can be shorter, with the additional shelves on the back
you can find the best models in the article

Best Combo cribs with Changer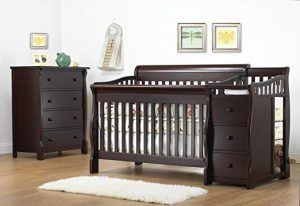 Then there are also a few combo cribs with drawers underneath the mattress area as well. We can say those are ultimate cribs with storage. You can not find a crib with more drawers! Those models are rear, but we found the best ones for you. You can find them in our article: The best 3 combo cribs with under crib storage drawer.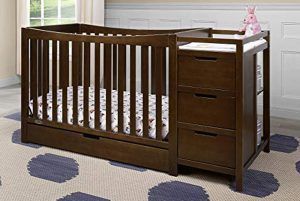 What about mini cribs with additional storage?
Manufacturers don't make mini cribs with storage drawers, as consumers usually expect other features from them. Also, the space underneath the mini crib is too small for a drawer. But you can get a mini crib with little extra storage: a mini combo crib which has drawers on the changing table.
---
Convertible cribs with drawers underneath the mattress area
Why is under crib storage so handy?
Under-crib storage is storage under the crib's base between the floor and crib rail. It is a perfect solution for small nurseries, as it doesn't occupy any extra space. Actually, it makes use of an area which is often left ignored and wasted otherwise.
I know what you are thinking, one drawer would not make a big difference. Yeah not a huge, but it will help. Let's look from the other perspective. If the crib doesn't have a drawer, there is just an empty unutilized space underneath the crib. That area will serve only as a dust catcher and later convenient space for hiding toys. Believe me, your baby will throw them under the crib all the time. Why? Because it is such a fun, watching mummy crawling under the crib to reach them.
What about cleaning under the crib? I will say only one thing. If you want to make your life easier, buy a crib with storage drawer or a crib on wheels. With first, there is no room for dust, and you can move the second one for easy vacuuming underneath it.
7 best cribs with storage under the crib
Safety of the convertible cribs with storage drawer
Safety is important, if not the most important feature of each crib! Of course, we would not place any of the convertible cribs above into the group of the best cribs with storage, if they would not meet or even exceed all the recommended safety standards.
cribs do not have a dangerous dropping side
they are lead and phthalate safe
all the materials and colors are safe
cribs are Greenguard gold or JPMA certified 
cribs meet all American Society for Testing and Materials (ASTM) and U.S. Consumer Products Safety Commission (CPSC) safety standards
All listed requirements ensure the safest sleeping environment for your child.
Comparison table of the best 7 cribs with storage drawer under the crib
[wpsm_comparison_table id="6″ class="hover-col1 center-table-align"]
Hello!
I am the founder of Baby's Little Place. I'm a mom to the one-year-old daughter and I know how overwhelming could be when you are looking things and tips for a new baby, especially if you are a first-time parent. That's why I set up this site…because I want to do something I am passionate about, as well as I want to help new parents and parents to be.
I hope you enjoyed reading my article! If you have any question or comment, please leave them down below. I will be happy discuss it with you!
Have a wonderful day!
---
---