We've written the Dream On Me Ashton 5-in-1 convertible crib review based on our comprehensive research and actual experiences of parents who already have this timeless baby crib.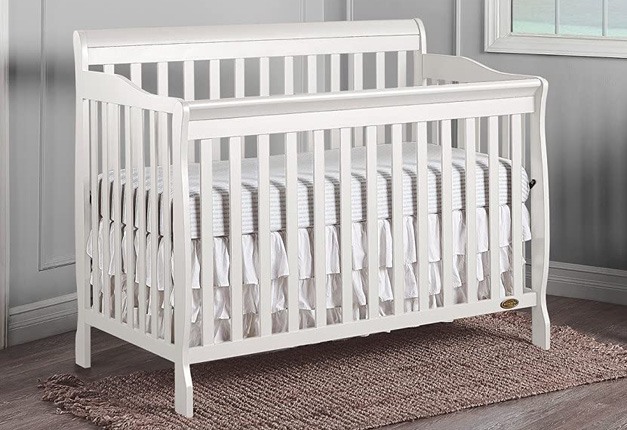 Dream On Me Ashton 5-in-1 convertible crib
I recommend the Dream On Me Ashton 5-in-1 convertible crib to anybody looking for a safe and functional, low-budget convertible crib. However, I advise those very sensitive to minor aesthetic imperfections to consider whether this is acceptable to them. Still, for the money you are paying, it is a great crib! The Dream On Me Ashton 5-in-1 convertible crib is a solid and durable convertible crib that can grow with your baby until youth and beyond.
PRODUCT HIGHLIGHTS:
Classic design and multiple non-toxic finishes to fit almost any nursery decor
It can be the only bed your child will ever need
Affordable price
It is available for about $170 to $200 on Amazon, Walmart, and any other retail store that sell cribs.
Baby's Little Place Reviews
Crib's price fluctuates due to different finishes, which is not unusual in this industry. However, I prefer manufacturers selling a crib of a particular type at the same price, regardless of its finish.
Dream On Me Ashton 5-in-1 convertible crib review
PROS:
it can be the only bed your child will need
sturdy frame
adjustable mattress support system
wide selection of non-toxic finishes
classic design to match various furniture
meets all required safety standards
featuring JPMA and GreenGuard® GOLD Certification
easy assembly
all tools for assembly included
CONS:
there is no cover for the area where the bolts go in
visible safety warning stickers
easily dinged and scratch
different prices for different colors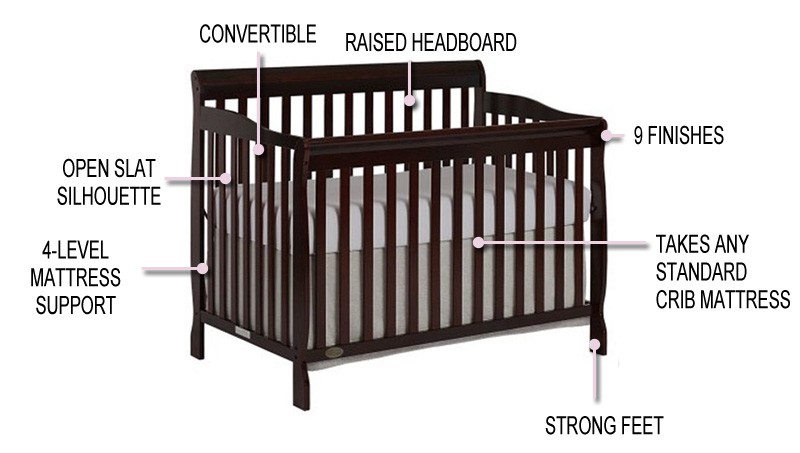 Design and Specifications
A price is certainly a factor in the Dream On Me Ashton's popularity. But I don't think people would buy it just because of the affordable price!
Those who decide on the Ashton want a safe and solid crib that looks good but doesn't need to be perfect in all the details.
And that is pretty much what we were expecting, and the Dream On Me Ashton 5-in-1 convertible crib review later confirmed. We expected a few visible holes where the bolts go together; after all, it is a low-budget crib.
Honestly, that doesn't bother me at all. Firstly, you can see holes only from really up close. And more importantly, the crib's safety, functionality, and solid construction are not compromised.
As for the dings and scratches, the Dream On Me Ashton 5-in-1 convertible crib is like any other low-budget and midrange convertible crib, made of Pinewood.
Pinewood belongs to softwood, which is solid but more liable for dents and scratches. What I want to say is; you will have to spend $500 and more on a hardwood crib to avoid this.
Crib's specifications: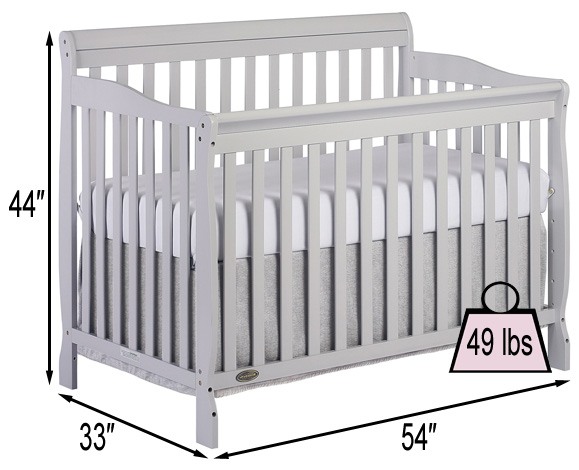 MANUFACTURER: Dream On Me
MODEL: Ashton
TYPE: convertible crib
STYLE: classic, traditional
MATERIAL: New Zealand Pinewood
COLOR: Black, Cherry, Espresso, Mystic Grey, Natural, Navy, Storm Grey, White
ASSEMBLED DIMENSIONS: 54″ L x 33″ W x 44″ H
ASSEMBLED WEIGHT: 49 lbs
FRONT PANEL TOP to FLOR: 36.6″
The Dream On Me Ashton 5-in-1 convertible crib has a classic, timeless design. It is available in eight different finishes, which is a lot, and it makes it easier for you to match it with your other furniture.
It is a traditional-looking crib, so it is usually not the first choice for those who like modern style. If you like the contemporary style but are limited by the budget, you might like the DaVinci Union 4-in-1 convertible crib.
Anyway, except for the minor imperfections described above, this is a beautiful crib.
Dream On Me Ashton full-panel 5-in-1 convertible crib
Many do not know you can opt on a slightly different Ashton crib. While retaining all significant features of a regular Ashton 5-in-1 convertible crib, the Dream On Me changed the design of a headboard for this model.
It features a full-panel headboard, with a sleight style and vertical slats with routing lines, perfect for those who like cottage and farmhouse style.
Here is the link to the full-panel crib: Dream On Me Ashton full-panel 5-in-1 convertible crib
Dream On Me Ashton's Convertibility Review
The Dream On Me Ashton 5-in-1 convertible crib can transform into a toddler bed, a daybed, or a full-size adult bed. This is great, but you will have to buy the conversion kits for the transformation into a toddler bed and full-size bed.
Except for some exceptions, such as Babyletto, this is common to all convertible cribs, so I do not consider it a drawback.
What I don't like is the number 5-in-1 in the crib's name. It can be misleading to someone, thinking he will get more than he actually will. The Dream On Me Ashtons's fourth and fifth conversions are both full-size beds (a full-size bed with or without a footboard).
We've seen such a conversion in almost all 4-in-1 convertible cribs we've reviewed so far, so it would have been better if Dream On Me had changed the name of the Ashton crib.
Anyway, the transformations are not complex and shouldn't take too much time if you follow the provided instructions. Furthermore, the crib stays stable and doesn't wobble after conversions!
Ashton crib's convertibility: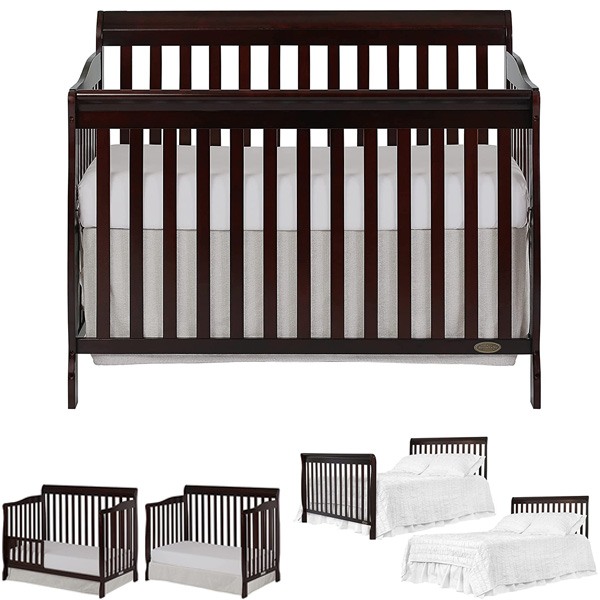 NUMBER OF CONVERSIONS: 4
CONVERSION TYPES: crib, toddler bed, daybed, and full-size bed
TOODLER BED SAFETY RAIL: DOM Toddler guardrail (Style# 692), which is not included
Safety Review
The Dream On Me Ashton 5-in-1 convertible crib has a JPMA certificate, proving it meets or exceeds all safety standards set by the CPSC & ASTM. The crib is lead-free, phthalate-free, and finished with a non-toxic painting process.
It is also GREENGUARD Gold certified to be free from harmful chemicals and not pollute indoor air.
All cribs made post-2011 must correspond to new baby crib safety standards! Meaning the Dream On Me Ashton 5-in-1 convertible crib possesses stronger, more durable slats, anti-loosening hardware, stronger mattress support, and doesn't have drop-side rails.
Dream On Me Ashton's safety specifications:
MEETS: all applicable ASTM and CPSC standards
CERTIFICATIONS: JPMA, GREENGUARD Gold
NON-TOXIC FINISHES: yes
LEAD AND PHTHALATE FREE: yes
CONSTRUCTION: sturdy
DROPPING SIDES: no
Crib mattress information
This is a full-size crib with standardized interior measurements to take any standard-size baby crib mattress. We've tried more of them, and all fit well in the crib.
You can adjust its mattress support according to your baby's age into four heights. Start with the highest setting for a newborn and gradually lower it down.
The lowest mattress setting is approximately 10 inches off the floor. The next up is 14 inches, then 18 inches, and then the highest setting is 22 inches from the floor.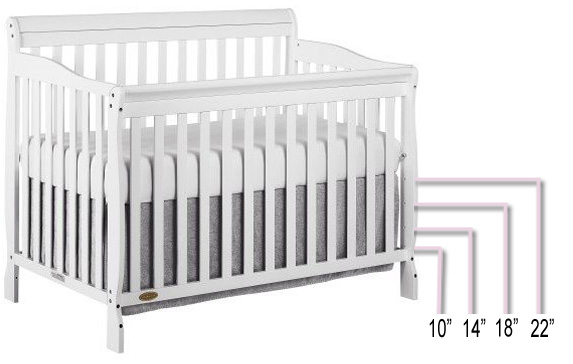 We measured up to the top of the mattress support, so also consider the thickness of your crib mattress!
Dream On Me Ashton crib mattress information:
MATTRESS SUPPORT: metal spring support
ADJUSTABLE MATTRESS HEIGHT: yes, 4
---
Dream On Me Ashton 5-in-1 convertible crib
Frequently asked questions
---
---