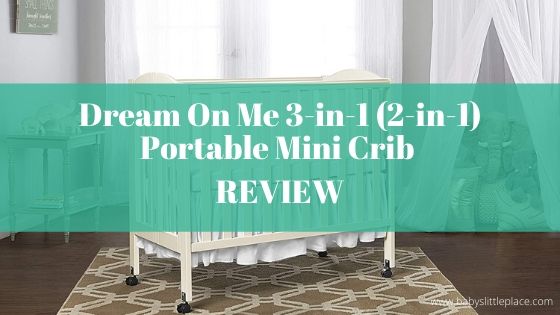 Dream On Me 3-in-1 portable mini crib
I have decided for a Dream On Me portable mini crib review because it's a beautiful crib with high potential, but with a confusing name.
First of all, this model can be found under the name 'Dream On Me 3-in-1 Portable Folding Stationary Side Crib', which tells you a lot about its features, but misses an important fact. Dream On Me is a mini crib!
And second, I think that the number 3-in-1 doesn't fit into a portable crib's name because it can be misleading. Numbers like 2-in-1 or 3-in-1 are standard for convertible cribs that convert into a toddler bed, etc. Dream On Me states that the crib converts into a Playpen or changing table, but those are just different heights of its mattress.
Reading this, you might think this is not a good crib, and you are reading a negative review. Not at all! Dream On Me portable mini crib is a quality crib, with excellent portability. Considering all this, and its low price, I was looking forward to the review, which, by the way, gave us great results.
Dream On Me mini crib's pros and cons:
PROS:
perfect for urban living
it has a small footprint
affordable price
meet or exceed all safety standards
wheels with locking casters
quality folding mechanism
included mattress pad
timeless design
available in multiple colors
CONS:
the number 3-in-1 can mislead someone to think the crib converts into a bigger bed
other than that it's a great mini portable crib
---
What does a 3-in-1 in Dream On Me portable crib's name really mean?
The number does not refer to convertibility but its multi-position mattress support. The 3-in-1 means that you can set the mattress into three different levels.
That is actually very good for a mini portable crib. The ability to set the mattress high, ease the parent's life. As they can easily move it around, many parents decide to place the mini crib next to their bed first. Having your newborn closer is convenient for you, and most of all, safer for him. Start with the highest mattress position for a newborn and gradually lover it down when your baby grows.
The company stated that Dream On Me 3-in-1 portable mini crib easily converts into a Playpen or a changing station. Those are not the conversions in a true sense of meaning, where the crib converts into a toddler bed, daybed, or full bed. They call the top level the changing table, the middle level the crib level, and the lowest position, a Playpen level.
At this point, I want to mention their other model, a Dream On Me 2-in-1 portable stationary crib. It is almost the same, with the only difference in the number of mattress positions. While you can set the mattress of the crib we are reviewing here into three levels, has a Dream On Me 2-in-1 portable mini crib only two available heights.
Dream On Me Portable mini crib is great:
for small homes
for moving from room to room
for the millennial 'on-the-go' families
as a secondary crib in grandparent's, daycare or caregiver's house
as a sturdier alternative for bassinets, which also last longer than bassinets
for co-sleeping in parents room
as a crib for guests
---
Our Dream On Me Portable Mini Crib Review
How did we evaluate the Dream On Me Review's results?
We have compared its features with models of the same type, such as Babyletto Origami or Delta Children mini portable crib. Comparison to convertible cribs, or even travel cribs and Pack 'N Plays, which are also classified as portable cribs, would be useless.
For instance, Dream On Me is made from wood. Although it folds up small, and you can take it with you, you shouldn't expect it folds up so small as travel cribs. It is also not as light as travel cribs, but it is lighter from convertible mini cribs or full-size portable cribs.

Portability review
Dream On Me stands on hooded safety wheels, which glides smoothly. Casters possess a reliable locking mechanism that keeps the crib in place when they are locked down.
The crib has an ergonomic design and fits through standard room doors. As such, you can easily move it from room to room, without folding it down.
Dream On Me weights only 35 pounds, so it is one of the lightest mini portable cribs on the market. It has a unique hinge, which allows the crib to folds flat for storage. When it's closed, it doesn't occupy a lot of space, which is perfect.
One of the features you have to pay attention to, on the portable folding crib, is how easy it folds down. Folding down and setting up the Dream On Me portable mini crib is easy and quick. We didn't notice any problems.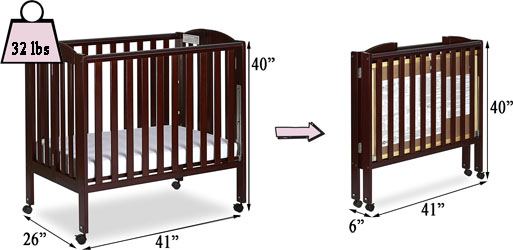 Safety
Dream On Me 3-in-1 portable crib is a stationary side crib, so it doesn't have drop sides. Drop-side cribs are banned since 2011. There were numerous injuries and even tragic deaths, so do not use a drop-side crib!
Because of wheels and folding mechanism are some portable cribs unstable and unsafe. I am happy to say that Dream On Me 3-in-1 mini portable crib doesn't have such problems. It is ergonomically designed, structurally sound, and a stable mini portable crib.
Dream On Me meets and exceeds all applicable ASTM (American Society for Testing and Materials) and CPSC (Consumer Product Safety Commission) safety standards. It is coated with a non-toxic finish and free of phthalates, latex, lead, and BPA.
---
Dream On Me portable mini crib mattress
The crib has a 3 level mattress support an included 1″ crib mattress pad. That is a tin pad, which is not as comfortable as thicker crib mattresses. I suggest you purchase a thicker mattress, but it must be a snug fit.
A mattress for such crib shouldn't be too thick as well. To save you hassle with searching a crib mattress of right size and thickness, you can opt for a Dream On Me portable foam mattress, which is a perfect fit. And it cost only $30!
The crib, unfortunately, doesn't fold with the mattress in it.
---
Frequently asked questions
How long can my child use this mini crib?
Dream On Me 3-in-1 portable mini crib has a weight limit. Your toddler can use it until he or she reaches 35 pounds.
Can I use it instead of bassinet?
Of course, you can! Dream On Me portable mini crib is, in my opinion, even a better alternative to the bassinet. 
Because of the small footprint, you can place it next to your bed. You can also adjust the mattress height on the highest setting. Thus you will have a newborn baby close to you but in a safe place.
A mini crib is better than a bassinet because of several reasons:
Cheap mini cribs, like Dream On Me mini crib, cost less, but last longer than bassinets. Most bassinets can be used only for the first 6 months!
A wooden crib is more stable and sturdier than a bassinet.
A mini crib is more comfortable for your baby.
When it's time to transfer into the nursery, you can simply push the crib into another room, and you are done. As your child sleeps in a familiar bed, is the transition into his or her room also less stressful.
Is it possible to take the front railing off and use it as a co-sleeper, without a fence between me and my baby?
No! Don't do that, as you will compromise the crib's safety!
What is the difference between Dream On Me 2-in-1 and 3-in-1 portable folding crib?
The adjustable mattress height. While the Dream On Me 2-in-1 portable crib has two-level mattress support, you can set the mattress on a 3-in-1 model onto three different heights.
---
The verdict
I am happy with the results of our Dream On Me portable mini crib review. It is a beautiful crib, available in 6 finishes, which flawlessly serves its purpose. Dream On Me 3-in-1 mini portable crib has everything you should expect from a portable model.
It has a small footprint, wheels with a reliable locking mechanism, it folds up small and doesn't weight too much. Of course, it meets all required safety standards and doesn't contain toxic materials. And don't forget that it has a reasonable price, which includes even a 1″ mattress pad.
If you ask me, I definitely recommend a Dream On Me mini portable crib!
---