The Delta Children Essex looks beautiful and quality-made baby crib. However, the appearance can be deceiving, so we were eager to find out if it's really as good as it appears. Read our Delta Children Essex 4-in-1 convertible crib review and see what we've found out.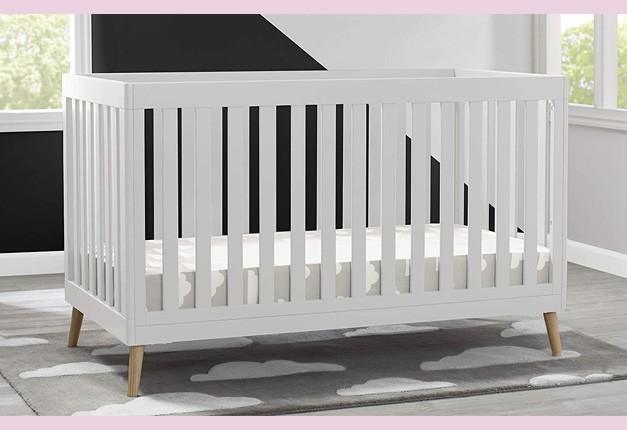 Delta Children Essex 4-in-1 convertible crib
Yes, it is as good as it looks! The Delta Children Essex 4-in-1 convertible crib is one of those cribs that offer a lot for a reasonable price. While it looks like a high-budget baby crib, it is not expensive at all!
PRODUCT HIGHLIGHTS:
A beautiful modern two-tone design
It grows with your child
High value for the price
Baby's Little Place Reviews
The Delta Children Essex is a gorgeous convertible crib. But the style alone couldn't make it so popular and well-rated. A good crib must offer more, which this crib definitely does.
With the Essex convertible crib, the Delta Children demonstrates how to successfully combine luxury, safety, and quality with a reasonable price! The idea of a high-budget-looking crib, which won't break your bank, is for sure a winning combination for this convertible crib.
Yes, our Delta Children Essex 4-in-1 convertible crib review revealed some minor imperfections, but you have to be highly picky to notice them at all. More importantly, these "flaws" do not compromise the crib's safety and performance, which are the essential features of all baby products!
These "so-called imperfections" are negligible compared to most cribs in the same price range!
Delta Children Essex 4-in-1 Convertible Crib Review
PROS:
modern two-tone design
grows with your child
adjustable mattress height
good value for the price
full-size crib with a sleek design to not occupy a lot of space
low profiled crib, perfect for parents of all sizes
sturdy and easy to assemble
JPMA certified to meet and exceed all safety standards set by the CPSC & ASTM
CONS:
its name is a little deceiving*
toddler rail is not included**
smell after unpacking***
* Find out more about this issue in the convertibility review below.
** This is common for convertible cribs of all brands.
*** If you have already read parents' reviews, you have probably noticed the comments about the initial chemical odor. Some talk about strong, others about the mild smell. Yes, the crib does emit some smell after unpacking, but that is common for new baby furniture and should air out in a few days. The Delta Childre uses only non-toxic finishes and tests their cribs to be free from lead, phthalate, and other toxic elements.
Design and Specifications
The Delta Children Essex 4-in-1 convertible crib is a piece of beautiful nursery furniture with a modern two-tone design.
You can choose between a white or gray crib combined with natural finished feet. I love Delta Children Essex's splayed feet! Their angled shape and natural finish nicely round up the whole crib's design to fit into modern, retro-modern, or mid-century-modern style homes!
The Essex crib has a boxy frame with equally high sides and an open design. Such a design has two benefits:
You can see your baby from any angle of the room.
The crib looks excellent placed, either next to the wall or in the nursery center.
Delta Children Essex specifications:
MANUFACTURER: Delta Children
MODEL: Essex
TYPE: convertible
STYLE: retro modern
MATERIAL: pine wood
COLOR: Bianca White with Natural legs, Grey with Natural legs
ASSEMBLED DIMENSIONS: 54″ L x 29,5″ W x 34″ H
ASSEMBLED WEIGHT: 48 lbs
Essex is a sturdy crib that does not wobble if assembled correctly! It is surrounded by carefully placed slats no more than 2 inches apart. That is less than the prescribed maximum of 2 3/8 inches and safe for your baby.
The next thing I like about the Essex crib is its gently curved corners. I find them more appealing, making the crib's appearance softer, not so "blocky".
Delta Children Essex 4-in-1 convertible crib is perfect for short moms
The Delta Children Essex 4-in-1 convertible crib belongs to low-profile cribs, giving parents of all sizes easy access to their baby. This is especially important for short moms who may have difficulties reaching down and lifting out an infant on higher cribs.
A low profile does not mean shorter rails! Low-profile cribs have a specially designed construction, with shorter legs, sleek frame, etc. Your child will not be able to climb out of such a crib any sooner than from others.
RELATED: Best cribs for short moms
Delta Children Essex convertibility review
The Delta Children Essex's convertibility is the only part of this review that raised my eyebrows. Not because its conversions would not be easy and quality, but because of the crib's name.
The Delta Children states that the Essex is a 4-in-1 convertible crib. Well, yes, it is, but not in the true sense of meaning. The Delta Children Essex converts into a toddler bed, daybed, and sofa. Meaning it does not convert into a full-size bed which most would conclude from its name!
So, yes, your child can use it beyond toddler's age, but only as a loveseat sofa, not as a bed!
Delta Children Essex crib's convertibility: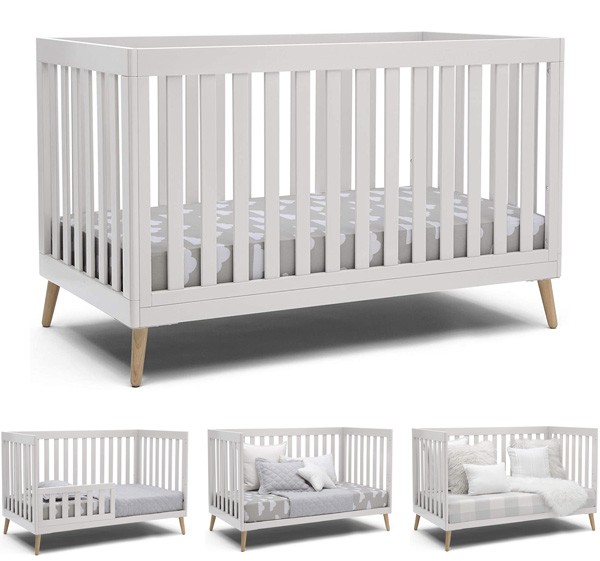 My second observation, however, is about the number of its conversions. There is no difference between third and fourth conversions (daybed and sofa). Throw a few pillows on a toddler's daybed, and you get a sofa.
I would have preferred Essex to be named a 3-in-1 convertible crib. Or they should emphasize more that the difference between the third and fourth conversion is only in its use.
But on the other hand, all the above is a standard practice of all crib manufacturers, so always carefully read the crib's description!
What to remember about Delta Children Essex convertibility?
Conversions are easy, and the crib stays sturdy after them.
The daybed and sofa are the same! The rail for this conversion is included with the purchase.
You will have to buy a toddler bed safety rail for the first conversion. The crib is compatible with the Delta Children toddler bed guardrail #0094. Toddler guardrail is usually in stock; however, if you already know you will convert the crib, I suggest you buy it with the crib.
The Delta Children Essex does not convert into an adult bed!

Safety Review
The Delta Children was founded around the idea of making safe and high-quality cribs affordable for all families. I have to say that they followed this idea perfectly in constructing the Essex crib.
The crib is quality-made and sturdy. It doesn't have drop-sides (drop sides are banned since 2011), the distance between the slats complies with the regulations, the crib is made of sustainable New Zeeland pine wood and finished in a non-toxic multi-step painting process.
The Delta Children Essex 4-in-1 convertible baby crib is also JPMA certified to meet or exceed all safety standards set by the CPSC and ASTM. It is also free from lead, phthalate, and other toxic elements!
Delta Children Essex's safety specifications:
SAFETY STANDARDS: meet or exceed all safety standards set by the CPSC & ASTM
CERTIFICATIONS: JPMA
NON-TOXIC FINISHES: yes
LEAD AND PHTHALATE SAFE: yes
STURDY: yes
DROPPING SIDES: no
Delta Children Essex crib mattress information
The mattress sits on a metal base, adjustable to three different heights. The three-position adjustable mattress support is enough to accommodate your growing baby nicely. Start with the highest setting for a newborn and lower as the baby grow
The Delta Children recommends a Delta Children, Serta, or Beautyrest crib mattress to ensure the perfect fit.
Although all recommended crib mattresses are a good choice, you can opt for any other standard-size crib mattress on the market. Why? Internal measurements of full-size cribs and crib mattresses are regulated by the government so that any standard-size crib mattress fits into any full-size crib.
Delta Children Essex crib mattress information:
COMPATIBLE MATTRESS SIZE: all standard size crib mattresses (at least 51 5/8 inches in length, 27 1/4 inches in width, and a max thickness of 6 inches)
MATTRESS INCLUDED: no
RECOMMENDED CRIB MATTRESS: Delta Children, Serta, or Beautyrest full-size crib mattress
MATTRESS SUPPORT: metal
ADJUSTABLE MATTRESS HEIGHT: yes, 3 heights
---
Delta Children Essex 4-in-1 convertible crib
Frequently asked questions
---
---