The Best Christmas gifts for pregnant women
Last Updated on September 3, 2020 by Ines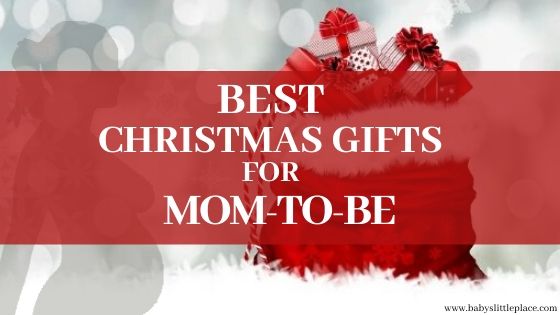 The best Christmas gifts for pregnant women in 2020
We have put a lot of effort into putting together our list of the best Christmas gifts for pregnant women in 2020! I hope our gift ideas will help you find the perfect present for a special pregnant woman in your life!
We would like to take this opportunity to wish You a Merry Christmas and a Happy New Year!
Baby's Little Place team
A quick overview of the top Christmas gifts for moms-to-be:
Hunting for the perfect Christmas gifts has already begun. The woman in your life is pregnant, and you want to make her Christmas unforgettable! But the lack of great holiday gift ideas drives you crazy! Should I buy something for her baby? Should it be related to the pregnancy, or should I buy something else?
Sounds familiar? Don't worry, we are here to help! We gathered tips and tricks for Christmas shopping in 2020. Of course, we didn't forget about our list of holiday presents. A brand-new list of The best Christmas gifts for pregnant women is here!
We have selected Christmas presents, which are perfect for all pregnant women! Focusing on their pregnancy, not on your relationship with her, we got a list of Christmas presents that are appropriate for each of them! It doesn't matter if you need a gift idea for your pregnant wife, sister, daughter, pregnant friend, or girlfriend, because they are all appropriate.
Best Christmas Gift Ideas for Pregnant Women in 2020
Matching maternity/delivery robe with baby swaddle set:
I don't know a mom who wouldn't like a matching mommy/baby clothes. This beautiful clothing set will make those first mommy/baby moments even more special. It contains a robe for a new mommy with a matching swaddle blanket and hat for her baby. I am sure they will look amazing for those first mommy & me pictures!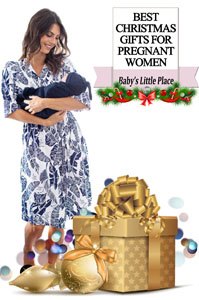 A suitable Christmas gift for pregnant women in:

first, second & third trimester
For a pregnant woman: who likes to dress nicely and comfortably, and is crazy about cute little baby clothes

Price range:

Christmas gifts under $100
More about this Christmas gift:
The robe can be easily sized down, which is great because women can wear it with a belly bump and after the delivery too! It is stylish but comfortable to wear and she can easily breastfeed in it too. The robe has also convenient hidden pocket on both sides. The pacifier will be always by the reach of the hand.
I think you can't miss with this Christmas gift for pregnant women, but you have to know her pre-pregnancy clothes size. The set is available in two sizes: S/M 2-10 and L/XL 12-18, so I think picking the right one won't be a problem.
Choose regards to her pre-pregnancy size!
A matching swaddling blanket has a soft design, so it gently wraps around the baby. It doesn't have zips, snaps, or Velcro, so it is perfect for gentle newborn skin.
I like, that they add a little matching cap too, as it perfectly completes the overall look!
This matching mom and baby set is available in numerous colors, to be exact in 41 colors and patterns. Some are perfect for baby girl, some for baby boy, but you can choose between numerous neutral colors and patterns too! It is made from 95% cotton, with 5% spandex, and machine washable.
A pregnancy pillow was my Christmas presents. It was one of the most useful gifts I could get! It went with me everywhere. I was six months pregnant on that Christmas, and I wish I would buy it even sooner.
In fact, I wanted to buy it many times, but I ended up leaving the store with a bunch of baby belongings without my pregnancy pillow. Women often forget to pamper themselves during pregnancy, as all their focus is on the baby.
I think you can't miss with this Christmas present. She will be thankful every time she will go to sleep, especially towards the end of pregnancy.
Maternity pillows are the most beneficial in the last trimester, so it's never too late for one!
Here is the best pregnancy pillow we had found:
A suitable Christmas gift for pregnant women in: first, second & third trimester
For all pregnant women, believe me!
Price range: Christmas gifts under $50
More about this Christmas gift:
It is a C-shaped, full-body pillow, with a storage bag. Because of a handy storage bag, she will be able to take it anywhere she goes.
Those pillows are big, so the ability to store them in the bag saves a lot of space when it is not in use.
The maternity pillow will replace multiple bed pillows, and help to support the important body parts of a pregnant woman.
As this one is a full-body model, it will support everything, from back, hips, knees, neck, and head. It will help ease a pregnant woman into better, more quality sleep. As such, it helps to relieve back pain associated with pregnancy.
And it is not good just during pregnancy, as it also makes breastfeeding more comfortable!
This pregnancy pillow is made of 100% cotton canvas, filled with polyfill blend that adapts to the pregnancy belly and back.
The pregnancy pillow must be durable! Believe me, when a pregnant woman gets such a pillow, she will use it all the time. That's why I like its durable stitches. That increases its durability, as the pillow doesn't tear on stitches so quick as many others.
Bump Boxes are a perfect Christmas pregnancy gift! You can choose from three different Bump Boxes that are designed to pamper the pregnant women throughout pregnancy. Each box contains must-have pregnancy products, which are specifically intended for each trimester.
Whether she is suffering from 1st trimester morning sickness or 3rd-trimester swollen feet, she will find something for her in a box!
Each trimester gift box contains 5-7 carefully chosen, full-size products. You can find what is in each gift box in the description below.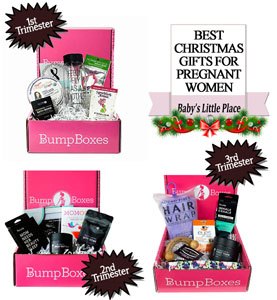 A suitable Christmas gift for pregnant women in: first, second & third trimester
For a pregnant woman: for all pregnant women, as all deserve to be pampered
Price range: Christmas gifts under $50
More about this Christmas gift:
1st Trimester pregnancy gift box contains: 
A water bottle with the phrase "Feelin' Fly as a Mother". The bottle is BPA free, and as such extra safe for pregnant mommy. 
12 mommy belly stickers for perfect belly pictures in certain weeks of her pregnancy.
Anti-nausea band to help her beat the morning sickness. That is a wristband that works based on putting the pressure on the acupressure point on the wrist. It has been proven that pressure on this point relieves nausea and vomiting.
Organic bath bomb, which will help her relax and restore her energy.
2nd Trimester pregnancy gift box contains:
An organic belly butter, which increases skin elasticity. It helps prevent annoying stretch marks and relieve itching. 
A photo frame for the sonogram. A beautiful way to display the day when she first saw the love of her life!
Momosas Recipe Book with delicious mocktail recipes, safe for pregnant mamas to drink during pregnancy!
Relaxing Bath Soak with organic essential oils and special salt mixture. It alleviates swelling, and help her get ready for bed in no time! It is specially designed for pregnancy and completely safe!
A lightweight satin Sleep Mask for her much needed sleep.
3rd Trimester pregnancy gift box contains:
The gift box for the third-trimester will pamper and prepare her for delivery!
What's inside?
One luxuriously and very soft hair wrap.
One headband with an adjustable, elastic back by Mavi.
A pack of under-eye strips made of cool collagen, amino acids, and coconut. 
Bumplife wood massager to relax her body and muscles.
One pair of no-slip socks with the funny phrase "Inhale, Exhale".
An organic foot soak with essential oils and all-natural ingredients.
A pregnant woman likes to bond with her baby. So why wouldn't you give her a chance to play music, voices, etc. to her little bundle of joy.
Mbrio is clip-on pregnancy earbud adapters that turn earbuds into prenatal headphones. She won't need any additional devices, just her smartphone, and a Mbrio.
Research indicates that babies in the womb can listen and respond to prenatal music. Scientists noticed changes in babies' heartbeat and movement while listening to it. Studies have shown that babies even remember and prefer music heard before they were born.
If a pregnant woman like more techy stuff and poses an Apple or Samsung smart device, the Mbrio is a great Christmas present for you!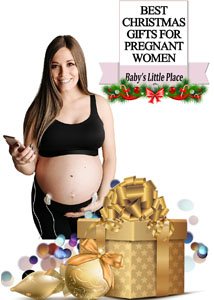 A suitable Christmas gift for pregnant women in: first, second & third trimester
For a pregnant woman: who likes smartphone gadgets 
Price range: Christmas gifts under $50
More about this Christmas gift:
How Mbrio works?
Its usage is very easy and convenient. You don't need extra prenatal devices as you turn your smart device into one. Mbrio has precision-engineered adapters, into which a pregnant woman pushes her own headsets. Then she simply clips them on to the waistband of her pants.
Because this is a product meant for pregnant women and babies it is carefully designed and tested to be safe for both of them! Mbrio has been independently tested by a Nationally Registered Testing Laboratory, meeting and exceeding safe audio guidelines from the CDC and NIOSH.
It has a patented SoundSafe technology that uses a thin layer of silicone to reduce sound levels by up to 30 decibels (depending frequency and volume) so that it is safe for the baby. Mbrio also uses only SkinSafe materials, including medical-grade silicone, without any adhesives, phthalates, latex, or BPA.
It is small, and ultra-lightweight, with an ergonomic design that adapts to mom's growing belly throughout the pregnancy.
A Portable Photo Printer:
Does a pregnant woman in your life take a lot of pictures? Of course, she does. Who doesn't? But how often you actually look at old pictures on your phone? With smartphones, we were given the opportunity to take thousands of photos. However, those special ones often left forgotten among thousands of others.
So, why wouldn't you give her a chance to print those special moments right away? A portable photo printer is a perfect gadget for this! It is so small that she can take it anywhere with her, and print photos from her smartphone right away!
A suitable Christmas gift for pregnant women in: first, second & third trimester
For a pregnant woman: who likes taking pictures
Price range: > $100
More about this Christmas gift:
Portable printers are more and more popular, and HP Sprocket is one of the best models on the market. Its first edition was the best selling portable printer, so it's no wonder that the second edition instantly became a hit too!
It is a perfect gadget for the modern woman. Besides that it makes instant phots, it is also small. It is not bigger than a smartphone! She can slip it into the pocket or purse and take it with her anywhere she goes. Not only that, even the colors of the HP Sprocket photo printer are modern and cheeky. From Black Noir and Cherry Tomato to Blush Pink and Luna Pearl. Isn't that great?
Let's see the details about this photo printer:
HP Sprocket instantly prints high-quality, 2×3″ pictures.
Photo paper has a sticky peel-off back.
You can connect multiple devices at once. You and your friends can print at the same time, where the personalized LED light shows you whose photo is printing.
It connects via Bluetooth 50.
It can stay connected when not in use, without draining the battery. It goes into sleep mode, and it's ready to print right away.
Sprocket app allows you to decorate, design, and print your social media photos, view a virtual photo queue of print jobs, and more.
Yeah, I know how typical, socks as a Christmas gift. But I am not talking about ordinary socks.
We had found socks that are perfect for pregnant women. While some are just funny, others help to combat a common pregnancy problem, swelling in the feet, and ankles. Those are compression socks! But not ordinary models, as we had found compression socks that combine fashion, technology, and science!
I would pick one of each model, a pair of funny labor push-socks for motivation during the delivery, and a pair of quality compression socks for less stressful pregnancy.
While all together doesn't cost more than $ 20, it is a wonderful Christmas gift for a pregnant woman.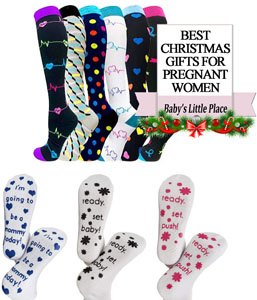 A suitable Christmas gift for pregnant women in: first, second & third trimester
For a pregnant woman: with a sense of humor and for those that suffer from a swollen legs
Price range: Christmas gifts under $20
More about this Christmas gift:
Inspirational Labor Push Socks:
Non-skid socks are often required in medical settings. That is why a pair of cute labor sock makes such a perfect gift for a pregnant woman. Of course, those are not ordinary, boring socks, but super-soft socks with enjoyable and funny phrases. I am sure a pregnant mom will appreciate a little fun on her feet and believe me doctors and nurses will, too!
Compression Socks:
Swollen legs and feet, combined with pain and cramps are a very common problem during pregnancy.
Compression socks are a great way to combat those problems. And good compression socks can do wonders! By providing true graduated compression, they ease leg swellings and even helps with varicose veins.
Of course, a special pregnant woman in your life deserves more than ordinary compression socks. That is why we had found perfect models that combine efficiency with fashion. These socks will add a touch of color in her life!
You can pick amongst a wide variety of fun colors and unique pattern designs! You can even choose a pair with a Christmas motif, isn't that great?
Many pregnant women experience pregnancy-related pain. Aches in muscles and joints are particularly common in the third trimester when ligaments shift, and the weight of the uterus increases. A quality heating pad will help the pregnant woman with relieving those pains!
The ability to use it longer than only in pregnancy, makes this Christmas gift even better! It is a perfect tonic for anyone with muscle aches, back pain, and stomach cramps. She will be grateful after pregnancy too!
So far from our research, we had found that a PureRelief XL Heating Pad described below offers the most for your buck!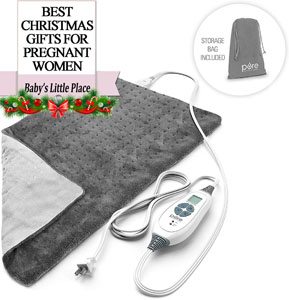 A suitable Christmas gift for pregnant women in: second & third trimester
For all pregnant women
Price range: Christmas gifts under $50
More about this Christmas gift:
A PureRelief heating pad is an extra-large model. It is great because it can offer full-body pain relief. It has a micro-plush fiber cover, which makes it is very comfortable and soft.
A pregnant woman should use lower heat, so picking a model with more heat levels is essential. PureRelief has an LED controller, where you can easily switch between six heat settings, from 105⁰F to 140⁰F. A heating pad must also heat fast, and this one is ready in seconds!
Other PureRelief XL Heating Pad features:
a built-in safety auto-off feature
it is machine washable
it has a Moist heat option
very soft
durable heating pad
Many doctors recommend low heat for back, hip, or pelvic pain. The heating pad increases blood circulation. As such, it prevents or reduces painful muscle spasms, improves mobility in stiff muscles, and offers temporary pain relief.
While this is a very good and safe alternative to over-the-counter pain relievers, some precautions for pregnant women are advised. That applies primarily to the first trimester, so it is might a better Christmas gift for pregnant women in the second and third trimester.
The Amazing Story of Me by KiddosArt:
Even in a digital world, a baby memory book is a heartwarming Christmas gift for pregnant women. Babies are our treasures, and capturing their sweetest moments in an old-fashioned memory book is so adorable.
I think The Amazing Story of Me by KiddosArt is the most beautiful baby memory book you will ever find. It is crafted with lots of love, containing 72 pages to document every little milestone of her baby.
And that is not all! This Christmas gift will last for 5 years, as she can record memories of her child's first 5 years. Each book also comes with a decorated box and a set of 12 monthly stickers.
A suitable Christmas gift for pregnant women in first, second & third trimester
For all pregnant woman: especial those who like scrapbooking
Price range: Christmas gifts under $50
More about this Christmas gift:
I love the beautiful look of the book! It's great that it has a unisex design, and as such suitable for boys and girls.
The memory book is well made, packed in a cute decorated box, with the enclosed set of 12 monthly stickers. The format of the book is 8.5″ x 11″, containing 72 drawn pages.
A great story is accomplished with joyful animal characters such as elephant, panda, giraffe, lion, monkey, and more.
Its pages are transparent, with room for over 100+ photos. The size for every picture is written on the photo frame, so it is easy to use.
New mommy can capture everything in this book. From the day she meets her baby, throughout the baby's first year of milestones, holidays, first five birthdays, and many more.
Expecting parents can capture:
Baby shower party
Ultrasounds
Growth chart
Teething chart
Hands and footprints
Monthly growth
1st-year milestones
Activities
Holidays
Celebrations
Birthdays
Family and friends
1st-year in school
Funny Wine Glass for a new mom:
A wine glass with a funny phrase is a perfect Christmas gift for a pregnant woman with a sense of humor. Yes, she will be able to use it after the birth, but believe me, she will need it! No, seriously, this wine glass is an affordable, cute, and useful gift for a new mom.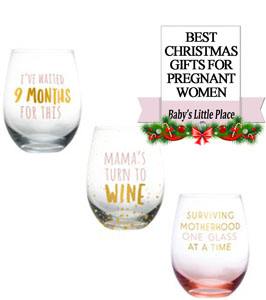 A suitable Christmas gift for pregnant women in first, second & third trimester
For pregnant woman: with a sense of humor
Price range: Christmas gifts under $10
---
How we've found the best Christmas gifts for pregnant women?
We have done extensive research on the latest pregnancy trends, researched what pregnant women really need, and what would be suitable for a Christmas gift!
We have also asked numerous pregnant women what they want for Christmas.
I have to admit that we did not fully take into account those who listed only Christmas gifts for their babies. Although that is a nice gesture, are the best Christmas gifts for pregnant women meant for them, not only for the baby.
And last, but not least, we have drawn ideas from our own experiences. From my experiences …. yeah, the same as most pregnant women. I thought only about my baby, gifts for her, and didn't think about myself at all.
But I was very happy about the gifts that were meant only for me! A pregnancy pillow was priceless! Maternity clothes were so cute and comfortable. And Bump Boxes … such a cool gift.
---
Life is a song. Love is music. It's always spring for the mother's love.
A woman understands the real meaning of these beautiful thoughts only when she is carrying a baby under her heart, especially at the time when she feels her first movements. Only then she realizes how infinite the mother's love is!
Women often forget about themselves during pregnancy, as all their attention is given to the baby. But they should pamper themselves during pregnancy and enjoy every moment of it.
That is why it's best to pick a Christmas gift meant only for her. And if you add up a little present for her baby too, you will make her Christmas unforgettable!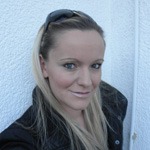 Hello!
I am the founder of Baby's Little Place. I'm a mom to the one-year-old daughter and I know how overwhelming could be when you are looking at things and tips for a new baby, especially if you are a first-time parent. That's why I set up this site…because I want to do something I am passionate about, as well as I want to help new parents and parents to be.

I hope you enjoyed reading my article! If you have any questions or comments, please leave them down below. I will be happy to discuss it with you!
---
---