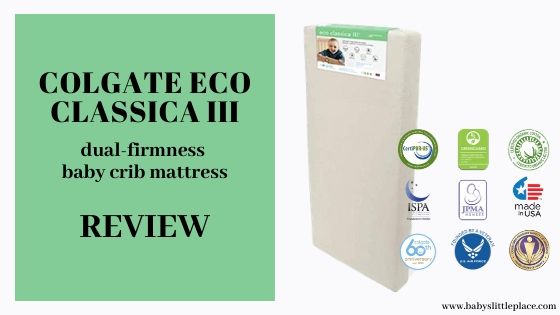 Colgate Eco Classica III crib mattress Review
During the first weeks of their lives, babies sleep almost 18 hours per day. Because they spend most of the day in the crib, picking the right crib mattress is very important. Eco Classica III is made by Colgate, who has been manufacturing crib mattresses for over half a century. Due to many experiences in the crib mattress industry, and because the mattress is handmade in the U.S., we expected good quality. And our results? Read our Colgate baby mattress review, and you will see they are great.
Parents spend a lot of time searching for a perfect crib. Yes, buying a safe crib is important, but picking a safe and firm sleeping surface is even more. And Colgate Eco Classica III crib mattress didn't disappoint us at all!
For a quick overview, I will firstly list good and bad things about Colgate Eco Classica, and of course the link to the best deal we had found. But, for more detailed research you are welcome to read the whole Colgate Eco Classica baby crib mattress review below.
Quick Review of Colgate Eco Classica III: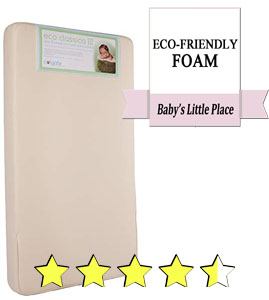 PROS:
lightweight
convertible, dual-sided crib mattress
Eco-friendly
100% organic cotton mattress cover
it fits all US standard size cribs
meets or even exceed all required safety standards
there was no initial smell when we unpacked it
CONS:
it seems to be available only in the U.S
rounded, not squared edges*
*Some parents expressed their concerns as edges of the crib mattress are not square. That could potentially lead to rolling on the sides. Because of that, we have tested the edge support, which is firm and does not sink. As the crib mattress also fits snugly in the crib, there shouldn't be any problems with that.
---
Colgate Eco Classica III crib mattress complete review
According to Colgate, the Eco Classica baby crib mattress should have all the following features. To see if that is the truth, and to see how well this baby mattress performed, we have reviewed them all!
it is a dual-sided crib mattress, which provides excellent support for both infant and toddler
it has standard crib mattress dimensions, so it fits all standard size cribs and toddler beds
Eco Classica is hypoallergenic
it meets or even exceeds all safety standards set by the government
it has an organic cover
it is lightweight and waterproof
Firmness and support
Eco Classica crib mattress has a dual-firmness sleeping system. And it is one of the best features of this mattress! Why? Because you can use the mattress much longer than just for the first months of baby's life.
A dual-firmness or dual-sided mattress is designed with two sides, one for baby and one for a toddler.
Layers differ in their hardness:
a firmer layer is for babies
the softer layer is for toddlers
Proper support in a crib mattress is vital for the baby's development. The sleeping surface for infants must be extremely firm, probably more than you would expect. A firm baby mattress will reduce the risk of SIDS (Sudden infant death syndrome). If the mattress is too soft, infants can turn their heads or even the whole body and don't have the resistance to turn it back.
Proper support not only prevents that, but later enables getting up on their hands, knees, and legs when they start to pull themselves up.
Infants need a firm, flat, even sleeping surface for proper bones' and muscles' development too. It also ensures breathability in the crib, which is extremely important.
The infant side of Eco Classica baby crib mattress is as good as it should be! You can easily compare it with one-sided mattresses, where is the entire surface designed just for babies. It is as firm or even more than a lot of those mattresses!
Babies Little Place tip: You can make a home firmness test, where all you need is your hand! Press on the mattress with one hand. If the mattress holds firm and spring back in place quickly, it is firm enough.
TODDLER'S SIDE:
As your baby grows you, can flip the Eco Classica over to a toddler side. That side is softer, so it provides greater comfort for your toddler.
My three-year-old daughter didn't sink in the toddler side at all. So, even though it is much softer than the infant side, it's still safe and offers enough support for your toddler.
Are the dimensions of the crib mattress in accordance with the prescribed ones?
The measurements of the Colgate Eco Classic III dual-firmness crib mattress, correspond to those set by the government. It is a perfect fit for all standard-size cribs. We have placed it in a Graco Benton 4-in-1 convertible crib, and it fits snugly in it.
There is no problem with mattress's measurements, but you must be sure that the dimensions of your crib also correspond to the prescribed measures.
U.S. regulations define:
a standard size crib is a baby crib with the following measurements: 52 3⁄8 ± 5⁄8 inches in length by 28 ± 5⁄8 inches in width
a standard crib mattress is a baby crib mattress with the following measurements: at least 27 1/4 inches by 51 5/8 inches and no more than 6 inches thick
Baby's Little Place tip: To be sure you can always make a home fitting test. Place your fingers between the crib's frame and the edge of the mattress. There shouldn't be more than two fingers space there! If there is any more space, is Colgate Eco Classica too small for your crib!
In our crib, we could barely fit one finger there, which is perfect. If you have a standard size crib (all new cribs should correspond to that), there shouldn't be any problems!
Is the Colgate Eco Classica III comfortable enough?
The whole mattress is surrounded by the cover made from cotton, which adds to the initial comfort. Colgate also hid the waterproof barrier below the mattress's cover. It is between the cover and foam, so there is no plastic feel or sound.
You might think that because of the firmness, the mattress is not comfortable for babies. I can assure you that this is not true. Start using it right away, and it will feel normal to your baby. And most important, it is a safe choice!
The toddler side is noticeably softer, so it provides a comfortable sleeping place for them.
Venting and heat regulation
Although Colgate Eco Classica III doesn't have venting holes on sides, that didn't concern us at all. Most foam mattresses do not have them, so this is not something that should divert you from the purchase.
However, if the mattress doesn't have venting holes, it must have a good waterproofing barrier. Because the waterproof cover prevents all liquids from entering the mattress, there is no need for drying.
Colgate Eco Classica III has a waterproof barrier under the organic cotton cover. That is the best method they can choose, as the highest layer of the mattress still breathes and prevents overheating of the baby.
Colgate Eco Classica III cooled down from 130ºF to body temperature in an impressive 15 seconds, which proved us we were not wrong.
Does it have quality corners, edges, and seams?
CORNERS: Colgate Eco Classica crib mattress has rounded corners. There is no difference between the round and sharp corners regarding safety.
If you have a crib with a strictly square design, it may be a little gap between rounded corners and crib's frame. While some parents like it, because it is easier to change the sheets, others don't, because the gap can catch the pacifier.
EDGES of the crib mattress are rounded, not square. That could potentially lead to rolling on the sides, but our test showed they are firm and do not sink, so that should not happen.
SEAMS: We like the inverted seams, which provides a sleek appearance. They are also tight, and they should not pop easily.
Mattresses's bounce
You don't want your crib to become a trampoline for your toddler. A crib mattress must have just enough bounce for a comfortable sleep. It shouldn't be hard as a rock, and at the same time, the whole mattress shouldn't bounce every time your child moves. Everything is OK here!
Is Colgate Eco Classica III a durable crib mattress?
Colgate Eco Classic III crib mattress is very durable and supportive. We did not test the mattress for a longer period of time, but we interviewed many parents and their experiences showed us it doesn't sag, not even after a few years.
If you maintain and clean it according to the instructions, it should hold more than one child.
Is the mattress waterproof?
Yes, it is. The mattress has a waterproof barrier, which you can't feel because it is hidden under the cottoned cover.
Waterproof barrier protects the mattress's core from liquids, bacteria, dust mites, bugs, and odor. It also makes the Eco Classica hypoallergenic.
Cleaning
The mattress can be easily cleaned with a damp cloth and mild soap.
---
Safety
Eco Classica not only meets but even exceed all required safety standards. It is hypoallergenic and phthalate-free. It has a GREENGARD certificate, which ensures that it has been independently tested and verified to meet strict emission levels of pollutants, such as volatile organic compounds (VOC), formaldehyde, and phthalates.
The foam used for this mattress has a CertiPUR certificate, to be safe and high quality. It ensures that mattress's foam has been made without ozone depletes, mercury, lead, and other heavy metals.
Foam is made with plant oils only, replacing harmful petroleum-based oils. All foam is Eco-friendly.
Colgate Eco Classica III dual-firmness crib mattress also passes all federal and state requirements for flammability!
---
Colgate Eco Classica III dual-sided crib mattress Specifications
Mattress size: 51 5/8″ long by 27 1/4″ wide
The thickness of the mattress: 6″
Mattress weight: 9,6 pounds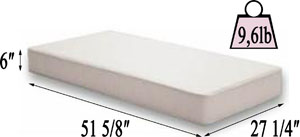 Age and/or weight limits: 65 pounds
Warranty: Colgate's crib mattresses come with a lifetime warranty, which covers defects in workmanship or materials from the original date of purchase.
Colgate's Eco Classica structure
It's what is on the inside that counts the most!
A. Certified organic cotton cover
B. Natural cotton flammability barrier
C. Firmer plant oil-based Eco foam for infants
D. softer, more comfortable Eco foam for toddlers
B. Natural cotton flammability barrier
A. Certified organic cotton cover
---
Is Colgate Eco Classica III crib mattress 100% organic or not?
Many parents mistakenly think this is a 100% organic crib mattress. Although it meets or even exceeds all required safety standards and all materials are Eco-friendly, only its cover is certified to be 100% organic.
We appeal to the manufacturer to label this more clearly and reduce the confusion.
If you want a 100% organic crib mattress, you can look at Naturepedic Organic Baby baby crib mattress, but completely organic crib mattresses are in the higher price range.
---
Is Colgate Eco Classica III a good purchase?
Colgate Eco Classica dual-firmness baby crib mattress is a great choice for Eco-conscious parents. It is a safe and durable mattress, which will grow with your child.
Although it isn't the cheapest baby crib mattress on the market, we think it has a good value for the money. Many comparable mattresses are more expensive and often offer even less than Colgate Eco Classica.
We are certain you will be pleased with your purchase. And most importantly, it offers safeness and comfortability to your child in different development stages.
We found the best offer on Amazon: Colgate Eco Classica III baby crib mattress
---