Best cribs for Short Moms in 2019 – 5 cribs for Petite Moms with Reviews
Best cribs for Short Moms – 5 Cribs for Petite Moms
I decided for this post after I was talking with my friend who is a petite mom. She said how hard is to put the baby in and out of the crib, as she is too short to reach up and over the crib rail in order to access her.
When I was thinking about it later, I remember how often I said to my husband if he can do this instead of me. It was easier for him, and with 5'8″ I wouldn't say I am a short mom. So I can imagine how difficult can be for them.
I thought it would be nice, to gather all the best cribs for short moms in one place and help them find the best one for them and their babies.
You can find additional information, at the end of this article, or jump on the particular section by clicking on the links in the table of content.
Best full-size cribs for short moms in 2019
Babyletto Hudson 3-in-1 Convertible Crib

Babyletto Lolly 3-in-1 Convertible Crib

Stork Craft Hillcrest Fixed Side Convertible Crib
Best low profile crib overall:
Babyletto Hudson 3-in-1 convertible crib with toddler rail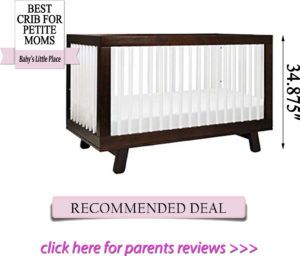 THE GOOD:
it grows with your child
included safety guard rail for a toddler bed
perfect for petite moms
eco-conscious design
retro modern look
4 level adjustable mattress support
sturdy crib
it meets all required safety standards
the ability to convert it into a junior bed
THE BAD:
a metal spring support is visible in second mattress height position (only if you pick a light colored model, and you can also hide it with a crib skirt)
>> Buy Babyletto Hudson 3-in-1 Convertible Crib on Amazon <<
---
Best modern crib for petite moms:
Babyletto Lolly 3-in-1 Convertible Crib with toddler rail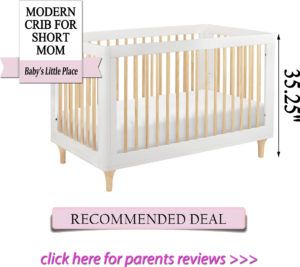 THE GOOD:
it grows with your child
the toddler safety guardrail is included
it meets or even exceeds all safety standards
European style
Eco-conscious modern design
it is standard size, which doesn't take a lot of space
4 levels adjustable mattress support
perfect for short moms
THE BAD:
some parents noticed the initial paint smell, which has vanished after a few days
it is not the cheapest crib
>> Buy Babyletto Lolly 3-in-1 Convertible Crib on Amazon <<
---
Best low-budget crib for short moms:
Stork Craft Hillcrest Fixed Side Convertible Crib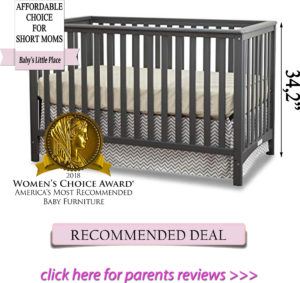 THE GOOD:
it can be a lifetime bed for your child
an affordable crib
a safe crib
doesn't occupy a lot of space
low profile, perfect for petite moms
non-toxic materials
high quality
sturdy and durable crib
THE BAD:
available in only three colors
assembly might seem confusing
>> Buy Stork Craft Hillcrest fixed side convertible crib on Amazon <<
---
Best mini cribs for short moms in 2019
What about mini cribs? If you are short of space than a mini crib is a perfect solution for you.
Mini cribs are as good as standard size cribs, just with smaller dimensions. This holds for length and width of the mini crib, while the height is the same to the full-size cribs. So, even a small crib can be too high and awkward for short moms.
Mini cribs are a perfect solution for urban lofts or smaller nursery, as they take less space as their bigger sisters. Mini cribs are also cheaper.
Even though they are smaller, they are as comfortable and sturdy as standard size cribs. Mini cribs are also available in all types: convertible crib, portable crib, …).
Only down point of the mini crib is the same feature which makes it so special, the smaller size. You need to know that your baby will outgrow it sooner as a standard size crib.

Best mini convertible crib for short moms:
Dream On Me Aden 4-in-1 Convertible Mini Crib
THE GOOD:
it grows with your child
fits into small spaces
an affordable price
low profile, perfect for short parents
wide selection of colors
safe crib
non-toxic materials
sturdy crib
adjustable mattress support
THE BAD:
your baby will outgrow the crib sooner as a full-size crib
>> Buy Dream On Me Aden on Amazon <<
---
The best portable mini crib for short moms:
Babyletto Origami mini crib – a portable crib on wheels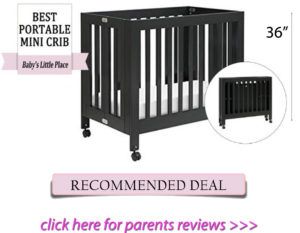 THE GOOD:
fits into small rooms
timeless, but modern design
wheels roll smoothly
available in unique colors
durable and lightweight
collapsible for easy storage and transport
four locking casters
adjustable mattress support
THE BAD:
relatively high price
your baby will outgrow it sooner as a full-size crib
>> Buy Babyletto Origami on Amazon <<
---
Prices for baby crib mattresses that fit into our reviewed cribs:
---
If you are one of the petite moms, I understand it can be a little frustrating looking for a perfect crib. All those beautiful cribs with multiple features … everything is useless if the crib is too high for you. While our main consideration is the safety and appearance of the crib, a petite mom needs to consider the crib's hight too.
Of course, you can pick any crib you want, just make sure it is safe. But be aware, that if you decide on a big and bulky crib, as a short mom, you will probably need a footstool, to place a sleeping baby safely in the crib.
That's why we highly recommend you a low profile baby crib, as it will ease your life a lot!
Please, don't be afraid for the safety. Low profile cribs are as safe as any other crib! Their low profile is the result of careful design, usage of shorter legs, and with the mom's and baby's safety in mind!
How we compiled our list of the best cribs for short moms?
Our list of best cribs for short moms was made after our comprehensive research. We had found many low profile cribs and asked a lot of short parents about their experiences with these cribs.
So, on our "best cribs for short moms" list are only cribs:
that are liked by the majority of parents
got the most points on our reviews
What does the crib need, to be the best choice for a short mom?
Cribs for short parents have to be:
first, and most important: safe
of course it has to be a crib with low profile: because of the shorter legs, not lower rails!
with all the functionalities other cribs have
Used to petite moms, didn't have problems with finding the crib for their needs. But was it safe?

Before 2011 short parents bought a drop side crib and their problem was solved. That is not an option anymore, as CSPC (Consumer Product Safety Commission) banned the sale of those cribs.
Yes, dropping sides were helpful for petite moms, but you shouldn't be disappointed, as they banned them because of the safety reasons. I personally would rather climb up the ladder to put my baby to sleep, as jeopardize her safety. I know it is the same with you! There were numerous injuries and even death, so if you have an older drop-side crib at home, please don't use it, even if you are short. It's not worth it!
You can watch the video about this safety issue at the end of the article.
Can I find a good crib if I am a petite mom?
Of course, you can! First of all, don't worry! Yes, compared to a high profile cribs there are not as many models. But the market is already too saturated, so you can still find a decent amount of different models in every crib type.
You can choose between different standard or mini convertible/nonconvertible crib, as well as between portable and combo cribs.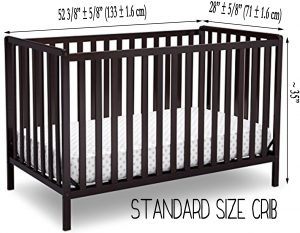 The high of almost all standard size baby cribs is 42″ and more, but you can find a safe and beautiful crib with around 35″ high. Crib with that hight should make life easier for petite mom, not to mention that means fewer back pains for them.
If you have enough space and you don't intend to move the crib a lot, a standard crib is the best choice for you! Parents usually looking for a full-size crib, so there are more models on the market.
But if you are short of space or you are looking for a portable crib, we found two options for you too. If you are interested only in a mini crib, you can skip the first part and read:

We picked only the best cribs for short moms, which meet or even exceed all the safety standards. We found different types of baby crib, for different family needs and lifestyles. According to our firm belief, you will not find a better low profile crib, than those I have listed below. All you have to do is figure out what features you prefer for a crib and pick the best one for you and your baby.
---
I didn't talk about safety much till now, as it goes the same with all cribs on this site. Every crib we recommend for any mom, short or tall, is straightly tested and meets all the safety standards!
As I mention before cribs have to be stationary and sturdy, with a wide frame and solid feet.
No drop-side.
The mattress has to be firm and fit tight in the crib. Make sure there is a room for no more than two fingers between the side of the crib and the edge of the mattress.
The wide between the crib slats shouldn't be more than 2 3/8 inches. With wider distance, would the baby's body fit through the slats, and that shouldn't happen.
Cribs must be made with non-toxic materials and colored with non-toxic finishes. So if any teething accident happens, you won't worry about baby health.
If cribs meet all the safety standard, they get safety certifications. Cribs we recommend for short moms don't have toxic chemicals or toxic paint and are such as JPMA (Juvenile Products Manufacturers Association) or GREENGUARD Gold certified. Also, everyone is stringently tested to meet or even exceed all applicable Consumer Products Safety Commission (CPSC) and American Society for Testing and Materials (ASTM) safety standards to ensure the safest sleep environment for your child.
Additional safety recommendation:
assemble the crib correctly and follow the provided instructions
never put pillows, blankets, plush toys and any comforters in the crib with your baby
if you intend to use position devices, use them carefully in accordance with the instructions
try to keep the crib away from blinds and windows or anything else that baby when she gets a bit older can pull down
regularly check for loose or broken screws, bolts, and mattress support
The whole article about new crib safety standards: Baby Cribs Safety Standards.
---
RELATED ARTICLES:
Hello!
I am the founder of Baby's Little Place. I'm a mom to the one-year-old daughter and I know how overwhelming could be when you are looking things and tips for a new baby, especially if you are a first-time parent. That's why I set up this site…because I want to do something I am passionate about, as well as I want to help new parents and parents to be.
I hope you enjoyed reading my article! If you have any question or comment, please leave them down below. I will be happy discuss it with you!
Have a wonderful day!
---
---