Safety 1st Heavenly Dreams Crib and Toddler Mattress Review
Safety 1st Heavenly Dreams Crib Mattress Review
Safety 1st is a well-established company, with more than 30 years of experiences. As the name of the company tells by itself, their priority is the safety of their products. Maybe you are more familiar with their other baby products, like car seats or strollers, but Safety 1st is also very focused on manufacturing safe crib and toddler bed mattresses too.
And the best part? Their baby and toddler crib mattresses are very affordable! That is why we have picked their most wanted, and best-selling model, Safety 1st Heavenly Dreams crib mattress for our review.
Safety 1st Heavenly Dreams crib mattress is a lightweight foam mattress, that fits into all standard size cribs and toddlers beds. We reviewed all the features that a good baby crib mattress must-have. You can read our findings below, in our new Safety 1st Heavenly Dreams crib mattress review.
THE GOOD:
lightweight crib mattress
affordable
safe choice
without odor
ideal firmness for babies
sufficient support for toddlers
hypoallergenic
water resistant
THE BAD:
it retains more heat than some other foam mattresses we had already reviewed (find out more in the Venting & heat regulation section of our review)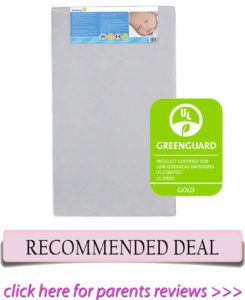 Safety' 1st Heavenly Dreams crib and toddler bed mattress Structure and Specifications
The structure:
Same as the majority foam mattresses, Safety's 1st mattress doesn't have particularly complex structure at all. Instead, its structure is simple but efficient.
The mattress' core is made of high-density, thermo-bonded fibers. Simply put, it is from foam, without coils, or anything else.
Foam is surrounded by a tear-resistant, hypoallergenic vinyl cover. Covers made of vinyl are a common choice for affordable baby crib mattresses, but they have their pros and cons.
Because they are water-resistant, vinyl covers prevent bacteria and mold growth inside the mattresses. But on the other side, they are not as breathable as those made of cloth.
The specifications:
Mattress size:

52″ long by 27,5″ wide

The thickness of the mattress:

5″

Mattress weight:

7 pounds

Age and weight limits:

age limit: for infant and toddlers between approximately 0 – 5 years
weight limit: newborn to 50 pounds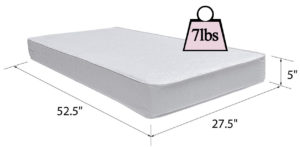 Our Safety 1st Heavenly Dreams Crib Mattress Review
According to Safety 1st, Heavenly Dreams baby crib mattress should have all the following features. To see if that is the truth, and to see how well the mattress performed, we have reviewed them all!
it offers excellent support and sufficient firmness from newborns to toddlers
it fits into all standard size cribs
it is durable
it is hypoallergenic
it is a safe innerspring mattress
it is water-resistant
easy cleaning
→ We also checked the airflow through the mattress, heat regulation, and the bounce.
SAFETY
Safety 1st Heavenly Dreams crib mattress meets or even exceeds all required safety standards.
Without the use of potentially harmful chemicals, it also meets required federal flammability standards.
The mattress is phthalate and lead-free.
It has a GREENGUARD Gold certification, which means it doesn't contain chemicals which would pollute your indoor air.
---
Frequently asked questions about Safety 1st Heavenly Dreams crib mattress
1. Does the mattress have an odor?
Some parents reported an initial unpleasant odor. The smell comes more from the plastic wrapping of the mattress, not from the mattress itself.
The smell after unpacking is common for all mattresses, that is why we always recommend airing the mattress out before the use.
Place it on the flat surface in a well ventilated, warm room, and leave it for a day or two. Any potential odor should air out during that time.
2. Does the mattress come rolled up?
Many foam mattresses shippes rolled up, but not Safety 1st Heavenly Dreams crib mattress. It comes fully expanded. So the package is bigger, but you can start using it right away. There is also no fear that the mattress won't fully expand.
3. Is the mattress firm enough for a newborn?
Safety 1st Heavenly Dreams crib mattress has enough firmness for newborns.
4. Is Safety 1st Heavenly Dreams mattress dual-sided?
No! Both sides have the same firmness, but it fits into cribs and toddler beds.
Its design reassures sufficient firmness for infants, with enough comfort for toddlers.
5. Does it work in all cribs?
It is a standard size baby crib mattress, so it fits into all standard, full-size cribs perfectly. It does not fit into mini cribs!
6. In what country is Safety 1st Heavenly Dreams mattress made?
Its cover is made in China, but the mattress is filled and finished in Canada. However, the same as all mattresses made in the US, this one meets all US safety standards as well.
7. What size sheet do I need for this mattress?
All regular size crib sheets should fit.
8. Can I use Safety 1st Heavenly Dreams in a Pack 'n Play?
No! Even if the mattress fits into your Pack 'n Play, it is too thick for a safe usage there. Pack 'n Play's mattress shouldn't be thicker from 3 inches.
That is because of the mash which surrounds Pack 'n Plays. If the mattress is too thick, the baby can trap between the Pack 'n Play side and the mattress.
---
The verdict
Safety 1st received the Women's choice award as an America's most recommended brand for baby crib and toddler bed mattresses. I am not surprised, because safety should be the no.1 priority when picking products for our children. Heavenly Dreams baby mattress combines the safety with affordable price, which is, of course, a win combination.
Yes, a few things could be better. But nothing on this mattress is so bad that I would not recommend it to you. For example, if they would replace vinyl with cotton cover, the cover would be plushier, but not water-resistant anymore.
Comparing to baby crib mattresses in the same price range, this one has a really good value for the price!
>>> Click here to see the best offer on Amazon <<<
---
CRIB MATTRESS REVIEWS:
Foam baby crib mattresses:
Innerspring baby crib mattresses:
Hello!
I am the founder of Baby's Little Place. I'm a mom to the one-year-old daughter and I know how overwhelming could be when you are looking things and tips for a new baby, especially if you are a first-time parent. That's why I set up this site…because I want to do something I am passionate about, as well as I want to help new parents and parents to be.
I hope you enjoyed reading my article! If you have any question or comment, please leave them down below. I will be happy discuss it with you!
Have a wonderful day!
---
---