Hudson crib by Babyletto – a new 2019 review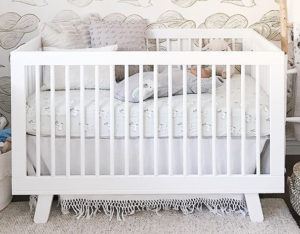 A new review of Hudson crib by Babyletto
Hudson crib by Babyletto is a beautiful crib with clean lines. It is a popular 3 in 1 convertible crib, which is actually the best-selling model from Babyletto. That didn't surprise me at all, as it is a modern and eco-friendly crib, which offers great versatility to the young family.
Update: Hooray, we just heard Hudson is one of the first Meghan Markle's baby shower gifts. Hudson just become a royal crib! In our opinion, it completely deserves it. Read our Babyletto Hudson 3-in-1 convertible crib review, and find out if you agree with us.
***We made comprehensive research about Babyletto Hudson 3 in 1 convertible crib. My vision was to gather all the facts about the Hudson crib by Babyletto in one place. From the pros and cons to the product specifications and Babyletto Hudson crib mattress information. I think that with the help of my friends and many parents who already have a Hudson crib, we pretty much covered everything.
Summary of our Hudson review
THE GOOD:
eco-conscious design for modern moms
retro modern look, with rounded spindles all around the crib
it grows with your child
beautiful non-toxic finish, available in multiple colors
4 level adjustable mattress support
toddler rail is in the package
solid wood construction
sturdy crib
THE BAD:
if you pick a light colored model, a metal mattress support might be seen while you set the mattress into higher positions *
* A small part of the metal mattress support can be seen in bright models. That happens only when the mattress is set to the highest position. If that bothers you, you can use a crib skirt to hide it. Crib skirts make the nursery even more appealing and can hide things you store under the crib.
The same as all baby cribs, Huson can get a scratch or two overtime. If your baby likes to bite things, you can expect teeth marks too. In that case, we recommend using the teething rail protectors. Just don't forget to place them on the crib before your baby gets to the stage when she stands up and chews things.
If you decide not to use crib rail protectors and wants to preserve those cute teeth marks on the crib, you don't have to worry about safety.
The paint is 100% non-toxic! The paint actually doesn't peel off, so there will be only teething dents.
Babyletto Hudson or Babyletto Lolly?
Babyletto Hudson is a sophisticated "older sister" from the new Babyletto Lolly 3 in 1 convertible crib.
That doesn't mean Hudson is an old crib! It is just so popular that Babyletto decided to make a similar model, to satisfy even more parents.
Lolly is just slightly younger Babyletto's 3 in 1 convertible model, which does not differ much from Hudson crib. The biggest difference is in the shape of their legs and in the color selection. Other features and specifications are pretty much the same.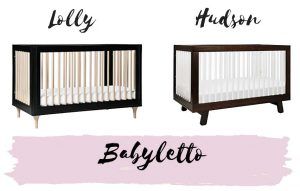 Babyletto Hudson is a perfect choice for petite moms too
Short moms will appreciate the low profile of this crib. Low profile cribs make a great impact on the quality of their life. Fewer back pains is only one of the reasons why short moms should decide on this model!
The common problem of petite moms is the overall cribs' height, as they struggle with placing the sleeping baby over the front rail to the mattress.
Don't be concern about safety! Hudson's low profile is the result of the carefully constructed crib's framework with shorter legs, not lower side rails! Your child won't be able to escape sooner than from other cribs.
RELATED ARTICLE: Best cribs for short moms 
We love the Hudson's design
Hudson is a static crib and as such without any moving parts. It is made from solid New Zealand pine wood, coated with a child-safe non-toxic finish in a variety of colors.
Because of Hudson's modern mid-century design and wide color selection, you won't have problems matching the crib to any kind of furniture. But, if you want to pair it with Babyletto furniture, it matches with Hudson dresser changer and Hudson 6-drawer assembled double dresser perfectly.
Manufacturer: Babyletto
Model: Hudson
Type: 3-in-1 convertible crib
Style: modern retro looking crib
Material: natural New Zealand pine wood
Assembled dimensions: 53.625″L x 29.625″D x 34.875″H
Assembled weight: 54 lbs
Color: espresso, grey, slate, white, washed natural wood and two tones: gray/white, espresso/white and white/washed natural
Stylishly rounded spindles are placed all around the crib. There are 48 spindles, 16 on the long and 8 on the short side. Well, I was not sure if I should mention these numbers, as they are probably not the most important information within your choice. But as I said before, our Babyletto Hudson 3-in-1 convertible crib review includes everything, so there it is.
The Hudson's open design:
allows you to see the baby from different angles
makes the crib light and airy
distinguishes Babyletto Hudson from the majority of cribs with closed backside
Babyletto Hudson is a 3-in-1 convertible crib – our review of convertibility
Babyletto Hudson is a sturdy, standard size convertible crib with stationary sides to add to the security and stability. Think of it as long time investment, as it will grow with your child and will be with him for many years to come.
When your baby outgrows the baby crib, you can easily transform the crib into a toddler bed. And the best thing is, that you don't have to make any additional purchase, as you get the toddler guardrail in the package.
Later you can remove the guardrail and transform Hudson in a daybed.

READ ALSO: The best convertible cribs of 2019
I hope the name "3 in 1" didn't confuse you and is not a reason which would divert you from the purchase. You may ask yourself why would you buy Babyletto Hudson, if you can get a 4 in 1 convertible crib, for the same price?
Yes, for the same price, or even less, there are a lot of cribs named as 4 in 1. But, you have to buy the conversion kit to transform them into the full-size beds separately. So, you actually get the 3 in 1 model, or even less.
Why less? As you have to buy the guardrail for a toddler bed too. Considering this, those 4-in-1 crib models are no longer cheaper from Hudson!
Convertible: yes
Number of conversions: 3 (4, with Junior Bed Conversion Kit)
Conversion types: crib, toddler bed, and daybed
Weight Capacity: toddler/daybed = 50lb
Useful information about Hudson crib
Could we call Babyletto Hudson a 4 in 1 convertible crib?
Actually, we could. Babyletto named Hudson crib as a 3 in 1 convertible crib, but it has a fourth conversion as well. If you want you can later transform Hudson's daybed into a junior bed too.
Babyletto offers Junior bed conversion kit for Hudson crib. It is available in espresso, gray, white, washed natural and white/washed natural colors.
So yes, Babyletto could easily name Hudson a 4 in 1 convertible crib because you can transform it into three different beds.
Next thing I want to point out, are the numbers in the baby cribs names!
Numbers can easily mislead you, making you think you will get everything in the package. Parents often decide on a model with a higher number in the crib' name just because they think they will get more. That results in a disappointment, as they later realize they need to buy additional parts separately.
That is not the case here! You get everything you need for this 3-in-1 convertible crib in the package. I really like that, especially because this is not a common practice in cribs industry. A big plus for Babyletto!
If you won't decide for Babyletto Hudson 3-in-1 convertible crib remember this! Numbers in the crib's name tell you how many conversions certain crib has, not what you really get. That is different from model to model.
Babyletto Hudson crib mattress information
The mattress sits on the metal spring support, which enables better air circulation and makes reliable support.
You can adapt the height of the mattress in four different positions. Start with the highest level for infants, but don't forget to lower it down when your baby starts to crawl or sit on her own. Keep it at the lowest level for the toddlers!
The crib mattress is not included. You can use any standard size baby mattress, of any brand. To make sure, we have tested how other standard size crib mattresses fit in the Hudson too. For instance, we have tested a few great models, like Moonlight Slumber Little Dreamer or Colgate Eco Classica III crib mattress, and they all fit snuggly in the crib.
YOU MIGHT LIKE: Baby crib mattress Reviews
Interior crib dimensions: 52″L x 28.125″D
Compatible Mattress Size: standard
Mattress Included: no
Recommended mattress: Pure Core non-toxic crib mattress with Hybrid Waterproof Cover
Adjustable Mattress Height: yes, 4 positions
Don't forget about safety!
The crib is made from eco-friendly, non-toxic materials backed with Greenguard gold certification. This mean, it is screened for over 10,000 chemicals and certified as low-emitting and healthier for the indoor environment. The crib is also finished in the non-toxic multi-step painting process, without lead and phthalate.
As mention before, Babyletto Hudson 3-in-1 convertible crib doesn't have a drop side. Because of numerous injuries and even deaths, CPSC (Consumer Product Safety Commission) banned the sale of dropping side cribs.
The space between slats is 2″ apart, which is safe and smaller than the prescribed maximum of 2 3/8 inches.
Hudson baby crib meets or even exceed all safety standards set by ASTM (American Society for Testing and Materials) international and U.S. CPSC (Consumer Product Safety Commission)!
No matter what crib will you choose, an old or new one, convertible or portable, make sure it meets all required safety standards! Hudson crib by Babyletto meet or even exceed them, so it is a safe crib!
---
The verdict
Babyletto Hudson is a modern looking crib that will make a gorgeous centerpiece in any nursery. Yes, it is not the cheapest baby crib on the market, but we are convinced it is worth the money you spend. After all, it is a convertible crib and as such a long time investment. And don't forget … toddler safety guardrail is already included in the price!
Hudson is a sturdy crib of high quality. After all, it is a royal crib. If Meghan Markle loves it, we love it too. No, I am kidding. We love Hudson because of the positive results of our review. It has everything you would expect from a modern 3-in-1 convertible crib, and even more.
Babyletto Hudson caught our attention because of its beautiful design. We love its European style with rounded slats, which makes the crib even more appealing and unique. But in the end, the crib's design is not the most significant feature you should look. Safety, quality, durability, and versatility are just a few of the major features we had reviewed, and all got five stars. Impressive!
So far, from our research on where to buy the Babyletto Hudson 3-in-1 convertible crib, the best offer is on Amazon:
>>> Babyletto Hudson 3-in-1 convertible crib<<<
---
RELATED ARTICLES:
---
We hope you find this Babyletto Hudson 3-in-1 convertible crib review helpful. Please, if you have any questions or you have your own experiences with the crib, leave it in the comments below.
Babyletto Hudson 3-in-1 convertible crib
THE GOOD
eco-conscious design
retro modern look
it grows with your child
4 level adjustable mattress support
sturdy crib
toddler rail is in the package
THE BAD
if you use light colored models, you can see metal mattress support in some positions
Hello!
I am the founder of Baby's Little Place. I'm a mom to the one-year-old daughter and I know how overwhelming could be when you are looking things and tips for a new baby, especially if you are a first-time parent. That's why I set up this site…because I want to do something I am passionate about, as well as I want to help new parents and parents to be.
I hope you enjoyed reading my article! If you have any question or comment, please leave them down below. I will be happy discuss it with you!
Have a wonderful day!
---
---