Vtech Soothing Ocean Slumbers Mobile review
VTech baby soothing mobile responds to your baby's cry. Although it has some deficiency, a built-in sound sensor makes it different from other battery operated crib mobiles. If you want the responsive baby crib mobile, you should definitely think about it. But if the look and the design of your baby nursery are your priority, then you might be disappointed with the plastic look of the mobile.
Best responsive (voice-activated) crib mobile
Is the automatic mobile's respond to the baby's cry a useful feature that would persuade you to buy this responsive mobile?
Yes and no!
With the voice-activated mobile, you don't need to restart the mobile manually. So, you won't distract your baby from leaning over her while restarting the mobile. But you have other options, which allows you the same. A remote-controlled or Bluetooth operated baby mobile will restart the mobile from another room. The only difference is that you still have to press on the button with those two.
Vtech baby soothing ocean slumbers mobile will respond right away without your help, even when you won't be near. Because of that, there is less chance for your baby to completely wakes up before you restart the mobile.
Although the mobile has interesting features, it looks a little too plastic and poorly made for our taste. VTech should improve that, and they will get a perfect responsive baby mobile. We would also recommend to invest in different designs, not just ocean them, so the mobile could fit in more themed nurseries.
Mobile's parts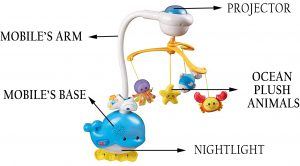 The base of the mobile is not just a regular round box, as it's in a shape of a blue whale. That makes the mobile unique, which is a big plus.
The whale doesn't serve only as the crib attachment, because it has the buttons for controlling the whole unit as well and a nightlight in the belly. That's cute and makes the mobile more appealing for you and your baby.
Beside a large musical button on the front of the mobile's base, there are also little buttons on the side. They are meant for parental control, for adjusting the lights, volume, and timer on the mobile.
Vtech Soothing Ocean Slumbers Mobile grows with your child
Another useful feature that gives an additional value to the mobile is its long-term use. It is a 2-in-1 mobile, which means you get one baby toy, with two different purposes. In this case, you get a crib mobile, that you can later easily convert into a crib toy or take along toy.
In the first stage, you use it as a crib mobile.
You need to remove the mobile's arm when your baby reaches the hanging toys. Although plush toys are removable, we do not recommend to use them separately before your baby is not old enough. Toys are too small for a little baby! But you can leave the whale on the crib. It will serve as a musical box with a nightlight. Along with music and the fact that your baby is already used to this toy, it will comfort and help her to sleep further.
In the last stage, when your little one is big enough, you can remove the whale from the crib, and use it as a take along toddler toy. Your toddler will enjoy having the musical box with lights and sounds in the shape of the whale.
---
FREQUENTLY ASKED QUESTIONS
1. Does the mobile have a plugin?
No, it can work only with batteries.
2. When the baby starts crying, is it supposed to play only the sound/music, or is it supposed to activate the lights and mobile also?
Depends on which setting you selected at first.
3. How does Vtech Soothing Ocean Slumbers Mobile attach to the crib?
The mobile attaches to the crib with the adjustable strap, which goes over the rail, through the slats, and into the clip. It has an additional safety string, which you can tie around the nearest crib slat.
4. Do the lights that project onto the ceiling move or are they stationary?
It projects moving graphics on the ceiling.
5. Does this mobile have a child safety certificate?
All of VTech products are thoroughly tested and evaluated by independent testing labs before they are brought to market and meet all the safety guidelines of the CPSC (Consumer Product Safety Commission).
---
The same as other baby crib mobiles, VTech Baby Soothing Ocean Slumbers Mobile has development benefits for your baby as well. It stimulates visual awareness, auditory stimulation and tactile stimulation.
It could be made little better and more sophisticated, but it has everything you need for your baby. And with the additional sound responsiveness, it actually offers you more than lots of other battery operated crib mobiles.
If you don't mind the plastic look of the mobile, this mobile is a good choice. By the way, babies and toddler don't mind it at all, as they love the blue whale with lights and sounds.
Hello!
I am the founder of Baby's Little Place. I'm a mom to the one-year-old daughter and I know how overwhelming could be when you are looking things and tips for a new baby, especially if you are a first-time parent. That's why I set up this site…because I want to do something I am passionate about, as well as I want to help new parents and parents to be.
I hope you enjoyed reading my article! If you have any question or comment, please leave them down below. I will be happy discuss it with you!
Have a wonderful day!
---
---