Fisher-Price baby crib mobile with remote and light projector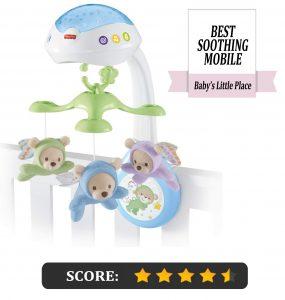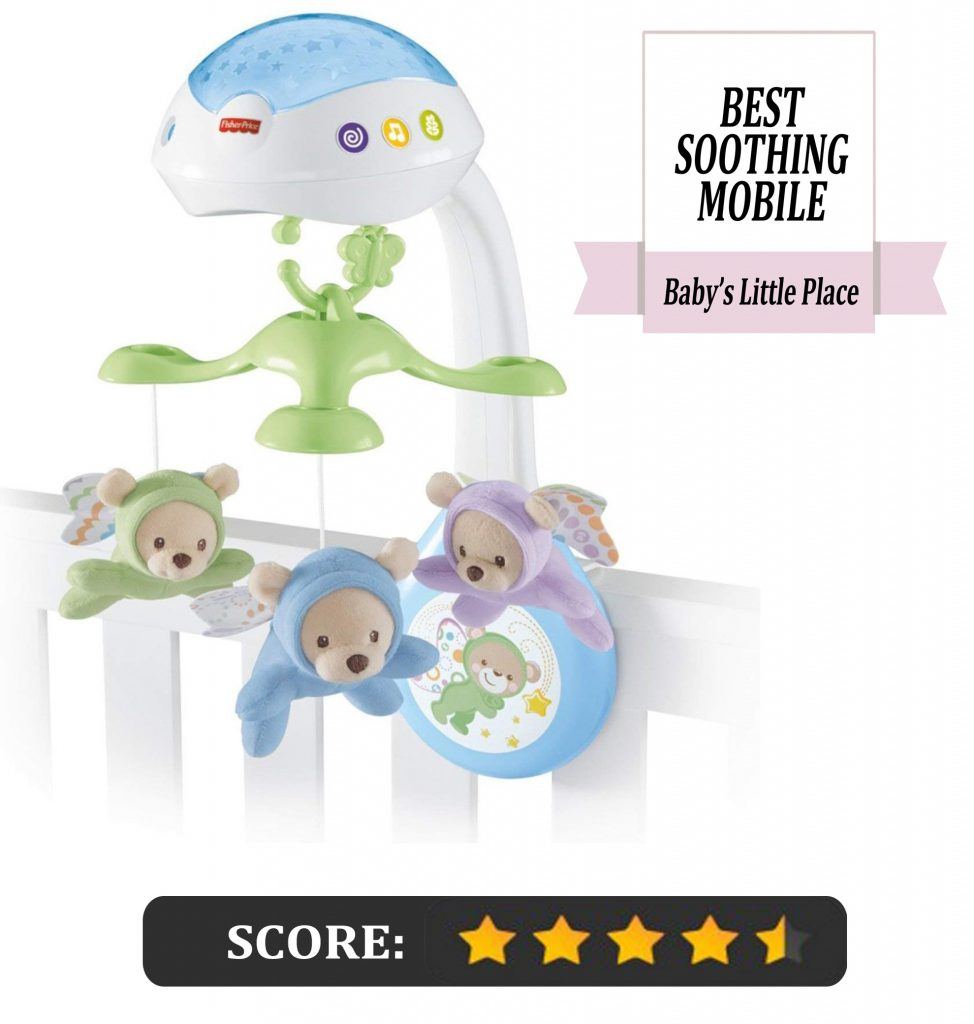 I love this baby crib mobile! That's why I bought it for my daughter, and she still has it! She is now two years old and still adores the starry nightlight projection on the ceiling. Why did I decide on Fisher-Price Butterfly Dreams mobile? Although the majority of baby mobiles can engage and soothe babies to sleep, I was looking for a crib mobile which will serve mostly as a sleep helper for my baby. And Fisher-Price baby crib mobile with the remote and light projector was a perfect choice for us! With soft colors, calming music, and nightlight projection it does everything I expected and more.
---
THE GOOD
versatile use: as a baby crib mobile, tabletop musical projector, and portable mobile
it can spin with or without starlight projection
switching between different sound options
adjustable volume
it has the remote control
easy to assemble
cute teddy bears in soft colors
THE BAD
you can't shut down the mobile with the remote
Why would you decide for Fisher-Price Butterfly Dreams 3-in-1 projection mobile?
if you need a mobile mostly for soothing baby to sleep, this one is a great choice for you
if you want a long lasting mobile that grows with your baby
if you want a remote-controlled baby mobile
if you want a projection mobile
---
---
Fisher-Price Butterfly Dreams 3-in-1 projection mobile review
More about my experiences with Fisher-Price Butterfly Dreams 3-in-1 projection mobile
I didn't look for a remote-controlled baby mobile, but I find it extremely useful later. It helped me restart the mobile without disturbing my daughter.
I immediately noticed that this one doesn't have such strong colors and patterns like most of the other baby mobiles. And I was looking for that!
Although the hanging bears are in different colors and they do have different patterns on their wings, colors are calming and not too bright. I really like its overall look.
The next thing I wanted for our mobile was a nightlight projection. This remote-controlled baby mobile projects the starry light show on the ceiling. Stars do not appear all at once, so there is never a complete dark in the room, and your baby will love the show on the nursery ceiling.
Crib mobile with a remote and nightlight projector that grows with your child
Another feature that gives added value to this baby mobile is its long-term use. That's why it can help with the development in different stages of a child's early life.
The ability to detach the projector and linkable stroller mobile is handy for traveling, as you don't have to take the entire mobile with you. They will help you stick to the same sleeping routine on the road, and familiar toys on the stroller will give your baby a sense of security.
3 in 1 means that this mobile can be used for three different purposes:
1 product = 3 different uses
With all the pulling and constant playing with the projector, our mobile still stays strong and sturdy on the crib!
Fisher-Price Butterfly dreams is a remote-controlled baby mobile
Besides the mobile, you get the remote control, which controls the projector and thus the entire baby mobile. Using the remote control is a very convenient feature, as you can control the mobile, without disturbing the baby.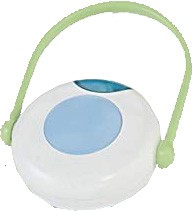 The remote control only comes with one button and a little handle. It requires two AAA batteries, and after two years we still have the first pair. I just checked if it still works, as we didn't use it anymore after she outgrows the mobile stage. She is now switching between sounds and highlight projection manually, with buttons on the projector.
When we were using the remote control, we hung it on the nursery door handle. The remote was there if we need it. Why didn't I take it with me? Although it is very handy, you can't control the mobile from another room, as the remote doesn't have such a wide range.
To be honest, I didn't miss that. Baby's Little Place team tested other baby crib mobiles with remote, and the result was, unfortunately, the same.
But there is one option which can help you with that. If you want to control the mobile from any corner of your house, you might like Bluetooth operated crib mobile. It's a cool gadget for high tech parents, especially dads.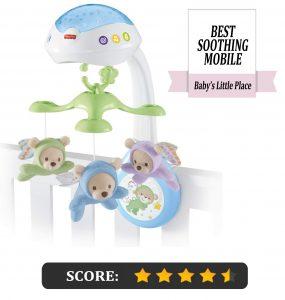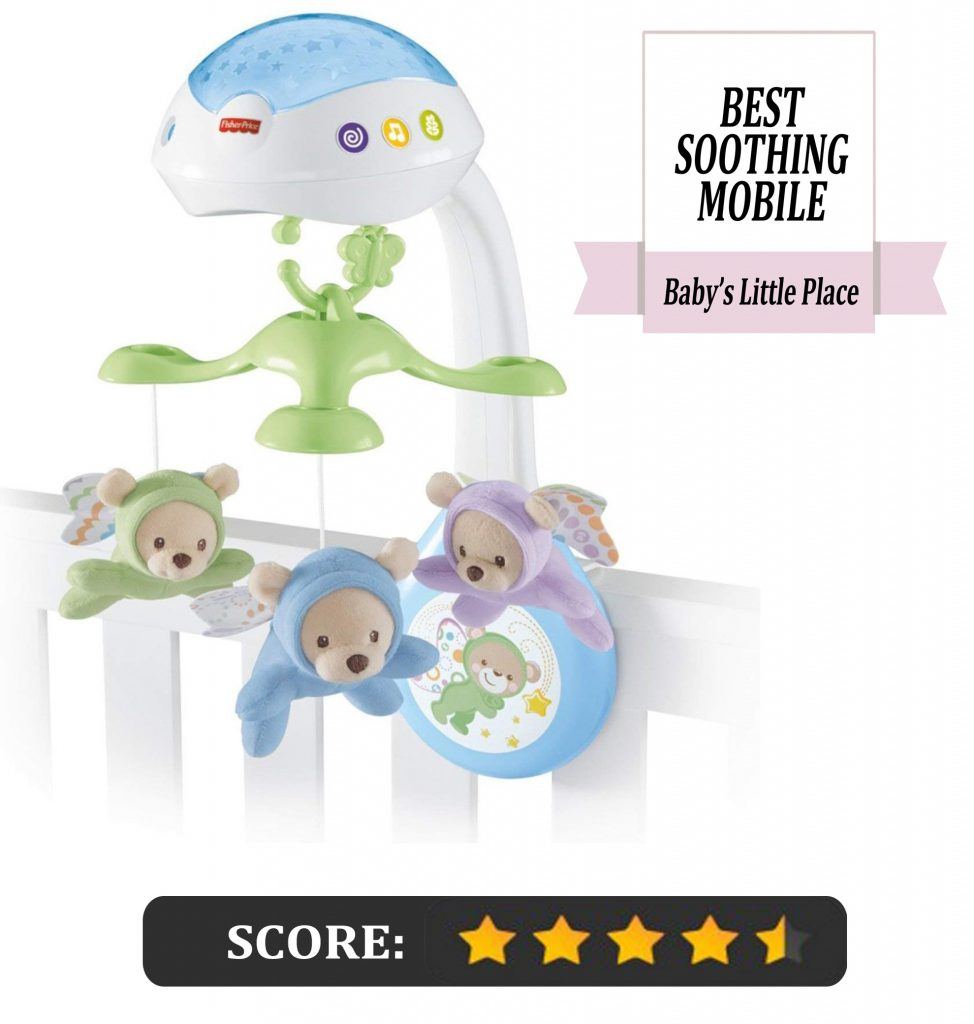 Hello!
I am the founder of Baby's Little Place. I'm a mom to the one-year-old daughter and I know how overwhelming could be when you are looking things and tips for a new baby, especially if you are a first-time parent. That's why I set up this site…because I want to do something I am passionate about, as well as I want to help new parents and parents to be.
I hope you enjoyed reading my article! If you have any question or comment, please leave them down below. I will be happy discuss it with you!
Have a wonderful day!
---
---