Dream On Me Casco mini crib with changer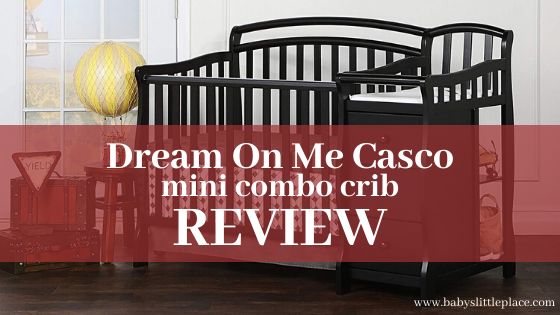 Dream On Me Casco mini convertible crib with changing table Review
Having a full-size crib with a changer saves you a lot of space, let alone a mini one. And Dream On Me Casco doesn't have just a space-saving design, but it grows with your child as well. A mini crib, that my child can use until adolescence? Yes, as you will see in our Dream On Me Casco mini convertible crib with changing table review, this mini crib is just that!
Facts about Dream On Me Casco:
it is a mini crib
it is a 3-in-1 convertible crib
it has an attached changing table
Dream On Me Casco is a perfect solution for smaller apartments or small homes, where the traditional crib won't fit. And smaller doesn't mean worse in quality and functionality. Yes, Casco is a mini crib, but yet with changing table and possibility to converts into bigger beds.
Results of our Dream On Me Casco Review
THE GOOD:
space-saving design
it grows with your child
a changing table with roomy drawers and shelves for a mini combo crib
elegant crib, with timeless design
adjustable mattress support
sturdy crib
durable crib
it meets all safety standards
THE BAD:

your child will outgrow the mini crib stage sooner as on a full-size crib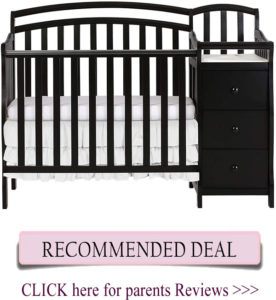 Keep in mind:
Few parents complained that the assembly of the Dream On Me Casco mini crib with a changer took them more time than they expect. However, from our experiences, if follow the provided instruction carefully, you shouldn't have problems. And my personal opinion? Assembling the crib for your baby is a lovely and fun job, so take your time and enjoy it!
Casco is a mini crib, so your baby will outgrow it sooner as a standard full-size crib. However, as it is a convertible crib, your child can use it longer than other mini cribs.
The changing table is smaller than on full-size convertible cribs with a changer. But it is big enough to change the baby's nappy until age 1, and a great storage place for baby essentials.
---
Combo & convertible crib
Dream On Me Casco is a combo crib, which is also convertible!
A combo crib is a multifunctional piece of furniture, which is more than just a sleeping place for your little one. With the attached changing table, it is also a convenient space for dressing and storage baby belongings.
The convertible crib grows with your child. When your baby outgrows the crib, you can transform it into one or more bigger beds. 
Dream On Me Casco's convertibility review
Casco matures with your child from infancy through childhood to adulthood. 
The crib transit into a daybed, and later, into a full-size twin bed. The conversions are easy and quick. The Casco doesn't transit into a toddler bed, but directly into a daybed, which is typical for all mini convertible cribs with changer.
How long can my child use a certain crib/bed stage?
stop using Dream On Me Casco as a crib when your child begins to climb or reaches 35 inches
the child weight limit for a daybed: 40 lbs
Many toddler beds have a safety guardrail, which you have to buy separately. If you don't feel comfortable using the Casco without a safety guardrail, you will have a hard time finding a mini alternative. The only mini crib with a toddler bed conversion that has a safety guardrail, which I can recommend at this point, is DaVinci Kalani 4-in-1 convertible mini crib. But it doesn't have an attached changing table.
Look at the bright side, as Casco converts directly into a daybed, you don't have to make any additional purchase until the last conversion into a twin bed. You need twin size bed rails, conversion post, and the mattress for a twin bed.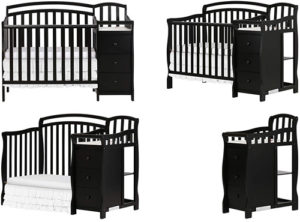 Dream On Me Casco's changer review
Casco's changing table is attached to the right side of the crib. It has three drawers on the front, and two little shelves on the back. Shelves are not large, but there is room for baby lotion, wipes, etc.
Usually, it is hard to find a fitted changing pad for changing tables on combo crib. That's why it is excellent you get a changing pad with the crib.
The changing pad is actually of pretty good quality. It has a contoured shape and non-skid bottom, with an anti-bacterial, hypo-allergenic, water and stain-resistant quilted cover.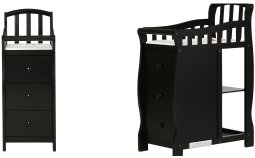 The changer has a security strap with easy release buckle that keeps baby safely in place, which gives the Casco even more points in our review.
Another great thing about Dream On Me Casco's changing table is the last conversion, where it becomes a nightstand beside the twin bed.
Note: Some claim that you can attach the changer on the left or right side of the crib. That's not the truth! We contacted Dream On Me team, to make sure about that, and they confirm our claims. You can attach the changing table only on the right side of the crib. That is the same with all combo cribs from Dream On Me.
---
Product Description And Specifications
Dream On Me Casco is constructed from sustainable New Zealand Pinewood. The crib is sturdy, with rugged good looks, which makes it a very elegant and expensive-looking crib. It is available in five non-toxic finishes: black, white, pebble grey, espresso, and cherry. We think the color selection is big enough to pair the crib with almost any furniture.
Manufacturer: Dream On Me
Model: Casco
Type: 3-in-1 convertible crib with changing table
Style: elegant design
Material: natural, New Zealand pine wood
Color: black, white, espresso, pebble grey, and cherry
Assembled dimensions: 56.75″L x 29″W x 41″H
Assembled weight: 64.5lbs
Can I move Dream On Me Casco around the house?
No, Casco is not a portable crib. Yes, it is a mini crib. And yes, a lot of mini cribs have wheels, but not convertible and combo mini cribs.
Because it is a mini crib, it does fit through lots of doorframes, so if it's absolutely necessary, you can move it from one room to another without disassembly the crib. But don't do that every day, because it can start wobble or scratches your floor.
---
Dream On Me Casco's mattress information
The crib features three-level mattress support. Start with the highest position for a newborn, and gradually lower it down while your baby grows.
You can use any fitted mini crib mattress in the Casco, but the manufacturer recommends using a Dream On Me mini portable crib mattress. 
Compatible mattress size: mini
Mattress Included: no
Recommended mattress: Dream On Me mini portable crib mattress
Adjustable mattress height: yes, 3 positions
---
Dream On Me Casco's Safety Review
First of all, we would not recommend it if it was not safe! Dream On Me Casco 3-in-1 convertible crib with changing table meets or even exceeds all applicable ASTM and CPSC safety standards. 
The crib is free of phthalates, latex, lead, and BPA. Dream On Me uses only non-toxic finishes for their cribs!
Casco is a stable crib, without dropping sides, which are banned since 2011. It is a sturdy crib that doesn't wobble after conversions.
---
Dream On Me Casco is the best decision for families with space issues. It has the same features as full-size combo cribs, and even grow with your child!
It is a beautifully designed crib, with a timeless design. It has a good quality and durability, comparing to other mini, and even full-size convertible cribs with changing table.
The changer has everything we expect from a mini combo crib's changer, and even more. Not all changing tables convert into a nightstand in the last conversion!
Comparing price and functionality is Dream On Me Casco 3-in-1 mini convertible crib with changing table certainly worth your attention!
RELATED ARTICLES:
Hello!
I am the founder of Baby's Little Place. I'm a mom to the one-year-old daughter and I know how overwhelming could be when you are looking things and tips for a new baby, especially if you are a first-time parent. That's why I set up this site…because I want to do something I am passionate about, as well as I want to help new parents and parents to be.
I hope you enjoyed reading my article! If you have any question or comment, please leave them down below. I will be happy discuss it with you!
Have a wonderful day!
---
---