Mini Crib With Changer + Dream On Me Casco 3-in-1 mini crib Review
Mini crib with changer
Mini crib with changer is a combo crib with smaller dimensions. And what is a combo crib? Combo or multifunctional crib is a combination of crib and changing table. The combo crib has a changing table attached to the one side of the crib. Usually, it is on the right side, but you can find few models where you can pick a side of an attached changer.
Perhaps you have already noticed that combo cribs are often labeled as a money and space savers. You might ask yourself why, if the price is higher than a 4-in-1 convertible crib. Yes, usually it is. But you get two pieces of furniture combine in one. Also, separately placed 4-in-1 convertible crib and changing table are more expensive and takes more space. Don't forget that we are talking about mini crib with changer here, which saves even more space.
You can read more general information about mini cribs with changer in our article: What is mini crib with changing table?

Dream On Me Casco 3-in-1 mini crib with changer – Review
Facts about Dream On Me Casco:
it is a Mini crib
it is a 3 in 1 convertible crib
it has attached changing table
With smaller dimensions, Dream On Me Casco saves you a lot of space, so it is a perfect solution for smaller apartments or small nursery. Later in this review, you will see that smaller, doesn't mean worse in quality and functionality. Yes, it is a mini crib, but yet with changing table and possibility to converts into 3 different options.
What is an advantage for one parent, does not mean anything to another. And that is OK!
We live different lifestyles, so we have different expectations for the cribs as well. It is hard to compare different types of baby cribs between each other. For instance, we can't compare portable crib to combo crib. If someone wants a portable crib, he won't labeled a combo crib as the best one. And vice versa, if you want a steady combo crib, you don't like a folding crib.
So when we were estimating the value of the Dream On Me Casco mini crib with changer, we didn't compare it with other types of baby cribs, but with the same type – combo mini cribs with an attached changing table. We were looking if this crib has better or worse functionalities and quality as the other cribs of the same type. And compared to others, I can say Dream On Me Casco is a good value for the price, right at the beginning of this review.
Product Description And Specifications
As the name already told you, Casco is a mini combo crib, which is 56.75″ long and 29″ wide. High of this mini crib is 41″. It has an open design, with slats all around the crib.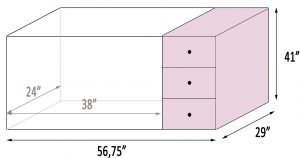 The changing table is attached to the right side of the crib, so it closes the view on your baby there. If you want a view of your baby from any angle of the room, you need an open convertible crib like Babyletto Lolly or Hudson. Also, for an open view, you have to place the crib in the center of the room. Casco is not designed to be the centerpiece of the nursery, as it looks better beside the wall.
If you intend to place the crib in the center of the room, you should look for other options. Dream On Me made a mini crib with open design: a Violet crib. It converts into four different beds, but it doesn't have the changing table.
Note, that placing a crib in the center of the room is more convenient for bigger rooms. And remember, you are looking for a multifunctional crib with a reason. Anyway, we want to present other options to you too.
Dream On Me Casco is constructed from sustainable New Zealand Pine wood. The crib is sturdy, with rugged good looks, which makes it very elegant and expensive-looking crib. Casco is available in four different non-toxic finishes: black, white, espresso and cherry. The selection of colors is not huge, but with all the basic colors, you have the opportunity to pair the crib with different furniture.
Manufacturer: Dream On Me
Model: Casco
Type: 3-in-1 convertible combo mini crib
Style: elegant design
Material: natural New Zealand pine wood
Color: black, white, espresso and cherry
Assembled dimensions: 56.75″L x 29″W x 41″H
Assembled weight: 64.5lbs
What Can You Expect From The Crib?
Dream On Me Casco is a combo crib, which is also convertible. So what is convertible and what is a combo crib?
The convertible crib grows with your child. When your baby outgrows certain crib stage, you can transform the crib into different bed options. Combo crib means that the crib has more functionalities as just space for baby to sleep.
What makes Dream On Me Casco a convertible 3 in 1 mini crib?
Casco matures with your child from infancy through childhood to adulthood. At first, your baby uses it as a crib. You can transform the crib into a daybed, when your baby grows, and later into a full-size twin bed. You have to buy larger bed frame for twin bed separately. Of course, you will need a twin-size mattress too.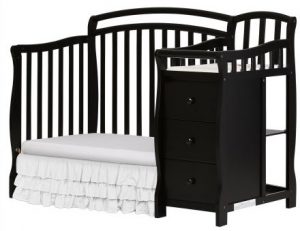 Maybe you have noticed that some mention toddler bed stage for a Casco mini crib too. Do not be fooled by this. Casco doesn't have toddler guard rail, and the toddler bad is actually a daybed. That is common with all mini convertible cribs. From my perspective, it shouldn't bother you, as the daybed is completely enough. But this is my personal opinion, you know what you want the best!
What makes Dream On Me Casco a combo mini crib?
A changing table, which is attached to the crib! The changing table has three drawers on the front and three shelves on the back, for little extra space. Beside the changing table, you also get the changing pad with security strap for added safety.
If you wish to transform the crib into a twin size bed in the future, you can use the changing table as a nightstand beside the bed.
Dream On Me Casco is a mini crib, but it doesn't have wheels. Not all mini cribs have wheels, especially if they are convertible or multipurpose. But if you have to….you can move the crib from room to room without disassemble the crib, as it will fit through your door frame. You can't do this with the majority of standard full-size cribs.
So, yes you can call it a portable crib, but not in the same meaning as for instance Babyletto Origami mini crib. However, we do not recommend moving the crib around too often. It can scratch your floor, and it is actually not made for this.
Mattress Information
Dream On Me Casco 3 in 1 convertible mini crib features two-level mattress support. You can start with the highest position for a newborn, and gradually lower it down. Don't forget to lower the mattress, when your baby starts to crawl and sits on her own!
The mattress sits on the 1″ mattress pad. You can use any mini mattress, with the Casco crib. Manufacturer recommends using the Dream On Me Portable non-full size mattress with the crib. That is a lightweight foam-based mattress. It is a comfortable, but firm mattress. The mattress has hypo-allergenic components, air-flow systems, and waterproofing components.
When you get the crib, you need nice looking bedding too, don't you? You can get a lot of information and different options on this site: Mycomfortersgalore.
What Do We Like About The Crib?
space & money saver
mini crib with a lot of functionalities
convertible, lifetime crib
combo crib
roomy drawers and shelves on the changing table
elegant crib
3 level mattress support
Down Points And Solutions For Them
Some parents reported that the assembly of the crib took them more time as they expect. Follow the provided instruction carefully, and you shouldn't have major problems. Anyway, assembling the crib for your baby is a fun job, so take your time and have fun!
Next one, is actually not a down point, as it is the same with all the mini cribs, but I want to remind you on this anyway. Casco is a mini crib, so your baby will outgrow it sooner as a standard full-size crib. However, as it is a convertible crib, which you can use longer than mini nonconvertible cribs.
Also, the changing table is smaller than with standard multifunctional cribs, so you won't be able to use it as long as with full-size combo cribs. But it will be a nice storage for diapers and baby essentials, and later also a nightstand.
Don't Forget About The Safety!
Last but not least, the safety! We would not recommend this crib if it was not safe! Still, let's look at the safety standards in more detail.
Dream On Me Casco 3 in 1 convertible crib with changing table meets or even exceeds all applicable ASTM and CPSC standards. The crib is free of phthalates, latex, lead, and BPA.

Casco is a stable crib, without dropping sides! Cribs with drop sides are banned since 2011. You can read more about this in Baby Crib Safety Standards.
---
Overall the Dream On Me Casco 3 in 1 mini convertible combo crib is a good choice for any parents with space issues. It is beautifully designed lifetime crib. Also, the attached changing table gives even more value to the crib. You need to aware that your baby will outgrow the crib sooner, but you can convert it into other bed options.
And the biggest Casco advantage? It saves your space and money!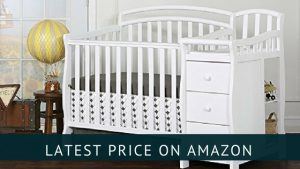 ---
Bonus tip! If you are a short mom, you have to think on the crib high too. There are some standard size and mini cribs perfect for you. You can find them here: 5 Cribs For Petite Moms With Reviews.
Dream On Me Casco
THE GOOD
save you a lot of space
convertible, lifetime crib
combo crib - attached changer
drawers and shelves for additional storage
3 level mattress support
THE BAD
assembly of the crib is not so easy
baby outgrows the crib sooner than the full-size crib
Hello!
I am the founder of Baby's Little Place. I'm a mom to the one-year-old daughter and I know how overwhelming could be when you are looking things and tips for a new baby, especially if you are a first-time parent. That's why I set up this site…because I want to do something I am passionate about, as well as I want to help new parents and parents to be.
I hope you enjoyed reading my article! If you have any question or comment, please leave them down below. I will be happy discuss it with you!
Have a wonderful day!
---
---