Stork Craft Tuscany 4-in-1 Convertible Crib Review
Stork Craft Tuscany 4-in-1 Convertible Crib Review
With Tuscany, Stork Craft made a really good deal as it is nice looking convertible crib, which is stable and comfortable. And the best part? You can get it at an affordable price. We made Stork Craft Tuscany 4-in-1 convertible crib review because Tuscany is one of the best-selling baby crib models from this company. So we thought it is worth to dig deeper and find out why.
As a mom, I know the look of the crib does matter if we confess it or not. And Tuscany won't disappoint. But the look shouldn't be the most important factor in your decision! The safety is a priority! Then there is usability, size of the crib and more. So we combined all those information in one place, in our Stork Craft Tuscany 4-in-1 convertible crib review, hoping to help you pick the best crib for your little bundle of joy.
[stextbox id='ovcka' image='null']Don't worry, Tuscany is a safe crib, as it meets and even exceeds all the safety standards to ensure the safest sleeping environment for your baby. And as the name "4-in-1 convertible crib" already told you, Tuscany converts in 4 different stages and as such grows with your child.[/stextbox]
I know how overwhelming could be when you start looking for the best baby crib. The market is very saturated with various manufacturers that make a tone of different cribs. It can become stressful, as there are so many factors you need to take into consideration before you make a purchase. That's why we gathered everything about Stork Craft Tuscany 4-in-1 convertible crib in this review. It is so much easier if you have everything in one place!
Description And Specifications
Tuscany is made from quality pine wood and composites, to give the crib a very solid structure. Stork Craft combined modern and traditional design in this crib. The crib frame has gentle curves and clean lines to complete your baby nursery. Although the different color options allow you to match it with any furniture, you can buy Tuscany matching pieces if you want.
Stork Craft made a wide assortment of Tuscany furniture to pair it with the crib, such as changing table, glider with ottoman and dressing table.
Manufacturer: Storkcraft
Model: Tuscany
Type: 4-in-1 convertible crib
Style: timeless design with gentle curves and clean lines
Material: natural pine wood
Color: white, cherry, espresso and gray
Assembled dimensions: 54.2″L x 33″D x 43″H ***
Assembled weight: 48 lbs
***  The height measurement is the tallest part on the back side of the crib. The front is 36″ and relatively easy to reach over to the bottom mattress setting. Regarding the high of the front rail, Tuscany is a convenient choice for short moms.
Tuscany is a modern, but traditional looking crib. If you prefer European style modern cribs, with rounded spindles all around the crib, you might like a Babyletto Lolly or Hudson 3 in 1 convertible crib as well.
What Can You Expect From The Crib?
It is a standard size crib, with strong stationary sides for security and support. The crib grows with your child through different life stages and convert from a baby crib to a toddler bed, daybed and finally full-sized bed.
When your child outgrows the crib, you can remove the front side of the crib and replace it with the toddler guardrail. You don't need to buy it separately, as it is in the package. Your child can climb in and out of bed, but at the same time, the guardrail protects him from rolling out while sleeping.
Further, you can remove the guardrail and transform toddler bed into a daybed or go straight to a full-size bed. You will have to buy the metal frame for a full-size bed separately, as unfortunately is not included in the package.
[stextbox id='ovcka' image='null']The additional purchase of full-size bed rails is not a disadvantage for Stork Craft Tuscany 4-in-1 convertible crib, because that is the case with all convertible cribs. On the contrary, the added toddler rail is a great benefit because it is not included in the price with all convertible beds.[/stextbox]
Convertible: yes
Number of conversions: 4
Conversion types: crib, toddler bed, daybed, and full-sized bed
Weight Capacity: toddler/daybed = 50lb
Additional information about Stork Craft Tuscany 4-in-1 convertible crib
1. How long can your baby use the crib?
Stop using Stork Craft Tuscany as a crib, when your child begins to climb or reaches 35″. It's time to transform the crib into a toddler bed and later to a daybed, which you can use until the child's 50 lbs.
2. Portability:
If you intend to move the crib from room to room, Tuscany is not the right choice for you. It is pretty heavy and doesn't have wheels. If you want that, you need a portable wooden crib.
3. Assembling:
The Tuscany comes with easy to follow assembly instructions. Also, all parts of the crib are carefully labeled. That should save your time, as you won't have issues with finding the right parts
[stextbox id='ovcka' image='null']Think about where you want to keep your baby crib thoroughly and assemble it in that room. It won't fit through a normal doorway.[/stextbox]
Mattress Information
Storkcraft changed the mattress support from a solid wood panel to a lightweight metal spring, which adds comfort and the stability to the Tuscany 4-in-1 convertible crib.
It futures three positions adjustable mattress support, so you can find what is best for you and your baby. To avoid back pains, set the mattress position at the highest level for a newborn. But don't forget to lower the mattress down as soon as your baby grows to the point she can climb and fall out of the crib.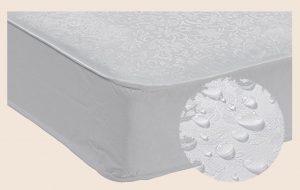 You won't get the mattress with the crib, but you can choose any standard size mattress. A lot of parents use a Safety 1st Heavenly Dreams crib mattress with the Tuscany crib. This mattress is hypoallergenic and water resistant, with the dimensions 52″ x 27,5″. It's made from the high-density thermo-bonded core that provides the firm support for your child.
No matter what mattress you pick it should be at least 51 5/8″ x 27 1/4″ and shouldn't be more than 6″ thick. If you push the mattress into the corner of the crib, the gap between the mattress and the crib side shouldn't be more then 1 3/16″ wide. If you want to know more about how can you make a simple mattress fitting test, you can read more about safety standards here.
What Do We Like About The Crib?
modern design, available in multiple colors
sturdy construction
lifetime crib
the assembly process is easy
crib doesn't have dropping side
3 adjustable mattress positions
meets and exceed all safety standards
Down Points And Solutions For Them
The only thing that it might distinguish Stork Craft Tuscany 4-in-1 convertible crib from higher dollar cribs is there are some visible holes where the bolts go together. If that bothers you, you can find caps and hide them. In my opinion, these little-seen holes shouldn't be a factor that would divert you from your purchase.
Another thing I should mention here is scratches. There were some reports that the wood can scratch easily and that babies marked the crib with teeth. Parents reported that color was not damaged, there were only marks of teeth. You can protect the crib with teething rail protectors. However, if tooth marks don't bother you, the color is 100% non-toxic anyway. No safety issues and a nice memory on those little first teeth.
I was not sure if I should mention scratches in the review, as we get mixed answers about it. Even that some parents with reporting about good wood and coating durability claim exactly the opposite, you should know it can get scratches with time. Same as any other crib.
Benefits of teething rail protectors:
no teething marks
no scratching
soft surface to lean on while lifting the baby in and out of the crib
Don't Forget About The Safety!
Yes, you deserve to have the most beautiful crib you could get, but without the safety it's nothing. As I mentioned at the beginning, Stork Craft Tuscany 4-in-1 convertible crib won't disappoint.
The crib doesn't have drop-side, so it is safe and stable. Note, that this is a standard! Any crib with dropping side should be recalled and shouldn't be in use anymore. So no matter which one will you pick, don't buy or use any crib with drop sides.
Next thing you need to look after is a distance between the crib slats. According to the rules, the wide between slats, shouldn't be more than 2 3/8″ and Storkcraft Tuscany 4 in 1 convertible crib corresponds to this. Also, all the finishes are 100% non-toxic.
The Storkcraft Tuscany 4-in-1 convertible crib has the Juvenile Products Manufacturers Association (JPMA) certificate. This certificate tells parents and caregivers they are purchasing juvenile products that are built with safety in mind. Also, the Storkcraft Tuscany is stringently tested to meet or exceed all applicable Consumer Products Safety Commission (CPSC) and American Society for Testing and Materials (ASTM) safety standards to ensure the safest sleep environment for your child.
SOME OTHER SAFETY MEASUREMENTS:
to prevent suffocation, never put pillows, blankets or plush toys in the crib
use the position devices carefully
from time to time check for loose and broken screws, bolts and mattress support
If you want, you can read more about crib safety standards here.
---
The conclusion
Overall the Stork Craft Tuscany 4-in-1 convertible crib is a nice looking and safe crib. It is a lifetime bed at an affordable price.
Yes, it might get a scratch or two, the same as any other crib, but Stork Craft Tuscany 4-in-1 convertible crib will last for many years to come. It is a sturdy crib and won't wobble at any stage of its use.
When I am buying something new, I usually fall in love with the design first. Tuscany immediately caught my eye. But safety is my priority for mine and any other child! That's why I always wanna make sure that the product is safe! And Stork Craft Tuscany 4-in-1 convertible crib went through all kind of testing and meet all the safety standards. That should speak for itself.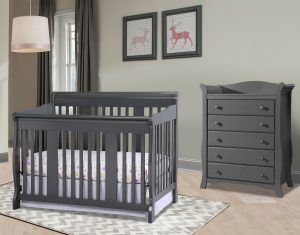 ---
I hope you enjoyed this Storkcraft Tuscany 4-in-1 Convertible Crib Review and it was helpful for you. If you have any questions or you want to leave your personal review, leave it in the comments below.
Hello!
I am the founder of Baby's Little Place. I'm a mom to the one-year-old daughter and I know how overwhelming could be when you are looking things and tips for a new baby, especially if you are a first-time parent. That's why I set up this site…because I want to do something I am passionate about, as well as I want to help new parents and parents to be.
I hope you enjoyed reading my article! If you have any question or comment, please leave them down below. I will be happy discuss it with you!
Have a wonderful day!
---
---