The best Babyletto crib
The best Babyletto crib in 2019
Babyletto is one of the most, if not the most popular, baby crib brands on the market. It is well-known for its modern designed cribs with a touch of retro style. Most of Babyletto's cribs are surrounded by spindles, which is unique for US cribs and gives them a bit of a beautiful European style.
With so many reliable and safe choices, it was hard to decide which one is the best. But we had to pick one. The best Babyletto crib overall is Hudson 3-in-1 convertible crib, which is a sturdy and safe bed, that grows with your child.
Every family is unique! That is why we are aware you might looking for something else than a 3-in-1 convertible crib. Don't worry! There are other great Babyletto's models on the market too.
After our comprehensive research, we had found the best Babyletto cribs amongst them too.
We have chosen the best Babyletto's 4-in-1 convertible crib, the best full-size folding crib, the best mini crib, and best Babyletto's crib with under crib drawer. Something for each of us!
---
The best Babyletto crib:
Babyletto Hudson 3-in-1 convertible crib
Hudson is Babyletto's classic and their best-selling crib. It is a convertible crib that converts into two bigger beds, a toddler bed and daybed.
Everything you need for Hudson's conversions, including toddler safety guardrail, is in the package! That is another of Babyletto's unique qualities I adore. Lots of convertible cribs on the market might seem cheaper at first glance, but you have to purchase a safety guardrail separately.
I think Babyletto's way is more convenient, as it saves you time and hassle with looking for a matching toddler safety guardrail. And not to mention, that after purchasing a safety guardrail, the overall price of other convertible cribs is not lower anymore.
Babyletto Hudson 3-in-1 convertible crib
>>> RECOMMENDED DEAL <<<
---
The Best Babyletto's full-size folding crib:
Babyletto Maki
Babyletto Maki is a full-size crib with great additional features. It is classified as a portable crib. That doesn't mean it is a travel crib, but it can fold up when it is not in use. Maki also stands on the removable caster wheels, which makes it easy to move the crib around the house.
Folding mechanism is very rare amongst full-size cribs!
Actually, we had found only one more full-size crib with such features, that is worth to mention. Dream On Me full-size folding crib is a cheaper alternative for Babyletto Maki. It is a great crib, but in my opinion, it doesn't reach the Babyletto's Maki standards.
But that is not even close to everything the Maki can offer. It is the only full-size folding crib on the wheels that can convert as well! You can turn the crib into a toddler bed! And the best part? The toddler bed conversion kit is included in the price!
Babyletto Maki full-size folding crib
>>> RECOMMENDED DEAL <<<
---
Best convertible crib with under crib drawer:
Babyletto Mercer 3-in-1 convertible crib
Two features that distinguish the Marcer from other Babyletto cribs are its under-crib drawer and slated design. Remember, other Babyletto cribs have rounded spindles.
Other than that, the crib's design is Babyletto's noticeable modern style with retro touch!
As a mom, I can tell you that having an additional storage space is very important. There are so many baby belongings that we need. Well, more or less. In my opinion, a large drawer under the Marcer gives it extra value, especially if you have a smaller nurser.
Babyletto Mercer is, of course, more than just a regular crib with under-crib drawer. It is a convertible crib that converts into a toddler bed and daybed. As it is typical for Babyletto, you get a toddler safety guardrail included in the price.
Babyletto Mercer 3-in-1 convertible crib
>>> RECOMMENDED DEAL <<<
RELATED ARTICLE: Best convertible cribs with under-crib drawer
---
Best acrylic crib:
Babyletto Harlow 3-in-1 acrylic convertible crib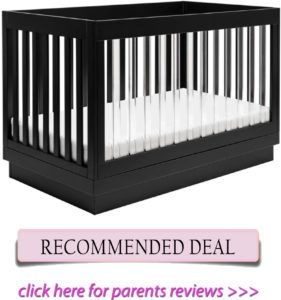 Babyletto Harlow is a unique looking baby crib. It is an acrylic crib with a carefully selected design.
The benefit of the acrylic is a modern design with a clear, unobstructed view on your sleeping baby.
Acrylic cribs are modern cribs, for parents with a specific taste, so there is not a lot of available models.
In my opinion, Babyletto Harlow combines the perfect blend of acrylic and wood. I don't like all acrylic cribs, as it seems like your baby is sleeping in a lab. Also, I don't think those all acrylic cribs represent a cozy, snuggle nest for babies either.
Babyletto combines wood and acrylic in a more elegant, natural crib design. Only the front side of the crib is made of acrylic. While the front side provides you with an unobstructed view on your little bundle of joy, the other three sides are wooden. That offers a cozy, more private sleeping space for a baby as well.
Harlow's acrylic slats are of good quality! Slats are carefully designed without sharp edges or any potential dangerous parts. Acrylic is clear, and it is important that it doesn't yellow over time.
Harlow is an acrylic crib, so it costs more than other Babyletto cribs. With $649, it's certainly not the cheapest crib on the market, but comparing to other acrylic cribs, its price is not that high after all.
Babyletto Harlow acrylic 3-in-1 convertible crib
>>> RECOMMENDED DEAL <<<
---
Best 4-in-1 convertible crib:
Babyletto Gelato 4-in-1 convertible crib
Babyletto Gelato is a 4-in-1 convertible crib, which can convert up to a full-size bed. Gelato has an open design, with rounded spindles on all four sides. We can say it has a distinguish modern Babyletto's look, with a retro touch.
Gelato is available only in two different color combinations, as a white crib with Washed Natural spindles, or as a Wash Naural crib with white spindles.
The absence of different finishes doesn't do a favor to the Gelato, but Babyletto substitutes it with the interchangeable, customizable feet, available in an array of pop colors to match any current trend. For only $18, you can pick amongst cool mint, spring yellow, black, navy blue, gray, petal pink, white, and washed natural.
Gelato converts into a toddler bed, daybed, and full-size bed. While a toddler safety guardrail is included, you have to buy a full-size conversion kit for the final conversion.
Babyletto Gelato 4-in-1 convertible crib
>>> RECOMMENDED DEAL <<<
---
Best mini crib:
Babyletto Origami mini crib
Origami is the best selling Babyletto's mini crib. I am not surprised at all! It is an excellent, and most of all, a more stable alternative for bassinets. But that is not the best thing about this mini crib.
First of all, it is foldable. Folding the Origami is very simple and quick. The folded crib also doesn't take up a lot of space. Because you can easily store it until another use, it is a very convenient choice for grandparents' or caregivers' houses as well.
Another great thing on Babyletto Origami are its caster wheels. The crib has also a minimalist design, so moving around the house is easy and hassle-free.
The overall quality of this mini crib is excellent. It has a reliable locking mechanism, so it won't move when the casters are locked. Just don't forget to lock them down whey your baby is in the crib!
Your baby will, unfortunately, outgrow the mini crib faster as a full-size model, but Origami is a great choice for a first bed.
Babyletto Origami mini crib
>>> RECOMMENDED DEAL <<<
RELATED ARTICLE: Babyletto Origami mini crib Review
---
Other great Babyletto cribs
I have to mention these cribs too. These are all 3-in-1 convertible Babyletto cribs. They don't leg behind Hudson, but only one can be on the top.
If you are interested in them, you can read more by clicking on the provided links:
Hello!
I am the founder of Baby's Little Place. I'm a mom to the one-year-old daughter and I know how overwhelming could be when you are looking things and tips for a new baby, especially if you are a first-time parent. That's why I set up this site…because I want to do something I am passionate about, as well as I want to help new parents and parents to be.
I hope you enjoyed reading my article! If you have any question or comment, please leave them down below. I will be happy discuss it with you!
Have a wonderful day!
---
---