Guava Family Lotus travel crib Reviews
Guava Family Lotus travel crib Reviews
Guava Family Lotus travel crib is an ultra portable crib, designed for multiple uses. Carrying bag in a shape of a backpack and a lightweight of the whole unit makes it perfect for all kinds of traveling. Of course, Lotus is not meant just for travel, as you can use it:
at home, as a safe Pack 'n Play
as a secondary crib for afternoon naps
a crib in caregivers or grandparents house
In our Guava Family Lotus travel crib reviews, we carefully evaluated the following parameters:
ease of use
portability
travel mattress
design
safety
Let's start with the pros and cons we had found in our review:
THE GOOD:
lightweight
a backpack instead of a classic travel bag
it's everywhere crib (home, airport, friends', grandparents' house, across the World, …)
setting up is easy and fast
unique side door
good airflow
exceeded all safety standards
eco-friendly
the mattress is better than a standard Pack' n Play mattress
THE BAD:
Some parents had been reported they had problems with the insertion of Velcro strips through the slits. Straps did not stay in place when they tried to secure the mattress. We did not have such problems.
But, we had some problems with placing the folded crib back in the carrying backpack. The backpack could be slightly bigger in our opinion.
We unintentionally compared Lotus with Baby Bjorn travel crib from the very beginning. Why? Because both are far the best lightweight travel cribs on the market. Although in our reviews Baby Bjorn got slightly better results, you actually can't miss with purchasing any of these two.
Both travel cribs meet or even exceed all required safety standards. And as both reached all our points in that category, there is no winner in safety.
It is the truth that except for the bigger price, Baby Bjorn is slightly better from Lotus. But Lotus does have some advantages and additional features that could persuade you into purchasing this crib.
A feature that most lightweight cribs can't offer is Lotus' side zippered door. That is certainly a unique and convenient feature, which you can use from newborns to toddlers.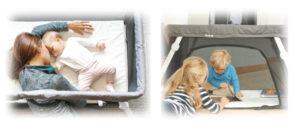 Does your baby fall asleep only on your arms, or you have to nurse her to sleep? A zip-up door is a perfect solution for you. Placing a sleeping baby into the crib from the side is much easier, as bending over the rail to the bottom. If you want, you can even lay down with a baby and cuddle her to sleep.
And for a toddler? The zip-up door presents many playing opportunities for your toddler. Leaving the door open, give them their own way in and out of the crib. For my daughter, I left the door open and covered the crib with a blanket. Having her own little house, was such fun for her.
Also, we all know we can not keep an eye on the toddler 24/7, so knowing you can securely zip the side door helps you a lot.
---
Our Review
EASE OF USE
Setting up the Lotus crib does take little more than claimed 15 seconds. But we can't say it is time-consuming, because you are done quickly. Although we had some minor problems with folding the crib, after a few attempts we became better and better. It is really easier when you get used to it.
It takes a little effort to secure the mattress with Velcro straps. But Velcro straps are normal with travel cribs, and there is no easy way with any of cribs.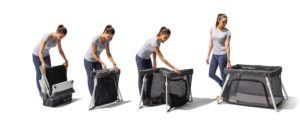 It is also a little difficult to get it back into the carrying bag. Although it could be a little bigger, they nailed it with the design. It is in a shape of a convenient backpack, so you have free hands for everything else. A huge advantage, believe me!
The crib is also lightweight, and when it's set up it fits trough room doors, so you can easily move it around the house even if you do not fold it.
PORTABILITY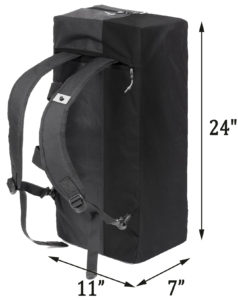 As I already mentioned before, Lotus travel crib folds up into a convenient carrying bag in a shape of a backpack.
It is one of the lightest travel cribs on the market. Also, it folds up small, so it does not occupy a lot of space. It is perfect for all kind of travel (with a car, bus, train, plane, …).
With 13lbs (crib + backpack) it has the same weight as Baby Bjorn travel crib light but folds up smaller. When folded it measures only 24″ L x 7″ W x 11″ H, which makes it one of the smallest on the market.
TRAVEL MATTRESS
Lotus crib came with flame retardant-free polyurethane foam mattress, which rests directly on the floor. That can cause some concerns among parents, as they fear it will be too cold for the baby. If you have cold floors, you might think about placing the crib on a blanket or carpet. However, babies tend to sleep really well in the crib, and it doesn't seem to be cold.
Such a design also greatly contributes to the stability of the sleeping area, and the sleeping surface is more even.
DESIGN
It is a thoughtfully designed portable Playard, which can be used as a safe sleeping space or perfect play area for your child. Lotus has a small footprint, but it is spacious enough even for bigger toddlers.
The whole crib is surrounded with breathable and clear view mesh, along with additional door on the side. Even if baby snuggles close to the side, there is no worry if she can breathe. Clear mesh allows you to see your baby from any angle of the room, and your baby won't feel trapped in the crib too.
What we miss here, is lack of color choices. Unfortunately, you can get it only in one color.
SAFETY
1. The crib is safe and meets and even exceed all required safety standards. Lotus is the only Pack 'n Play on the market with GreenGuard Gold safety certification.
GREENGUARD Certification ensures that a product has met some of the world's most rigorous and comprehensive standards for low emissions of volatile organic compounds (VOCs) into indoor air.

2. Lotus also meets all required flammability standards and does not contain toxic materials.
3. Guava Family Lotus Playard is strong and doesn't wobble at all.
---
Specifications
Measurements and Weight:
assembled crib dimensions: 45″ L x 25″ W x 32″ H
collapsed dimensions: 24″ L x 7″ W x 11″ H
included mattress: 42″ L x 24″ W x 1″ H
weight (including backpack): 13lbs
available colors: only one color
Child size restrictions:
for newborns to toddlers under 35" of height
there is no weight limit, as the mattress is supported by the floor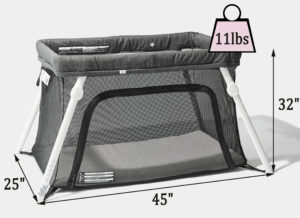 ---
Frequently asked questions
1. Can I replace the travel mattress with a thicker one?
Guava family stated that federal standard for travel cribs limits the thickness to 1″, so they do not recommend using the additional mattress.
The crib is surrounded with mesh all to the bottom, so there will be a risk for a gap between the side of the crib and a mattress if you would use thicker one. That also applies to all traditional Pack 'n Plays on the market.
However, because of high-quality padding in their mattress, it is very comfortable for your child. You can also buy a Guava Family cotton fitted sheet that adds even more comfort.
2. Is Lotus durable enough to survive being checked with luggage?
Yes, it is! Parents reported they took it onto numerous plane trips without any problems or damages.
3. Does zipping the side wakes up a sleeping baby?
The zipper can be closed without noise, but you have to do it slowly.
4. Which waterproof cover will fit the Guava Family Lotus mattress?
It already includes a removable waterproof and machine washable mattress cover.
---
Baby's Little Place verdict
In our review, we did not find any significant deficiencies of this crib. Together with Baby Byron, Lotus is well ahead of other lightweight travel cribs on the market. Along with carefully design backpack, it is a perfect crib for all kinds of traveling. As well for everyday use as a playard or comfortable napping station at home.
Hello!
I am the founder of Baby's Little Place. I'm a mom to the one-year-old daughter and I know how overwhelming could be when you are looking things and tips for a new baby, especially if you are a first-time parent. That's why I set up this site…because I want to do something I am passionate about, as well as I want to help new parents and parents to be.
I hope you enjoyed reading my article! If you have any question or comment, please leave them down below. I will be happy discuss it with you!
Have a wonderful day!
---
---