Ingenuity Smart and Simple Playard Review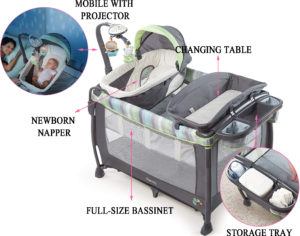 Ingenuity Smart and Simple Playard Review
Ingenuity Smart and Simple Playard is like a little nursery that you can take wherever you go. It is a multifunctional baby space, perfect from newborns to toddlers, which can significantly ease your life too.
After several parents reported how satisfied they were with this Playard, we decided to test it and compare its performance with other Pack 'n Plays we had already reviewed.
If I had to point out a certain feature that sticks out from the average, I would say its wide range of usability and amount of different accessories are impressive.
However, there are other features, like safety or ease of use you need to consider before your decision. In our Ingenuity Smart and Simple Playard review, we evaluated all of them. And I must say, we got pretty good results.
Ingenuity Smart and Simple Playard is a good choice:
for naptime at home
for sleepovers at grandparents or caregivers house
for traveling
for safe playtime
THE GOOD:
easy set-up
collapsing is easy and quick
easily moving around the house
breathable mesh
grows with your child
the napper is at a slight incline, so the newborn's head is elevated and more comfortable
organizing unit on the side
stable changing table
adjustable sleeping mat
THE BAD:
the napper is not easy to put in and take out
it is heavier as some other travel cribs
What you get, if you decide for the Ingenuity Smart and Simple Playard?
You can actually choose between six different options. I'm not calling them models, because basically, they are the same, just with different accessories.
All of them are multifunctional Playards with:
full-size bassinet
infant napper station
changing table
side storage pockets or storage tray depends on the option you choose
toy on the napper's canopy, crib mobile with the projector or arch with toys, depends on the option you choose
a musical box on the napper (except on the Braden and Ridgedale)
Additional storage & toys
There is not a huge difference in the number of baby necessities you can stuff into storage tray or pockets.
It is a different story with toys, as you can choose between:
arch with hanging toys
hanging toys on the canopy
crib mobile with a starry-nightlight projector
Changing table
On the right side of the unit is a detachable changing table. It's little bigger than napper, and you can use it longer. The changing table is covered with wipeable nylon fabric, and not as deep than napper, but still enough to prevent rolling off.
When you don't use it, you have two options. You can easily remove it from the Playard, or leave it on. If you leave it on, it flips easily out of the way and lies on the side of the Playard.
Newborn Napper station
The newborn napper is deep and safe. It is slightly inclined and lined with comfortable white plush. When your newborn outgrows the napper, you can start using the full-size bassinet which hangs on the Playard sides. And in the final stage, you are left with a great and safe Playard for sleep or play.
→ You can see all the differences in the table at the end of the article!
RELATED READING:
---
Baby's Little Place Ingenuity Playard Review
Ease of use:
Ingenuity Smart and Simple Playard have a good folding mechanism. We were able to collapse the Playard in just one easy and quick motion. The great thing about this Pack 'n Play is also the fact that you don't need to remove the bassinet while collapsing the Playard.
Just don't confuse the bassinet with newborn napper station, as you can't pack the napper into a traveling bag! And it's the same with the changing tablet.
Because of that, Ingenuity didn't get fewer points, as it is common for all similar Playards on the market. The napper station and changing table are perfect for usage in one place, but not handy for traveling at all.
Don't cause yourself an unnecessary hassle. Take only the Playard and bassinet with you. While you will have to carry the napper and changer separately, Playard and bassinet fit perfectly into a traveling bag.
And don't worry, as your newborn can sleep in the full-size bassinet as safe as in the napper station. You can also buy a cheap changing pad, which is perfectly good for changing nappies on travels.
Portability:
Ingenuity Smart and Simple Playard is a good choice for occasion travelers, but certainly not the best option for frequent traveling.
If you intend to travel a lot, and you want as small and light portable Playard, we suggest you think about basic travel cribs.
These cribs are really light, and some can fold even into a backpack. The best lightweight models are BabyBjorn travel crib Light and Guava Family Lotus travel crib. They can be both used from newborn to toddler, and as a convenient play area too. And if you want a simple travel Playard for Ingenuity, you can decide for Ingenuity TravelSimple Playard.
Back to the Smart and Simple Playard. You can transport the Playard and full-size bassinet in the included carrying bag. We didn't have any problems fitting them into the carrying bag, but the package is heavier from basic travel cribs mentioned above.
Moving around the house is also easy and hassle-free. Ingenuity has wheels on one side, so you can simply push it into another room. As it is not as large as classic cribs, it fits through the door frames as well. Of course, the wheels have a locking mechanism so that Playard will remain safe in place when your baby is in it.
READ ALSO:
Travel mattress:
The mattress is a classic 1″ Pack 'n Play mattress. It could be better, especially when you use it in a bassinet. While many parents didn't have any problems, there were few reports it can slightly bend down on sides. But that applies only to the bassinet. That can happen because the bassinet doesn't have solid support under the mattress.
Design:
Ingenuity Smart and Simple Playard has a modern design, with lots of color choices. However, if you want a specific toy, for instance, a crib projection mobile, you can't get it in all available colors. Some colors are available with mobile, another with toy arch and jet another with toys on the canopy. Don't ask me why, but that is how it is.
The whole Playard is surrounded with breathable mesh. There is good airflow through the whole unit, which creates cooler space for a sleeping baby.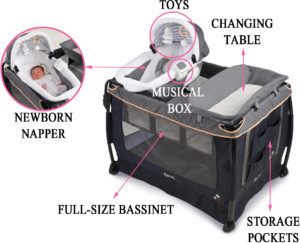 Safety:
Ingenuity Smart and Simple Playard does not contain BPA or latex, and it meets global phthalate, lead and BPA requirements.
Pack 'n Play meets all US, state & international flammability requirements without the use of flame retardants. It also follows the United Kingdom flame retardant standards as well.
---
Specifications
Measurements and Weight:
assembled crib dimensions: 40″L x 29″W x 28,25″H
collapsed dimensions: 31.2″L x 10,5"W x 15,8"H
included mattress: yes
weight (along with carrying bag, without napper and changing table): 25lbs
available colors:
Ingenuity Boutique Collection Smart and Simple Playard – Bella Teddy: black, gray, and white with beige details
Ingenuity Smart and Simple Playard – Braden: shades of gray, with white details
Ingenuity Smart and Simple Deluxe Playard – Vesper: light gray, with green, blue and brown details
Dream Comfort Smart & Simple Playard – Connolly: different shades of gray, with white details
Ingenuity Soothe Me Softly Playard – Piper: brown and pink
Ingenuity Smart and Simple Playard – Ridgedale: black and turquoise
→ You can see what accessories belong to the certain color in the table on the end of the article.
Child size restrictions:
1. Playard:
from newborn to toddler
weight limit: 35 inches
weight limit 30 lbs whichever comes first
2. Newborn Napper: discontinue use when the infant begins to roll over or can pull up on sides (usually this happens around 5 months)
3. weight limit for the changing table is 25 lbs
4. Full-size bassinet: stop using it when the infant begins to push up on hands and knees or weighs more than 15 lbs whichever comes first
---
Frequently asked questions
1. Can I use the newborn napper outside of the Pack 'n Play?
No, you can use the napper only fixed on the top of the Playard.
2. Can I use the changing table outside of the Pack 'n Play?
The changing table is designed for use on the Playard.
3. Is the mosquito net included?
No, you can buy a really cheap and efficient mosquito net HERE.
4. Does it play music?
Yes, but not all six of them. Read the table below!
5. Can the changer be used on top of the Playard without the newborn napper?
Yes, of course!
6. Is the crib mobile removable?
Yes, it is.
7. Which parts are machine washable?
The covers of the mattress, changing table and napper.
---
Six versions of Ingenuity Smart and Simple Playard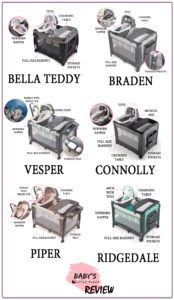 ---
Baby's Little Place Verdict
Like the majority of parents, we were happy with our results too. What could be better? All six options could be accessible in all colors. Although it already offers a wider color selection from other Playards, with small effort, they could present even a bigger assortment. Other than that, this Playard is absolutely worth your attention.
RELATED ARTICLES:
Hello!
I am the founder of Baby's Little Place. I'm a mom to the one-year-old daughter and I know how overwhelming could be when you are looking things and tips for a new baby, especially if you are a first-time parent. That's why I set up this site…because I want to do something I am passionate about, as well as I want to help new parents and parents to be.
I hope you enjoyed reading my article! If you have any question or comment, please leave them down below. I will be happy discuss it with you!
Have a wonderful day!
---
---