Ingenuity Smart and Simple Playard Review
Ingenuity Smart and Simple Playard Review
Ingenuity Smart and Simple Playard includes everything you and your child need. It is not only a comfortable sleeping space, but a handy changing station, newborn nap station, and Playpen for your toddler. It's actually like a portable nursery that you can take almost everywhere you go.
We are getting so many positive parents' feedbacks about this Playard all the time, that we had to test it, and make our own Ingenuity Smart and Simple Playard review too.
But we didn't stop there. We also compared Ingenuity performance with other Playards we had already reviewed on our site. Do you want a quick answer? Is it good or not? I can happily say the results are great!
Summary of the Ingenuity Review
THE GOOD:
easy set-up
collapsing is easy and quick
easily moving around the house
breathable mesh
grows with your child
the napper is at a slight incline, so the newborn's head is elevated and more comfortable
organizing units on the side
stable changing table
adjustable sleeping mat (2 stages)
THE BAD:
it takes a little effort to place the napper on the top of the Playard
if you intend to travel a lot, you might look into lightweight travel cribs*
* Ingenuity is heavier than lightweight travel cribs, which are primarily intended only for traveling. But that goes for all Playards and Pack'n Plays,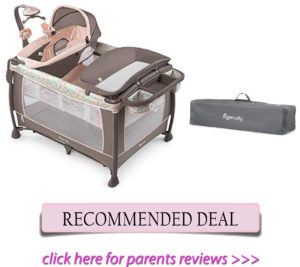 What is Ingenuity Smart and Simple Playard?
Ingenuity Smart and Simple Playard is a multifunctional baby space, perfect for newborn, all the way to toddler age. And it is not just a good choice for your baby, as it can significantly ease your life too. Why? Because you have everything on the reach of your hand.
If I had to point out a particular feature that sticks out from the average, that would be its wide range of usability and the number of different accessories. It is so impressive, how much effort Ingenuity put into the accessibility of different accessories. But be careful, because it comes in multiple versions. Read carefully what you get, and pick the option that suits your family needs.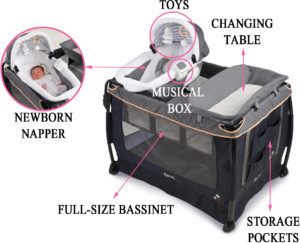 Ingenuity Smart and Simple Playard is available in 6 versions, and you can find their differences in our table below!
However, there are other features, like safety or ease of use you need to consider before your decision. Of course, we had evaluated all of them, hoping that after reading our review, you get all possible information about this product.
You can use Ingenuity Smart and Simple Playard as:
newborn napping station
sleeping space for your baby and toddler, with handy baby crib mobile, toys, or even musical box
the second crib in grandparents or caregivers home
changing table
safe play area for your baby and toddler
storage for small baby belongings
So, what you get, if you decide on the Ingenuity Smart and Simple Playard?
As I already said, you can choose between six different options. I won't call them models, because they are the same, just with different accessories.
Table: The differences between 6 Ingenuity Smart and Simple Playards
>>> Click here for the price on Amazon <<<
---
In-depth Ingenuity Playard Review
RELATED READING:
---
Specifications
Measurements and Weight:
assembled crib dimensions: 40″L x 29″W x 28,25″H
collapsed dimensions: 31.2″L x 10,5"W x 15,8"H
included mattress: yes
weight (along with carrying bag, without napper and changing table): 25lbs
available colors:
Ingenuity Boutique Collection Smart and Simple Playard – Bella Teddy: black, gray, and white with beige details
Ingenuity Smart and Simple Playard – Braden: shades of gray, with white details
Ingenuity Smart and Simple Deluxe Playard – Vesper: light gray, with green, blue and brown details
Dream Comfort Smart & Simple Playard – Connolly: different shades of gray, with white details
Ingenuity Soothe Me Softly Playard – Piper: brown and pink
Ingenuity Smart and Simple Playard – Ridgedale: black and turquoise
→ You can see what accessories belong to a certain color in the table.
Child size restrictions:
1. Playard:
from newborn to toddler
height limit: 35 inches
weight limit 30 lbs whichever comes first
2. Newborn Napper: discontinue use when the infant begins to roll over or can pull up on sides (usually this happens around 5 months)
3. weight limit for the changing table is 25 lbs
4. Full-size bassinet: stop using it when the infant begins to push up on hands and knees or weighs more than 15 lbs whichever comes first
---
Frequently asked questions
1. Can I use the newborn napper outside of the Pack 'n Play?
No, you can use the napper only fixed on the top of the Playard.
2. Can I use the changing table outside of the Pack 'n Play?
The changing table is designed for use on the Playard.
3. Is the mosquito net included?
No, you can buy a really cheap and efficient mosquito net HERE.
4. Does it play music?
Yes, but not all six of them. Read the table below!
5. Can the changer be used on top of the Playard without the newborn napper?
Yes, of course!
6. Is the crib mobile removable?
Yes, it is.
7. Which parts are machine washable?
The covers of the mattress, changing table and napper.
---
Baby's Little Place Verdict
Like the majority of parents, we were happy with our results too. What could be better? All six options could be accessible in all colors. Although it already offers a wider color selection from other Playards, with small effort, they could present even a bigger assortment. Other than that, this Playard is absolutely worth your attention.
---
RELATED ARTICLES:
Hello!
I am the founder of Baby's Little Place. I'm a mom to the one-year-old daughter and I know how overwhelming could be when you are looking things and tips for a new baby, especially if you are a first-time parent. That's why I set up this site…because I want to do something I am passionate about, as well as I want to help new parents and parents to be.
I hope you enjoyed reading my article! If you have any question or comment, please leave them down below. I will be happy discuss it with you!
Have a wonderful day!
---
---