Baby Bjorn travel crib light reviews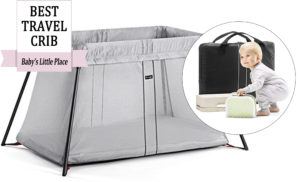 Baby Bjorn travel crib light Review
What do you expect from a good travel crib? Probably the first and most important is safety and easy to use. There shouldn't be any safety issues with any crib on the market! However, if we focus only on ease of use, there can be big differences amongst them.
Weight and amount of luggage are one of the most important factors while traveling, so we can all agree that it is a big difference if you have to carry 40 or 13 lbs crib. And, as you will see later in our Baby Bjorn Travel Crib Light review, the usage of this lightweight crib is like a breeze.
Baby Bjorn travel cot is a good choice:
for the afternoon nap at home
as a Playard for your baby and toddler
Baby Bjorn travel crib is very light, that's why it is one of the best portable cribs for traveling by plane
it is a perfect solution for occasional sleepovers at grandparents or caregivers house
because of folding into a small suitcase is suitable for all kind of travel (with a car, bus, train,..), or even for camping
THE GOOD:
simple setup
simple takedown
travel crib stands firmly on the floor
a soft and comfortable mattress
it is perfect for newborns and/or toddlers
airy design for good supervision
easily removable and machine washable mattress cover and all travel crib fabrics
a safe crib without toxic materials
lightweight crib
quality and durable material that is aesthetically pleasing
a compact carrying case is included
THE BAD:
higher price, because of the well-established brand name
While the taller crib's frame offers a safe environment for your child, it could cause problems to you. The crib doesn't feature a newborn bassinet. It could be difficult putting a sleeping newborn into the crib. Bending all the way over could cause problems to petite parents and parents with a bad back.
Take a minute and watch a cute Baby Bjorn travel crib video, to get a better picture of this portable crib:
Of course, Baby Bjorn is not just a travel crib. We like how easy you can set it up, and take it down. This is not convenient only for traveling, but for home usage as well. So, don't store it when you are at home, but use it as a Playard for your child. Because the crib is compact and stands firmly on its legs, your child can play safety in the crib for hours. And if you suddenly need more room, you can fold it up and store it in few seconds.
Because of the see-through mesh on all four sides of the crib, your baby won't feel trapped in the Playard. He can see you, and you can see him from any angle of the room. The breathable mesh also provides a good air circulation through the crib.
Let's look at the most important features we've tested and evaluated for our review.
---
Our Review
EASE OF USE
Setting up this crib couldn't be easier. I mean, you don't even have to read the instructions, because you just can't do it wrong. Setting up was over after four simple steps:
unzipping the carry bag
pulling out the frame and mattress
snaping the legs into place
securing the mattress
The legs unfold automatically, and once you secure the mattress, you get a stable travel crib to use at home or on trips.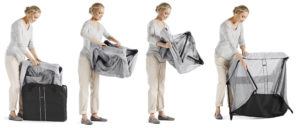 Sometimes parents have difficulties with securing the mattress pad into the portable crib. That is not the case here, as Baby Bjorn didn't use Velcro straps, but special mattress attachments. You need to pull these clips through corner slots of the crib and anchor them with a hook-loop mechanism. Setting up the mattress pad was easier and faster than with other travel cribs.
PORTABILITY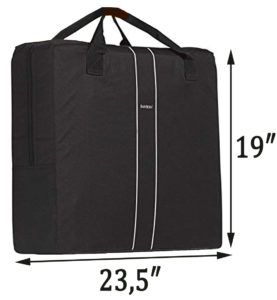 No complaints here as well! Baby Bjorn is a super light crib, which folds up pretty small. When traveling by plane, you can pack it inside a large suitcase with other baby belongings. But it will take a lot of space, even in a large suitcase. So it's might better decision to check it separately.
The crib has included carrying bag in a shape of the suitcase, with comfortable handles. The carrying bag is sturdy, so it should survive the airport baggage handling.
Usually, it is hard to squeeze folded Pack 'n Plays back into their carrying bags, but we didn't have any problems fitting this one into its bag.
TRAVEL MATTRESS
Baby Bjorn comes with for a travel bed surprisingly soft, thick and comfortable travel mattress. It is well-known for its high quality. It is also the thickest travel mattresses on the market.
The bottom of the mattress is 100% polyester, and the top is 50% polyester and 50% polyurethane. It has a built-in base plate that keeps the lightweight travel crib standing firmly on the floor.
DESIGN
Baby Bjorn travel crib light has a slightly different design as other travel cribs. It has a taller frame and narrow opening on the top.
While this might cause some difficulties to parents, from a safety perspective is a good choice for babies. If you are a petite mom, you could have problems with leaning over the rail. Luckily the top rail is padded, so it is little easier for you.
The most common colors for Baby Bjorn are silver and black, but sometimes you can get it in pink, light and dark blue or brown version. These colors are special additions which are not available all the time.
Personally, I like the silver version the most. It fits nicely into any environment. And because of Baby Bjorn's quality and timeless design, you can use the crib for many years, for more than just one child. Maybe your next baby won't be the same gender, so why would you have a pink or blue crib.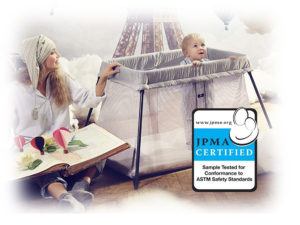 SAFETY
Baby Bjorn Travel Crib Light is JMPA certified baby product that meets all the required safety standards.
It is surrounded with a breathable mesh for good airflow through the crib. The mattress is soft but firm enough to provide a safe sleeping environment for your baby.
Because of the special design, sturdy legs and built-in base the crib stands firmly on the floor. It is not wobbly at all!
Fabrics used on the crib are tested and approved in accordance with the Oeko-Tex Standard for baby products. They are free from harmful and allergenic substances, meaning they are safe for baby to sleep and chew on.
---
SPECIFICATIONS
Measurements and Weight:
assembled crib dimensions: 44″ L x 24″ W x 32 "H
collapsed dimensions: 23,5″ L x 19″ W x 5,5″ H
included mattress: 41″ L x 23,5″ W x 1.2″ D
weight (along with carrying suitcase): 13lbs
available colors: black, silver, pink, light and dark blue, brown
Child size restrictions:
It is suitable for newborn up to approximately 3 years.
Stop using Baby Bjorn travel crib Light when your child is tall enough to climb out.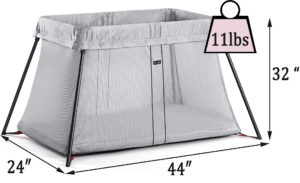 ---
FREQUENTLY ASKED QUESTIONS
1. Which travel crib is more economical, Baby Bjorn or Lotus travel crib?
After a comprehensive review of both cribs, we would decide for this one. Although the Lotus crib is a very good travel crib, Baby Bjorn won in every category, except the price.
Lotus travel crib is a cheaper decision, but the quality of a crib and travel mattress can't compete with Baby Bjorn. Less money is equal less quality. But again, compared to other lightweight travel cribs on the market, the Lotus crib is firmly in second place. Otherwise, we would not put it on our list of the best portable cribs.
2. Is there a bassinet insert for this Pack 'n play?
No, this crib doesn't have a bassinet insert, but your newborn can safely sleep in the crib.
3. Does the Baby Bjorn travel mattress fold up into a carrying case?
Yes, of course!
4. Do sheets have to be ordered separately?
If you buy a bundle pack, you get the fitted sheets beside the crib, otherwise, you need to buy them separately.
Although a standard Pack 'n play mattress sheets fit into the crib, they do not fit as perfectly as Baby Bjorn's sheets.
---
Baby's Little Place verdict
Yes, the price of Baby Bjorn travel crib Light is a little higher, but if you can afford it, you won't be disappointed. You might pay a little extra for the brand, but you get a superb quality and safe travel crib that should last through a few kids.
What I really enjoyed about the Baby Bjorn travel crib light is how user-friendly it is. Setting up, taking down, and stacking into a carry bag is super easy. These are the main features we should expect from the crib which is meant for frequent traveling. And in our Baby Bjorn Travel Crib light review, we did not find any deficiency about them.
And you won't get just a travel crib! Baby Bjorn will provide a safe and eco-friendly play area for your child, or a comfortable place to nap at home as well.
---
RELATED ARTICLES:
Hello!
I am the founder of Baby's Little Place. I'm a mom to the one-year-old daughter and I know how overwhelming could be when you are looking things and tips for a new baby, especially if you are a first-time parent. That's why I set up this site…because I want to do something I am passionate about, as well as I want to help new parents and parents to be.
I hope you enjoyed reading my article! If you have any question or comment, please leave them down below. I will be happy discuss it with you!
Have a wonderful day!
---
---