Graco Lauren crib reviews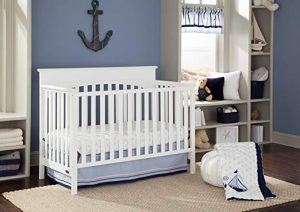 Graco Lauren crib reviews
You can find a quick review about this crib in our article The best Graco's cribs. So why we decide for another, in-depth Graco Lauren crib reviews?
Because of the crib's design and affordable price. As far as the functionality, Lauren really does not differ much from other Graco cribs. But we liked its unique look and the fact that you can get it at an affordable price.
[stextbox id='ovcka' image='null']
All Graco's cribs have pretty much the same features. So, if you like them, you will choose among them according to the design.
More about Graco's cribs: The best Graco cribs with Reviews.
[/stextbox]
---
THE GOOD:
a lifetime bed for your child
a wide selection of colors
simple yet elegant crib
sturdy crib
straight lines
open design
safe crib
great value for money
THE BAD:
no toddler guardrail
few visible holes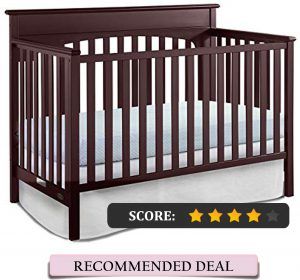 ---
The most important thing we want to point out in this Graco Lauren crib review:
All Graco's cribs are convertible. Almost all can be converted up to the full-size adult bed. While it is a common knowledge that you have to buy a full-size bed frame for the final conversions separately, many do not know that there can be differences in a toddler bed stage.
Be careful what you get at the price for a toddler bed! And I am not talking just about Graco's cribs, but for all cribs on the market.
[stextbox id='ovcka' image='null']
Fact 1: A toddler bed can be with or without the guardrail.
Fact 2: If the manufacturer stated that the toddler bed has a guardrail, it is not necessarily included in the price. Again, that is the fact for all brands, not just Graco!
[/stextbox]
And what's the deal with Lauren crib?
As a toddler bed, Lauren doesn't have a guardrail. So, if you're afraid your little one will fall out of the bed, Lauren is not a good choice for you. If you still want a Graco crib, Benton 5-in-1 convertible crib, and a few other models have an optional toddler guardrail.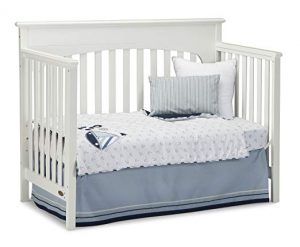 If you want a crib with everything included in the price, Babyletto offers two really good models, a Lolly and Hudson crib. Those cribs are one of the most desirable modern cribs on the market, but the price is a little higher from the Lauren crib.
Anyway, lots of parents don't use guardrails for their toddlers, and their little ones are just fine. So if you fall in love with Lauren's design, I think that shouldn't divert you from your purchase.
Lauren's specifications and description
The same as all Graco cribs, it is made in cooperation with Storkcraft, which is one of the leading baby furniture manufacturers.
Lauren's biggest difference from other Graco's cribs are straight lines, as the back of the crib doesn't have an arched design. It is a perfect solution for families where only one of the parents loves clean and straight lines. We love the fact that the position of slats on the back side resemble on the arc, so the crib is not completely free of curves.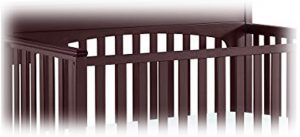 Overall we loved the crib's open design. Lauren has slats on all four sides, so you can see your baby from any corner of the room. The distance between slats is less than 2 3/8 inches, so it meets the prescribed safety requirements.
Although the crib can be a placed in the center of the nursery, it has the higher backside which makes it better looking next to the wall. The higher back is also a nice addition in the last full-size conversion into an adult bed. You can find more about Lauren's conversions in the next chapter of our Graco Lauren crib reviews.
measurements and weight:
overall dimensions: 57″L x 30,1″W x 43,5″H
weight of the crib: 50 pounds
Again, Graco has only specified the height to of the back rail. Many parents mistakenly think the crib is that height on the front. Of course, that is not the truth. We measured it up, and it is about 40″ height, which is still pretty high if you are really short.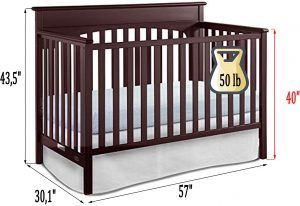 We have found some good low profile cribs for short moms. There are also good low profile options amongst Graco's cribs.
Wood and colors:
Lauren is made from solid New Zealand pine wood and available in multiple non-toxic finishes: white, whitewash, cherry, espresso, driftwood, black and pebble gray. From our experience, this is a sufficient number of different colors!
---
Lauren is a 4-in-1 convertible crib
I already mention Graco Benton few times in this review. Because it is a 5-in-1 convertible crib, you might be disappointed as the Lauren is "only" specified as a 4-in-1 crib. Don't be!
Although the numbers at first glance speak differently, Lauren does not lag behind Benton in terms of possible conversions. Yes, Benton can convert to four different beds, and Lauren is "only" a 4-in-1 convertible crib with three bigger bed options. But last two Benton's conversions are actually the same.
Benton's full-size bed can be with or without a footboard, and that's the only difference.
The Lauren crib can convert to a:
toddler bed without a guardrail
daybed
full-size bed with headboard

1. When your baby suppresses 35″, it is time to convert the crib into a toddler bed. Graco Lauren doesn't have toddler guardrail, so you get the toddler bed simply by removing the front rail and placing the mattress into the lowest position.
2. For a daybed, you can raise the mattress into a higher position.
3. For the last conversion, where the back of the crib serves as a headboard, you have to make an additional purchase. You need a full-size metal bed frame and a full-size mattress.
---
Additional information about Graco Lauren 4-in-1 convertible crib
Mattress information:
How long can my baby use the Lauren 4-in-1 convertible crib?
crib stage: to the child's 35″
toddler/daybed stage: up to 50 pounds
full-size bed: depends on the metal bed frame you choose for the crib
Under-crib storage:
distance from the floor to the bottom rail of the crib is approximately 6″
there is a room for smaller storage boxes
Warranty: 1-year limited manufacturer's warranty
---
Final verdict
Lauren is a durable, versatile and beautiful convertible crib. The value of this crib is reduced by the fact that Graco has not adapted Lauren for their universal toddler guardrail. If you do not miss that and if you like straight clean lines more than arched design, Lauren is a perfect choice.
Overall we can say that Lauren does not lag behind many expensive cribs.
[stextbox id='ovcka' image='null']
If you want to see what other customers are saying about this product, click below:
[/stextbox]
Hello!
I am the founder of Baby's Little Place. I'm a mom to the one-year-old daughter and I know how overwhelming could be when you are looking things and tips for a new baby, especially if you are a first-time parent. That's why I set up this site…because I want to do something I am passionate about, as well as I want to help new parents and parents to be.
I hope you enjoyed reading my article! If you have any question or comment, please leave them down below. I will be happy discuss it with you!
Have a wonderful day!
---
---