Baby crib buying guide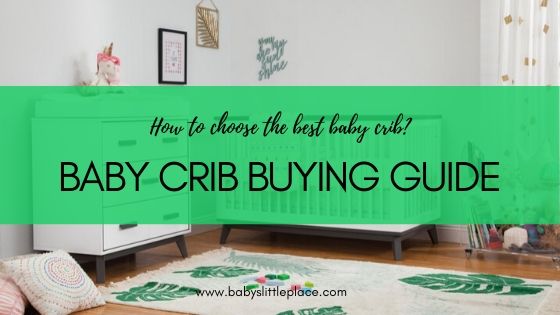 How to buy a crib?
Providing a safe sleeping environment is one of the first tasks of feature parents. A crib might seems like a big place to put your newborn in, but it's the most rational and the safest decision you can make! With so many factors to take into consideration, you might be wondering how to buy a crib that will suits your family the most. To help you with that, we have combined years of experience and knowledge into a useful baby crib buying guide.
Baby crib buying guide
1. Determine your price range for a crib
Set your budget for a crib and try not to exceed it. Consider that you also need a crib mattress, which will cost you from $50 to $200 and more.
How much should you spend on a crib?
Cribs cost from $100, or even less for some mini cribs, to $1000 and more for unique designers cribs. Keep in mind that a more expensive crib doesn't necessarily have to be safer or of better quality than affordable cribs!
How much does the average crib cost?
Quality economy full-size cribs that meet all safety standards cost $100 to $150. → Best deals on baby cribs
Mid-priced crib of good quality cost $150-$450. → Best baby cribs
High-end cribs, like acrylic or designer cribs, cost $450 and more.
Examples of great cribs in their price range:
---
2. Think about which crib's features are most important to you
Nowadays, you can pick amongst many different crib types:
standard cribs
convertible cribs
portable cribs
cribs with extra storage
1. Standard crib
A standard crib is a basic model, which stands on a place and doesn't convert into bigger beds. Although it's safe, and not so expensive, it is the least wanted crib. Parents tend to decide on cribs with additional features, therefore standard cribs are hard to get these days.
2. Convertible crib
Convertible cribs are the most popular amongst parents. A convertible crib grows with your child. When your baby outgrows the crib, you can convert it into one or more bigger beds (a toddler bed, daybed, and full-size adult bed).
Depends on the numbers of their conversions, you can choose amongst:
Things you should know before you pick a convertible crib
No.1: Read the crib's description:
Two convertible cribs with the same number don't need to convert into the same beds. For instance, while one 3-in-1 convertible crib converts into a toddler bed and daybed, the other crib skips the toddler bed and converts into a daybed and full-size bed.
There are even more combinations, but you get the point. What I want to say is, read the crib's description before you buy the crib!
No.2: Consider the price for the toddler safety guardrail!
Some convertible cribs convert into a toddler bed without a safety guardrail. But those who have it, are available with or without a toddler rail included in the price.
In fact, most of the time, it has to be bought separately. A rare exception are Babyletto's convertible cribs, Storkcraft Tuscany 4-in-1 convertible crib, or Delta Children Canton 4-in-1 convertible crib.
Because of the included guardrail, these cribs may look more expensive, but that's not true. As it saves you hassle with searching for a suitable rail, is the included guardrail actually a benefit.
If need it, it's best to buy it at the same time as a crib. A safety guardrail might won't be on the stock after some time, there may be a lack of different finishes, etc.
No.3: toddler bed and daybed mattress
You can use the same mattress in the crib, toddler bed, and daybed. Great options for convertible cribs are dual-sided crib mattresses, which grow with the crib. Those mattresses have two sides of different firmness, a firm side for baby, and a more cozy side for the toddler.
No.4: an adult bed
You will have to buy a full-size convertible kit and a fitted mattress for all convertible models that transit into a full-size bed.
3. Portable crib
A portable crib stands on caster wheels. That's very useful if you intend to move it a lot.
Because of their convenience, you can choose amongst a wider assortment of mini portable cribs. Mini models weigh less, fit through door frames, and fold away if need it.
Of course, that doesn't mean you can't buy a quality full-size model. Not only, that they can fold up, some are even convertible.
Because it can fold away when it's not in use, it's an excellent choice for grandparent's houses too.
Although some mini portable cribs fit into the car trunk, it's a travel crib or Pack 'N Play a better decision for travelers.
4. Cribs with extra storage
Cribs with extra storage are great for everyone with space issues. You can pick between three types:
cribs with built-in storage drawers under the mattress area
cribs with an attached changing table
cribs with under crib drawer and changing table
1. Convertible crib with a drawer:
These cribs efficiently use otherwise unutilized space under the crib. They have a built-in storage drawer, which lies under the whole mattress area, and it's sometimes further divided into two parts.
2. Convertible crib with an attached changing table:
So-called combo cribs consisting of two pieces of furniture, crib and changing table. The changer is attached to the left or right side of the crib and possesses drawers and shelves. If the crib converts into a full-size adult bed, the detached changer usually transits into the nightstand too.
3. Convertible cribs with under crib drawer and changer:
I call these cribs the cribs with ultimate storage space. These models have everything described above. They are convertible, with large under crib drawer, and an attached changing table. Such cribs are rare, but we had found a few great models.
---
3. Measure available space before you buy a crib!
If space is not an issue, you can skip this step, otherwise measure how much space you have for the crib.

The inner dimensions for standard size baby cribs are defined by law. However, because of different crib's frames, the overall dimensions can differ up to a few inches. Some cribs have sleek, others a big and bulky design.
If we generalize, it's the footprint of portable cribs the smallest, convertible cribs can be minimalistic or bulky, and combo cribs are the biggest.
Note: Keep in mind that the combo crib has an attached changing table, so it's actually a space saver as it takes up less space than separately placed convertible crib and changer.
If you don't have enough space for a full-size crib, you can opt for a mini crib. Mini cribs are available with the same features as standard size cribs!
RELATED: Standard size cribs vs. mini cribs
---
4. Think about crib's shape
Cribs are available in a rectangular and oval shape. Oval or cocoon-like round cribs are rare and considered unique and stylish. Although such cribs are cute and safe, think about if this is what you want.
Oval cribs look great in big nurseries as a centerpiece of the room. An oval crib squeezed into the room's corner is not what you want! And not only, that the room won't be like on pictures, an oval crib will also take you more much-needed space.
Oval cribs are expensive!
Keep in mind that you need an oval mattress, which costs lots more than a regular crib mattress. Not because it would be better, but because of its unique shape and the fact that it's hard to get.
The same goes for the sheets. You have a smaller selection of fitted sheets, which are, of course, much more expensive.
---
5. Mattress support
Check up what holds up the crib's mattress. You can choose between wooden slats, metal bars, and metal frames with wire springs.
A new crib safety standards from 2011 recommends stronger mattress support. While each of them went through rigorous testing, a wire spring tend to be the sturdiest choice, and will better withstand a jumping toddler than a wooden slat base.
Adjustable mattress support:
Adjustable mattress support is certainly something that you want! It allows the mattress to be higher in the crib at the beginning. The ability to gently lay down a sleeping newborn, without waking him up, is priceless!
Of course, you shouldn't forget to gradually lower it down while your baby grows!
Baby cribs include from 2 to 5 mattress height adjustment levels. While two levels are more common for portable cribs, convertible cribs usually have 3 to 4 adjustments.
I think that because of the small difference between the individual heights, the mattress support with five levels is unnecessary.
---
6. If you are very short, think about picking the crib with a low profile!
Such cribs have a special design, like a minimalistic frame and short legs. The best cribs for short moms don't have low railings, so your baby won't escape from the crib sooner than from any other model.
For ease in reaching their baby, such cribs strictly rely on the specific design and mattress height adjustments. They are as safe as other crib models!
RELATED: Best cribs for short moms
---
7. Safety
The baby crib must be safe! If you love its design and features, but it's not safe, don't buy it!
All new cribs must meet strict safety standards set by the government, otherwise, they shouldn't be on the market. But if you decide on a used crib, you have to be very careful.
Do not buy a used crib made prior July 2011, when CPSC (Consumer Product Safety Commission) set new, more strict safety standards.
The most significant change they have made is the ban on the sale of dropping side cribs. There were too many injuries and even tragic deaths because of dropping sides, so it's not worth the risk. You can read more about this in our article, New baby cribs safety standards.
---
8. Think about the crib mattress
There are many crib mattresses, from foam to innerspring models. You can opt for an organic, a natural mattress, or such made from a unique material.
You can choose a regular crib mattress or such that grows with the crib. So-called dual-sided crib mattresses are in my opinion, a perfect choice for convertible cribs.
The most important features you should consider when buying a crib mattress are the firmness, non-toxic materials, and snug-fit.
The size of the full-size crib mattresses is standardized. So any new standard size crib mattress fits into any new full-size crib.
… is a baby crib with the following measurements: 52 3⁄8 ± 5⁄8 inches in length by 28 ± 5⁄8 inches in width
… is a baby crib mattress with the following measurements: at least 27 1/4 inches by 51 5/8 inches and no more than 6 inches thick
As the size of the mini cribs is not determined by law, is buying a fitted mini-mattress a little more complex. However, in most cases, the inner dimensions of mini cribs are around 38″ (96,52cm) by 24″ (60,96cm), which is great because most mini crib mattresses correspond to those measurements.
---
I hope our baby crib buying guide answered all your questions and helped you choose the best crib for your baby. If not, ask us in the comments below. We will answer as soon as possible!
I have already linked to many useful articles about baby cribs, but feel free to check up our baby crib reviews, crib mattress reviews, best-of lists, pregnancy tips, and more.

Hello!
I am the founder of Baby's Little Place. I'm a mom to the one-year-old daughter and I know how overwhelming could be when you are looking at things and tips for a new baby, especially if you are a first-time parent. That's why I set up this site…because I want to do something I am passionate about, as well as I want to help new parents and parents to be.

I hope you enjoyed reading my article! If you have any questions or comments, please leave them down below. I will be happy to discuss it with you!
Ines
Founder, Baby's Little Place
---
---