Kolcraft Pure Sleep Therapeutic 150 Toddler and Baby Crib Mattress Review
Kolcraft Pure Sleep Therapeutic 150 Toddler and Baby Crib Mattress Review
The purpose of our Kolcraft Pure Sleep Therapeutic 150 toddler and baby crib mattress review was to check up if the quality of this mattress is not compromised by its affordable price.
Comparing the features that a Pure Sleep Therapeutic crib mattress offers, it has a surprisingly cheap price.
First of all, it is made in the USA, which usually adds up to the price. Second, it is an innerspring coil mattress, with a waterproof cover which is even hypoallergenic.
Sounds great? Let's see what we had found out in our review.
THE GOOD:
firmness for newborns is combined with softness for toddlers
hypoallergenic
made in the USA
easy to clean
affordable price
fits all standard, full-size cribs
THE BAD:
some parents noticed an odor after unpacking the mattress*
*Initial smell is a common "problem" for all new mattresses on the market. Yes, it is more common for foam mattresses, but it's not unusual if you detect it in an innerspring mattress too.
That's why airing out is recommended for all new baby crib mattresses. If you detect any initial smell, place the unpacked Kolcraft Pure Sleep Therapeutic crib mattress on the flat surface, in the well-ventilated room, and it should air out in a few days.
Kolcraft's Pure Sleep Therapeutic crib mattress structure and specifications
The mattress comes in a box, wrapped in plastic protection, to prevent any damages during the shipping.
The structure of Kolcraft Pure Sleep Therapeutic crib mattress:
The whole mattress is wrapped in a waterproof reinforced laminate cover.
The cover has waterproof lock-stiched binding.
Heavy steel gauge coils in the mattress's core are wrapped into a firm and comfortable hypoallergenic cushioning.
The core of the mattress consists of 150 coils.
On the mattress's side is airflow pocket for freshness.
The specifications:
Mattress size:

51,63″ long by 27,25″ wide

The thickness of the mattress:

5,25″

Mattress weight:

11,57 pounds
Age and weight limits:
age limit:

for infant and toddlers between approximately 0 – 5 years

weight limit:

newborn to 60 pounds
Our Kolcraft Pure Sleep Therapeutic 150 toddler and baby crib mattress review
According to Kolcraft, Pure Sleep Therapeutic baby crib mattress should have all the following features. To see if that is the truth, and to see how well the mattress performed, we have reviewed them all!
the mattress is breathable with good heat regulation
it offers excellent support and sufficient firmness from newborns to toddlers
it fits into all standard size cribs
it is durable
it is hypoallergenic
it is a safe innerspring mattress
it is waterproof
SAFETY
Kolcraft Pure Sleep Therapeutic 150 toddler and baby crib mattress is a safe choice. It passed all required safety tests.
It is phthalate and flammability compliant and doesn't contain toxic fire retardants. It meets or even exceeds all required safety standards.
In addition, it has a GREENGUARD Gold certification, which means that it creates a healthier sleeping environment for your baby. It doesn't compromise the indoor air with chemical emissions.
With enough coils, it is firm enough for newborns. It also doesn't have lock-stitched binding, which means it doesn't have heat-sealed seems that can pop open under pressure.
THE VERDICT
Kolcraft Pure Sleep Therapeutic 150 toddler and baby crib mattress is a reliable baby crib mattress, especially for the price you are paying. It passed all safety tests and meets or even exceed all required safety standards.
150 gauge coils in the core, are more than enough to create sufficient firmness for your newborn, but because of a higher bounce, your toddler can use it as a trampoline, which can lead to dents in the mattress.
If you intend to use it for more than one child, pay attention to its firmness. Because of such cheap price, I would personally rather buy a new one for a second child.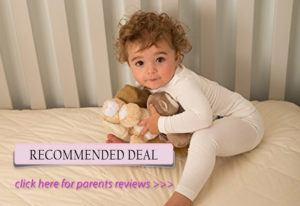 CRIB MATTRESS REVIEWS:
Foam baby crib mattresses:
Innerspring baby crib mattresses:
Hello!
I am the founder of Baby's Little Place. I'm a mom to the one-year-old daughter and I know how overwhelming could be when you are looking things and tips for a new baby, especially if you are a first-time parent. That's why I set up this site…because I want to do something I am passionate about, as well as I want to help new parents and parents to be.
I hope you enjoyed reading my article! If you have any question or comment, please leave them down below. I will be happy discuss it with you!
Have a wonderful day!
---
---