Wooden portable baby cribs on wheels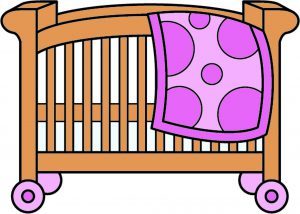 Yes and no! First of all, you can get wooden portable baby cribs in two different sizes. You can get a mini or standard, full-size crib on wheels. Both models have a sleek design, without the big framework, so that they can fit through most of room doors.
While all mini cribs have a folding mechanism, that is not the fact for full-size cribs. Parents often confuse cribs on wheels that fold with those who don't. Why? Because all mentioned cribs belong to the same group – portable cribs.
We have gathered all the best models in groups in our article: Best rated portable cribs
Folding cribs vs. those who don't fold up
Confusion is understandable, as the name itself ("portable crib") suggests we can easily move the crib from point A to point B. But where are those two points? We need different features to move the crib from room to room, or from house to house. While we can put the folding crib in the car relatively easy, we certainly can't do the same with one that does not fold up.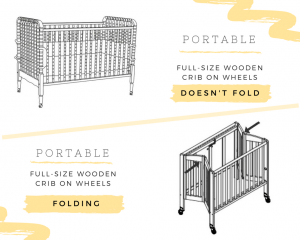 Actually, even foldable full-size cribs are not made for that purpose. Yes, you can transfer the crib without disassembling it, but it will take a lot of space in the car, and it is just not convenient. Cribs that are made strictly for "the road" are travel crib from fabric or polyester. Your baby can use them for a week or two on holidays, but that's it.
The main purpose of wooden cribs that fold up is easy storage. Although you can use them every day, they are usually used as a secondary crib, a crib for grandparents house or weekend house. As you don't use the crib every day, you can easily fold it up for storage and set it up again when need it.

Dream On Me full-size folding crib
But if you need a crib for occasionally moving around the house, there is a better choice for you. A full-size wooden crib on wheels without folding mechanism.
Those cribs have wheels, but they do not fold up. Cribs are sturdier as those who fold down and can have additional features, like convertibility. That means they can grow with your child. So when your baby outgrows the crib stage, you can remove the wheels. You get a sturdy classic crib.
And that's not the end. With removing the front rail and replacing it with a toddler guard rail you get a toddler bed. Later you can also remove the guardrail and convert the crib into a daybed.
---
Types of wooden portable baby cribs
MINI CRIB ON WHEELS

FULL-SIZE CRIB ON WHEELS

cribs on wheels that do not fold up
---
Full-size cribs on wheels that do not fold up
The ability to move the crib from room to room is a handy advantage for parents whose baby sleep in their own room. The possibility of moving the crib, without disassembling the whole unit, is a great solution for them.
For instance, if baby gets sick, it's hard to have her in her own room. Having sick baby close to you, it's more convenient for both of you. With crib on wheels, that is an easy task. Unlock the wheels, push the crib in your room, lock the wheels and that's it. It couldn't be easier!
A newborn should be close to you! If you decide for this crib, you don't need bassinets, co-sleepers, snuggle nests or mini cribs for the first few months. Your baby can start using a full-size crib, right from the beginning. Not only you can move the crib to nursery without disassembling it, these cribs don't have a bulky and big frame too. So they will fit in smaller bedrooms more easily.
You can start learning your baby sleeping in her own bed right away. You have your newborn close but in her own bed. That's way, the whole family is happy and rested in the morning.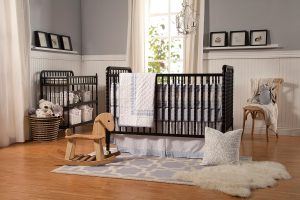 Why would you NOT decide for a portable crib that does not fold up?
Because you need a full-size crib on wheels, but you want a folding mechanism as well. And why would you pick a crib with folding mechanism?
Because you need a crib which won't take a lot of space when it's not in use.
Because you need a secondary crib for grandparents or caregivers house. The ability to fold up the crib will save you a lot of space.
As you want to travel with the crib. A travel crib is a much better solution!
→ In that case, you need a portable full-size folding crib, or Pack' N Play, or basic travel crib.
Benefits of using a wooden portable (full-size) crib that do NOT fold up:
Baby learns to sleep in her own bed right away.
Easy-moving around the house.
They take less space as the classic bulky convertible or combo cribs.
They are more stable as folding cribs on wheels.
The best wooden portable baby crib on wheels are not bulky at all. The wheels can't help you if the crib doesn't fit through the room doors.
They are also convenient for some other reasons:
Having your sleeping baby close to you, during the day.
You can use the crib as a portable play-yard.
You can keep your cheerful baby in a safe place, close to you when doing housework.
Changing the sheets is much easier because you can move the crib.
The same is with vacuuming under the crib.
The best baby crib on wheels that do not fold up
Without a doubt: DaVinci Jenny Lind 3-in-1 convertible crib on wheels!
 click on the picture for a price on Amazon
Why we picked this crib as the best?
Because of:
its beautiful design
a lot of color choices
of course, because it has wheels
it is also a convertible crib and more
It just has everything a portable full-size crib needs!
I won't write more about it here, as I don't want to repeat myself. I'd rather ask you to visit the article about DaVinci Jenny Lind 3 in 1 convertible crib, read the review and see what I mean.
---
→ next page: Full-size Folding baby cribs on wheels
Hello!
I am the founder of Baby's Little Place. I'm a mom to the one-year-old daughter and I know how overwhelming could be when you are looking things and tips for a new baby, especially if you are a first-time parent. That's why I set up this site…because I want to do something I am passionate about, as well as I want to help new parents and parents to be.
I hope you enjoyed reading my article! If you have any question or comment, please leave them down below. I will be happy discuss it with you!
Have a wonderful day!
---
---