The best 3 combo cribs with under crib storage drawer

Combo crib with under crib drawer, a crib with the most space for baby belongings
Who don't need additional storage for all baby belongings? I do and probably you too. When I was pregnant, I decided I will pick baby things carefully and rationally. And I did. Well at least I tried.
No matter how much you tried, in the end, you have a house full of baby belongings. So my advice to you – think ahead. And you can start with the crib. If you want a baby crib with lots of drawers, you need a convertible crib with changing table. But not just any model, you need a combo crib with under crib storage drawer.
Best combo cribs with underneath storage of 2019 – side by side
Compare them, or jump directly onto their reviews below:
→ little diferent, but worth of your attention: Graco Solano 4-in-1 combo crib with under crib drawer
Don't forget on the Graco Solano Review on the end of this article!
Under-crib storage
Picking a crib with under-crib drawer is not a great choice just because of additional storage, but also from the safety perspective. I am not claiming other cribs are not safe, jut that the underneath drawer makes the crib even more compact and sturdy.
If your crib doesn't have it, and you want to use an unutilized space under the crib efficiently, there are few other solutions for you. You can buy a crib trundle storage drawer or even make it on your own. Another solution is under crib storage baskets or bins.
Reviews of the Best combo cribs with under crib storage drawer in 2019
---
1. COMBO CRIB with under crib storage drawer
These are the ultimate storage cribs described above!
On short:
On the one side of the crib is attached changing table, which contains up to three drawers, plus shelves on the back.
Under the mattress area is a big drawer with the depth and length approximately the same as the mattress. You can't get a crib with more storage! Of course, all combo cribs with attached changer are convertible at least into one bigger bed.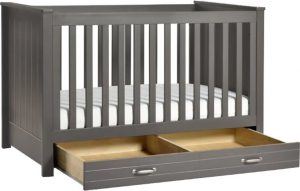 This is a crib that converts into one or more bigger beds. It is without a changing table! Convertible cribs can be with or without underneath storage.
If you decide for a convertible crib, I highly recommend you choose the one with under crib drawer! Why? Because, if the crib does not have an underneath storage, there is only an unused area for catching the dust. You can find the best convertible cribs with under-crib drawer in our article: Top 7 convertible cribs with under-crib drawer.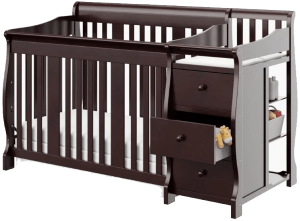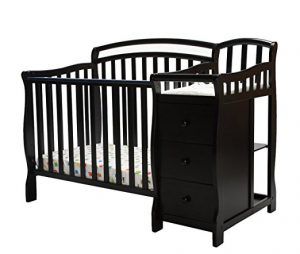 ---
Great underneath drawer with fundamental changing table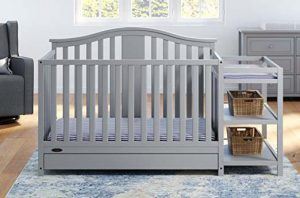 Graco Solano 4-in-1 convertible crib with changer
We didn't include Graco Solano in our list above, and I will tell you why.
Due to its changing table, Solano would get fewer points compared to the others. Yes, with shelves only, Solano's changing table is just the basic model, but it has a big underneath drawer.
So, if we put changer on the side, is Graco Solano as good as other three combo cribs mentioned above! Solano is a very popular baby crib among parents too. That's why it is absolutely worthy of your attention.
Graco Solano is a modern and elegant, minimalist crib. It has more storage space as standard cribs, but less than three combo cribs on our list.
Graco Solano is a 4-in-1 convertible crib
Solano has everything, a changing table and convertibility. It has a large divided drawer under the crib and a changing table with two shelves on the side.
You can convert it into:
a toddler bed
daybed
a full-size adult bed
Solano has a toddler guard rail, but you have to buy it separately. Conversion into a toddler bed is by removing the front rail, placing the toddler safety rail and placing the mattress into the lowest position.
With detaching the guardrail and raising the mattress to the middle height, you can further transform Solano into a daybed.
Finally, with the additional purchase of a conversion kit and a large mattress, the Solano can be converted into a full-size bed, either with headboard and footboard.
The conclusion:
Graco Solano is popular crib among parents because it is a space and money saver.
Of course, this applies to other three combo cribs too. But Solano is cheaper for about $ 100 from other combo models with underneath drawers!
For someone, Solano's changing table maybe offers little less compared to other models, but it is a modern crib, with clean lines and additional underneath storage. It has everything, for a cheaper price!
---
Can I have both, a modern and useful nursery?
Of course, you can! When you start decorating a baby's room, don't look only on a beautiful design. Think on the practicability too. I personally love minimalist design, but unfortunately, sometimes it is just not practical enough. So when it comes to the house decorating, I am trying to find a middle road and combine practicality with minimalism.
I would love to have a nursery like this:
Isn't it great? But will the nursery look the same after few months? I don't think so. With months, you get more and more baby stuff. Where will you put them? With toys and other baby belongings lying around, the room won't be the same anymore. So, with little extra storage you can still have a beautiful room, and spare yourself a few headaches.
I am not saying you should stuff the room with cabinets, baskets, and bins. Just think on advanced and try to make good use of spaces. And the under crib space is perfect to start with, because it is there, empty and unutilized. Use it for your own benefit! Your baby won't have more room if you don't decide for a drawer, but you can have a great extra storage space.
---
Advantages of Combo crib with under crib storage:
Each part of the crib is well-used and perfectly serves to its purpose.
No need for vacuum under the crib, because the drawer fills the entire empty space.
It is a money saver! Any combination crib is cheaper than the total price of a separately placed crib and changing table.
It is a space saver! Any combo crib takes less space than the separately placed crib and changing table together.
Disadvantages of Combo crib with under crib storage:
It is bigger than a standard convertible crib, so it takes more space in the nursery. But on the other hand, if you take any standard crib dimensions and add the dimensions of the separately placed changing table, together they will take more space than a combo crib.
A changing table in a combo crib is smaller than separately placed changing table, so your baby will outgrow it sooner.
---
So what will you choose?
a traditional DaVinci Piedmont
a modern Graco Remi
a vintage Athena Daphne
or cheap Graco Solano
RELATED ARTICLES:
Hello!
I am the founder of Baby's Little Place. I'm a mom to the one-year-old daughter and I know how overwhelming could be when you are looking things and tips for a new baby, especially if you are a first-time parent. That's why I set up this site…because I want to do something I am passionate about, as well as I want to help new parents and parents to be.
I hope you enjoyed reading my article! If you have any question or comment, please leave them down below. I will be happy discuss it with you!
Have a wonderful day!
---
---