Sorelle Newport mini convertible crib with changer – review
In-depth review of Sorelle Newport mini convertible crib with changer
Sorelle Newport is a convertible mini crib. With attached changer, it is not just a place to sleep but also classified as a combo or multifunctional mini crib. Newport is a perfect solution for small baby rooms, without compromising on style and safety. Don't underestimate mini cribs, as they have everything or even more than standard full-size cribs. Also, mini cribs are as comfortable as their bigger sisters. And as you will see later in this review, Sorelle Newport mini convertible crib with changer is a perfect example of mini but versatile and comfortable mini crib.
A mini crib can have the same features than a full-size crib, just in smaller dimensions. This statement doesn't apply to the high of the Newport crib, as all mini cribs are as high as standard full-size cribs and as such as safe as them. Comparing to other mini cribs with changing table, Sorelle Newport has some attributes, but you can find a few deficiencies as well. By the end of this review you will know everything about Sorelle Newport mini convertible crib with changer, what can this combo crib offer to you and your baby, and if it suits your expectations.
If you decide that Newport is not what you are looking for, don't worry, there is a lot of different mini cribs for small spaces on the market. Sooner or later you will find the perfect one for you and your baby! We also reviewed few other mini cribs with a changing table. Maybe you can find "the one" amongst them.
Sorelle Newport Description and Specifications
Newport is a versatile and sturdy mini crib. Square slats are placed all around the crib. The changer is attached to the right side of the crib. So it closes the view of your baby from that angle.
Newport mini crib is with 40,91 inches as high and safe as any other crib. Overall Sorelle Newport length is 57,10″, with 28,85″ width.
Sorelle uses a solid New Zealand pine wood for the Newport crib. All materials and finishes are also Eco-friendly. You can get a crib in white or merlot color. Although Sorelle uses rich finishes, they disappointed with a poor color choice for the crib.
There are some suggestions on the web that you can paint the white crib. We would not recommend that because of the safety issues, also the warranty will be voided.
What can you expect from this mini convertible crib with changer?
Sorelle Newport is a 2-in-1 mini convertible crib. Once your baby outgrows the crib, you can convert it into a twin-size bed and use the changer separately as a nightstand. You won't get rails for the conversion into a twin-bed in the package. That is not unusual, as you have to buy the conversion kit for almost any other mini or full-size crib as well.

As mention before Newport has attached changer on the right side of the crib, that's why we call it a combo or multifunctional crib. It means that Sorelle Newport is not just a place for sleep, but also a changing table for your baby.
The changer has three organizing drawers that sit on the metal side glides. The depth of the drawers is 6″ from top to the bottom. Also, on the back of the changer, there are three shelves for additional storage. You get the 1″ vinyl changing pad beside the changer.
The changing table is 16" long and 24" width.
Manufacturer: Sorelle
Model: Newport
Type: 2-in-1 convertible combo crib
Style: traditional with gentle curves
Convertible: yes
Number of conversions: 2
Conversion types: crib and twin bed
Combo or multifunctional: yes, a place to sleep and change your babies diaper
Material: natural New Zealand pine wood
Color: white and Merlot
Assembled dimensions: 57.10″ length x 28.85″ wight x 40.91″ height
The assembled overall weight of the crib and changer: 80 lbs
Weight Capacity: your baby can use Sorelle Newport as a crib until she reaches 50lbs
Assembling:
You have to assemble all parts of the Newport combo crib (the crib and the changer), by your own. It will take you approximately 2 hours to complete.
Don't rush, follow the provided instruction carefully and thoroughly attache all parts together. That is a fun job, you are assembling the crib for your baby, so you are not in the competition who will do it first.
We noticed that many parents complain, they couldn't assemble the certain crib in an hour or less. Why? Yes, it can be frustrating if you are unable to finish the job in a day. But why wouldn't you take your time, and take this "job" as a pleasant adventure? It is a new crib, for your upcoming baby!
Mattress Information
You can use any mini mattress with thickness up to 3″ with the crib. Sorelle recommends using the mattress with the dimensions: 38" L and 24" W.
The good thing about this crib is adjustable mattress high. You can set the mattress to three different positions. Your back will be grateful for that! Just don't forget to lower the mattress from the highest position when your baby starts to crawl and sit on her own.
If you want to use the space efficiently, there is 6 " distance between the floor and the bottom of the rail. That applies to space under the mattress, the changer, of course, goes to the bottom. You can use the additional space for storage and smaller organizing boxes. It is not a lot of space, but still, in smaller nurseries, any additional space can be very useful.
What do we like about the Sorelle Newport mini convertible crib with changer?
it has a changer with drawers and shelves for storage
3 level adjustable mattress support
included changing pad
it can convert into a twin size bed
additional space under the crib
Down points and Solutions for them
Sorelle Newport is a convertible mini crib, but it converts only into a twin size bed. You get more than a nonconvertible crib, but less than with many other convertible mini cribs. We are missing a daybed stage here.
Another thing is a color choice. Why only two colors? Usually, manufacturers almost competing who will offer a bigger selection of different colors, but not Sorelle.
Anyway, Sorelle uses only rich finishes that highlight the natural beauty of the wood, and two colors they offer for a Newport are nice looking, quality, and non-toxic.
Don't forget about The Safety!
Safety should play a big role when you are buying a new crib. Actually should be the most important factor in your decision!
Sorelle Newport is a safe and sturdy crib, made from solid wood for lasting strength! The crib features fixed side rails, so it doesn't have dropping side. And that is how it should be with any new crib on the market!
U.S. Consumer Product Safety Commission (CPSC) released new crib safety standards in 2011, where they banned the sale of drop-side cribs. You can read more about this in Baby Crib Safety Standards.
Sorelle uses only non-toxic materials for all their furniture, and the crib is also lead-free. Newport is JPMA certified. That means that the crib has been tested by an independent facility and met the guidelines set by ASTM (American Society for Testing and Materials).
As such, Sorelle baby nursery furniture meets or even exceeds all U.S. Consumer Product Safety Commission (CPSC) standards and conforms to ASTM standards.
---
The conclusion
Overall Sorelle Newport mini convertible crib with changer, is a nice looking combo crib. It can convert into a twin-size bed, so even if we miss a daybed, we can call it a lifetime crib.
With changing table attached to the crib, it is a money saver and perfect solution for smaller apartments. Newport is a sturdy crib and safe environment for your baby. It is as comfortable as full-size cribs, but your baby will outgrow it sooner. Don't forget that this applies to all mini cribs, so don't take it as a down point! Anyway, because of the twin-size bed transformation, you can use it longer as some other mini cribs.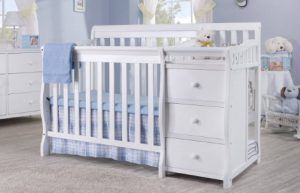 ---
Articles you might like:
Sorelle Newport mini crib
Hello!
I am the founder of Baby's Little Place. I'm a mom to the one-year-old daughter and I know how overwhelming could be when you are looking things and tips for a new baby, especially if you are a first-time parent. That's why I set up this site…because I want to do something I am passionate about, as well as I want to help new parents and parents to be.
I hope you enjoyed reading my article! If you have any question or comment, please leave them down below. I will be happy discuss it with you!
Have a wonderful day!
---
---